Current Affairs for IAS Exams -23 February 2023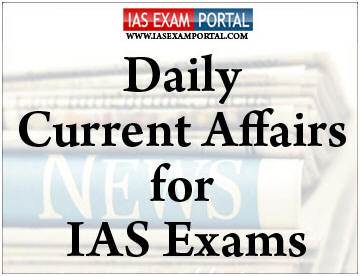 ---
Current Affairs for IAS Exams - 23 February 2023
::NATIONAL::
Jute Packaging Act 1987
Government of India approved Reservation norms for mandatory use of jute in packaging of rice, wheat and sugar for the Jute Year 2022-23. 
Key findings: 
The Mandatory norms provide for full reservation for packaging of foodgrains and 20% reservation for packaging of sugar in jute bags, which will be a big boost for West Bengal.
The Jute industry occupies an important place in the national economy of India, particularly in West Bengal where nearly 75 jute mills operate and provide livelihood to lakhs of workmen.
It will support 40 lakh farm families in the jute sector. 
The decision will also help the jute sector in Bihar, Odisha, Assam, Tripura, Meghalaya, Andhra Pradesh and Telangana.
The reservations norms under JPM Act provide for direct employment to 3.70 lakh workers and protect the interest of approximately 40 lakh farm families in the jute sector.  
JPM Act, 1987 protects the interest of Jute farmers, workers and persons engaged in jute goods' production.  
The reservation norms would further the interest of domestic production of raw jute and jute packaging material in India, thereby, making India self-reliant in consonance with Aatmanirbhar Bharat. 
It will also help protect the environment because jute is a natural, bio- degradable, renewable & reusable fibre and hence fulfills all sustainability parameters.
Nod to commercial release of nano-DAP
The agriculture ministry has approved the commercial release of nano-diammonium phosphate, for reducing subsidies and the import dependence.
About:
Nano-DAP is a next-generation fertilizer produced by IFFCO and Coromandel International with nanoparticles of Nitrogen and Phosphorus, the primary macronutrients for plants.
A nanoparticle is a small particle that ranges between 1 to 100 nanometres in size.
In 2021, IFFCO launched Nano-Urea.
It is also planning to launch nano-potash, nano-zinc and nano-copper fertilizers.
Advantages of using Nano-DAP
Higher Use-Efficiency as a 500-ml bottle of nano-DAP will have the same effectiveness as a bag of conventional soil nutrient.
Reduced input cost to agriculture, helping to double the income of farmers.
Improved agriculture sustainability through higher nutrient uptake, lower water consumption and reduction in environmental losses.
Concerns:
Increased nanoparticles in soil and crops from continued nanoparticles use.
Potential health hazard from nano-size particles at higher concentrations.
::INTERNATIONAL::
Global assessment of soil carbon in grasslands
The first FAO Global assessment of Soil Carbon in Grasslands measured report released recently.
About:
It measured stocks of Soil Organic Carbon (SOC) in both semi-natural and managed grasslands.
It was funded by FAO LEAP Partnership, a multi-stakeholder initiative to improve environmental sustainability of livestock sector.
SOC is carbon held within the soil that is measurable. It helps in improving soilbiological, chemical, and physical properties, water-holding capacity, andstructural stability.
SOC is a cost-effective nature-based solution to mitigate effects of climatechange by reducing atmospheric carbon dioxide.
Key highlights of Assessment
Grasslands, contain approximately 20% of world's SOC, have suffered lossesbecause of human activities such as intensive livestock grazing, agriculturalactivities etc.
Most of world's grasslands have a positive carbon balance, meaning land isstable or well-maintained.
However, negative carbon balance was found in East Asia, Central andSouth America, and Africa south of Equator.
SOCs are not included in national climate plans due to lack of incentives forfarmers to improve management practices and difficulty in accuratelymonitoring SOC stocks.
Open Pit Mining
The search for at least 50 people missing since an open pit coal mine collapsed in northern China has been suspended following an additional landslide at the gigantic facility.
About:
Open-pit mining, also known as opencast mining, is a surface mining technique that extracts minerals from an open pit in the ground.
It is the most common method used worldwide for mineral mining and does not require extractive methods.
It is an appropriate extraction method when mineral or ore deposits are found relatively close to the earth's surface, which is overlain by relatively thin vegetation, topsoil, and rock.
It uses a series of level surfaces or benches to reach the deposit, forming an open pit that looks similar to an inverted pyramid.
Open-pit mines undergo constant expansion until all mineral resources are exhausted.
Most of the world's annual output of copper, gold, and iron ore is from open-pit mining
Other commodities produced from open-pit mining include diamonds, molybdenum, manganese, lead and zinc, uranium, and a variety of industrial minerals, such as borates, talc, etc.
Open-pit mining has higher productivity, lower operating costs, and is relatively safer than other mining methods.
::Economy::
Product Linked Incentive(PLI) for pharmaceutical
Under Product Linked Incentive (PLI)scheme of Department for Pharmaceuticals, four pharmaceutical companies have received the first tranche of incentives of up to ₹165.74 crore.
About:
PLI schemes envisages to accomplish Atmanirbhar Bharat vision by providing on average 4-6% of production value as an incentive to approved investors.
PLI for pharmaceuticals was launched in 2021 for a period of six years.
To enhance India's manufacturing capabilities and contributing to product diversification towards high value goods in pharmaceutical sector, 3 different categories of products are being supported under scheme, viz,
Category 1: Biopharmaceuticals; Patented drugs or drugs nearing patent expiry; Cell based or gene therapy drugs etc.
Category 2: Bulk drugs (except those 41 eligible products notified under "PLI Scheme for Bulk drugs).
Category 3: Drugs not covered under Category 1 and Category 2 such as Repurposed drugs; Auto immune drugs, anti-cancer drugs.
::SCIENCE AND TECHNOLOGY::
Rhododendrons
As per Botanical Survey of India (BSI), Darjeeling and Sikkim Himalayas are home to more thanone-third of all types of rhododendrons found in India.
About:
Rhododendron, meaning rose tree in Greek, is a genus of flowering plants. It is native to temperateregions of Asia, North America, and Europe.
It is considered an indicator species for climate change.
Habitat range: Subtropical and temperate to subalpine and alpine ecosystems.
Health benefits: Prevention and treatment of diseases associated with heart, dysentery,diarrhoea, etc.