Current Affairs for IAS Exams - 23 June 2022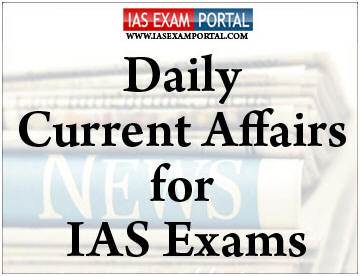 ---
Current Affairs for IAS Exams - 23 June 2022
::NATIONAL::
Aviation Turbine Fuel 
Oil marketing companies (OMCs) hiked Aviation Turbine Fuel (ATF) prices by 16.3%, taking jet fuel prices to a record high of Rs 1.41 lakh per kilolitre in Delhi.
The record increase in ATF prices, combined with the depreciating rupee, is set to increase the cost of operations for airlines, which could lead to an increase in air fares by up to 15%.
What kind of impact will ATF prices have on the cost of operations?
The cost of ATF constitutes up to 50% of the cost of operations for airlines in India that are already struggling due to the high cost environment and lower fares in the country.
Airlines have been facing the consequences of the fall in the value of the domestic currency (the Rupee is 5.7% weaker since June 2021 against the US$) since costs like lease rentals, payments to foreign airport operators and expat pilots are all dollar denominated.
The airline industry had sought respite from high fuel prices through a cut in excise duty on ATF or by bringing jet fuel under GST, that would have brought down prices and also allowed airlines to claim input credit tax on the GST paid.
CLICK HERE FOR FULL CURRENT AFFAIRS (Only for Course Members)
Migration in India 2020-21 report
A report named 'Migration in India 2020-21', released by the Ministry of Statistics and Programme Implementation (MoSPI) on Tuesday showed.
Who are 'temporary visitors' and how do they differ from 'migrants'?
The 'Migration in India' report, which is based on first-time collection of additional data during the annual round of Periodic Labour Force Survey for July 2020-June 2021, separates the categories of 'temporary visitors' and 'migrants'.
While 'temporary visitors' have been defined as the ones who arrived in households after March 2020 and stayed continuously for a period of 15 days or more but less than 6 months, 'migrants' have been defined as those, for whom the last usual place of residence, any time in the past, is different from the present place of enumeration.
Main findings of the report:
After the start of the Covid19 pandemic in March 2020, 0.7 percent of the population of India were registered as "temporary visitors" in all households in the period July 2020 to June 2021 due to job loss, closure of educational institutions and health reasons. 
The migration rate for all of India was 28.9% for July 2020, June 2021 with 26.Migration rate of 5% in rural areas and 34.9% in urban areas. 
The women had a higher share in the migration rate at 47.9%, 48% in rural areas and 47.8% in urban areas.
The male migration rate was 10.7%, with 5.9% in rural areas and 22.5% in urban areas. 
CLICK HERE FOR FULL CURRENT AFFAIRS (Only for Course Members)
::INTERNATIONAL::
Carbon Pricing Leadership Report 
Carbon tax, the price that governments impose on polluters for each metric ton of carbon dioxide emissions generated.
About:
Emission Trading System (cap and trade), a tradable-permit system for GHG emissions. It sets a limit (cap) on GHG emissionsthat can be emitted.
It gives countries the tools for environmental integrity to avoid double counting and paves the way to get private capitalflowing to developing countries.
Price on carbon emissions is applied either throughCarbon pricing curbs greenhouse gas emissions by placing a fee on emitting and/or offering an incentive for emitting less.
Key findings:
Less than 4% of global emissions are currently covered by a carbon price within the range needed by 2030 to meet the ParisAgreement temperature goals.
Several countries increased their carbon tax rates and adopted more ambitious trajectories, and pilot ETS are being consideredin a number of countries.
Agreement on Article 6 is encouraging further interest in carbon markets.
CLICK HERE FOR FULL CURRENT AFFAIRS (Only for Course Members)
Fair Repair Act
The state of New York in the passed the Fair Repair Act, which requires manufacturers to provide repair information, tools and parts to independent repair shops and not just to their own shops or partners. 
About:
This gives consumers the right to repair and restore purchased goods. 
With access to relevant repair manuals and tools, independent workshops can finally compete with manufacturers.
The rationale for the "right to remedy" is that the person purchasing a product must own it in its entirety. 
This means that the consumer must not only use the product, but also be able to repair and modify it at will. 
Indian Scenario:
The monopoly of repair processes violates the consumer's "right to choose" recognized by the Consumer Protection Act 2019. Some of the country's consumer dispute courts have also recognized the right to remedy. 
For example, in Shamsher Kataria v. Honda Siel Cars India Ltd (2017), the Indian Competition Commission ruled that restricting independent car repairers' access to spare parts through an end-user license agreement was anti-competitive.
CLICK HERE FOR FULL CURRENT AFFAIRS (Only for Course Members)
::ECONOMY::
Atmanirbhar BharatRozgar Yojana (ABRY)
Government has surpassed formal employment creation target by 28% under Atmanirbhar BharatRozgar Yojana (ABRY).
About:
The employment incentive scheme, has been launched with effect from 1st October, 2020 as part of Atmanirbhar Bharat package 3.0.
It incentivizes employers for creation of employment along with social security benefits andrestoration of loss of employment during Covid-19 pandemic.
It provides subsidy for provident fund contribution for adding new employees to establishments registered with Employees' Provident Fund Organisation (EPFO).
CLICK HERE FOR FULL CURRENT AFFAIRS (Only for Course Members)
::SCIENCE AND TECHNOLOGY::
Dragonfly
Dragonfly is a good bioindicator for aquatic and terrestrial areas.
About:
Dragonfly genus Burmagomphus was represented by three species – B. cauvericus, B.pyramidalis and B. laidlawi.
Dragonfly is an aerial predatory insect most commonly found near freshwater habitats throughoutthe world.
Rare dragonfly- Spiny Horntail (Burmagomphuschaukulensis)- spotted in Kerala for the first time.
B. laidlawi is found throughout Western Ghats.
B. pyramidalis is found in Western Ghats and Peninsular India.
CLICK HERE FOR FULL CURRENT AFFAIRS (Only for Course Members)