Current Affairs for IAS Exams - 23 November 2021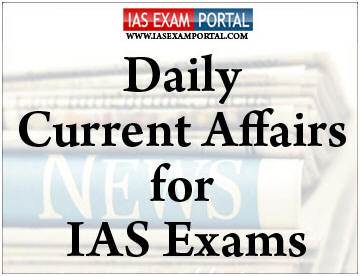 ---
Current Affairs for IAS Exams - 23 November 2021
::NATIONAL::
Press Council of India
The Press Association has raised concern over the Press Council of India (PCI) as the government has not yet appointed itsnew chairman despite a vacancy.
The association said no provision in the PCI Act provides that the incumbent chairman can continue to hold the office after the expiry of his extended term till the new chairman is appointed and takes charge.
About:
The PCI was constituted in 1966 as an autonomous, statutory,quasi-judicial body, underThe PressCouncil Act, 1965.
The council acts as a moral watchdog for the Indian press.
Composition:
A Chairperson (to be nominated by the Chief Justice of India) and 25 other members.
Tenure:
3 years provided that no member could hold office for a period exceeding six years in the aggregate.
CLICK HERE FOR FULL CURRENT AFFAIRS (Only for Course Members)
Annual ranking of police station 2021
The Union Ministry of Home Affairs (MHA) adjudged Sadar Bazar police station in the Capital as the best police station across the country this year, according to police officers aware of the development.
Two other police stations -- Gangapur in Odisha and Bhattu Kalan in Haryana -- were ranked second and third on the list.
The ranking of police stations across the country is an annual exercise by the MHA, with the stations judged on the basis of parameters like crime rate, investigation and disposal of cases, infrastructure, and delivery of public service, among other features.
About 20% of the total points are also based on feedback about the police station from citizens, police officers aware of the marking system said.
::INTERNATIONAL::
Bitcoin city
El Salvador, the only country to recognize Bitcoin as a legal tender, is planning to build an entire city based on the largest cryptocurrency Bitcoin, President NayibBukele announced to a gathering of Bitcoin enthusiasts on Saturday at Bitcoin Week in El Salvador.
El Salvador's "Bitcoin City" would be funded with the issuance of a $1 billion Bitcoin Bond. The city will be located along the Gulf of Fonseca near a volcano.
What is Bitcoin city? How will Salvadorans benefit?
Bitcoin city, as planned by the El Salvador president, will be laid out in a circle (like a coin) and in the city center will be a plaza that will be host to a huge Bitcoin symbol, according to a report by Reuters.
The city will be built near the Aconcagua volcano to take advantage of the country's geothermal energy— to power both the city and cryptocurrency mining —an energy consuming process of solving complex mathematical calculations day and night to verify and add crypto coins to the Blockchain network.
It is worth noting that El Salvador is already running a pilot Bitcoin mining venture at another geothermal power plant beside the Tecapa volcano.
The residents of Bitcoin city won't have to pay any income, property, capital gains or even payroll taxes. The city would be built with attracting foreign investment in mind.
CLICK HERE FOR FULL CURRENT AFFAIRS (Only for Course Members)
Over 87,000 UN peacekeepers face greater threats from complex conflicts
United Nations peacekeeping chief, Jean-Pierre Lacroix, said that UN peacekeeping missions are confronting greater threats todaycompared to two or three years ago.
Key highlights:
More than 87,000 personnel in UN peacekeeping missions are confronting greater threats today because conflicts have become more complex and are driven by an increasing number of factors ranging from ethnic tensions and the impact of organized crime to illegal exploitation of resources and terrorism.
What is causing this change in how UN peacekeepers have to operate are a number of factors starting with increased political divisions among the UN's 193 member nations.
The drivers of conflict are increasing, Lacroix said, and there are also what he called conflict enhancers, including digital technologies, the impact of fake news and misinformation on conflicts, and armed groups using increasingly sophisticated means to undermine our actions.
About UN Peacekeeping:
Peacekeeping operations get their mandates from UN Security Council.
Their troops and police are contributed by Members States.
They are guided by three basic principles: Consent of the parties;Impartiality and Non-use of force except in self-defense and defense of the mandate.
::ECONOMY::
Amalgamation of Punjab and Maharashtra Cooperative and Unity Small Finance Bank Ltd
The Reserve Bank of India (RBI) has detailed a draft scheme for the merger of sick Punjab and Maharashtra Cooperative (PMC) Bank with the newly-formed Unity Small Finance Bank Ltd (USFB).
Key findings:
According to the scheme, deposits of up to 5 lakh can be claimed by depositors over a period of three to 10 years.
The scheme says depositors can claim up to 50,000 at the end of three years, 1 lakh at the end of four years, 3 lakh at the end of five years and 5.50 lakh at the end 10 years.
The RBI had doubled the amount depositors can withdraw from PMC Bank to 1 lakh from 50,000 in June 2020, allowing more than 84% of the depositors to withdraw their entire account balance.
RBI said the above limits are for depositors over and above the withdrawals already made.
According to this schedule, the entire remaining deposits of PMC Bank depositors will be paid back within 10 years from the date the central government notifies this scheme of amalgamation.
::SCIENCE AND TECHNOLOGY::
Jigyasa Programme
Science and Technology Minister launched India's first Virtual Science Lab for Children under CSIR Jigyasa Programme, which will also connect students with scientists across the country.
The main aim of the Virtual Lab is to provide quality research exposure and innovative pedagogy for school students based on an online interactive medium.
The new facility will immensely benefit students from KendriyaVidyalayas, Navodaya Vidyalayas, and Government Schools and will help in catching them young.
This Virtual Lab will provide a virtual tour of CSIR laboratories and expose students to research infrastructure.
CLICK HERE FOR FULL CURRENT AFFAIRS (Only for Course Members)