Current Affairs for IAS Exams - 23 September 2021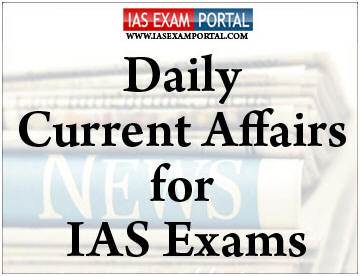 ---
Current Affairs for IAS Exams - 23 September 2021
::NATIONAL::
Amendment in All India Services (Conduct)Rules, 1968
The Centre has amended over a 50-year-old rule to allow IAS, IPS and IFoS officers to retain gifts received from foreign dignitaries while being members of the Indian delegation, according to an official order.
About:
Amendment will allow IAS, IPS and IFoS officers to retain gifts received from foreign dignitaries while being members of the Indian delegation.
Presently there are no provisions under the AIS (Conduct) Rules, 1968, with regard to receipt/retention of gifts from foreign dignitaries.
Existing rules allowed these officers to accept gifts from their near relatives or from personal friends having no official dealings with them, on occasions such as weddings, anniversaries, funerals and religious functions.
However, they are supposed to report to the government if the value of such gift exceeds Rs. 25,000.
The Personnel Ministry has now amended these rules and inserted a new sub-rule under Section 11 of the All India Services (Conduct) Rules, 1968.
Vishnuonyx Neptuni
Researchers from the Universities of Tübingen and Zaragoza have discovered the fossil of a previously unknown species, which they have named Vishnuonyx neptuni, meaning 'Neptune's Vishnu'.
About:
Vishnuonyx Neptuni were mid-sized predators that are members of a genus of otters that lived in the major rivers of southern Asia between 12.5 million and 14 million years ago.
Fossils of these now extinct otters were first discovered in the foothills of the Himalayas.
They depended on water and could not travel long distances over land. Now, a newly found fossil indicates it had travelled as far as Germany (first discovery in Europe).
Travel was probably made possible by the geography of 12 million years ago.
CLICK HERE FOR FULL CURRENT AFFAIRS (Only for Course Members)
::INTERNATIONAL::
Bitcoin mining generates tons of e-waste
According to a study revealed that, Bitcoin mining generates as much as 30.7 metric kilotons of e-waste every year as of May 2021 which is comparable to small IT equipment waste produced by countries like the Netherlands.
About:
E-waste represents a growing threat to our environment, from toxic chemicals and heavy metals leaching into soils, to air and water pollution caused by improper recycling.
According to a new study by Science Direct, at peak Bitcoin price levels seen early in 2021, the annual amount of e-waste may grow beyond 64.4 metric kilotons in the midterm, which highlights the dynamic trend if the Bitcoin price rises further.
This mining system had also created pressures miners to run only the latest, fastest, most energy-efficiency computer chips and discard older ones.
Average life cycle of the powerful computers used for mining bitcoins was only 1.3 years.
Bitcoin mining is the process of creating new bitcoin by solving a computational puzzle. It is performed by high-powered computers that solve complex computational math problems.
Havana Syndrome
A US intelligence officer travelling with CIA director William Burns has reported symptoms of Havana Syndrome while the two were in India earlier this month. The development, as reported by the US media, has apparently angered the CIA director and could lead to an "egregious escalation" in case an adversarial power was found to be involved in the "attack". This is the first instance of the phenomenon being reported in India, at least on record, and could have diplomatic implications.
About:
Havana Syndrome refers to a set of mental health symptoms that are said to be experienced by US intelligence and embassy officials in various countries.
It typically involves symptoms such as hearing certain sounds without any outside noise being present, nausea, vertigo and headaches, memory loss and issues with balance.
It was first reported by officials based in the U.S. embassy in Cuba in 2016.
::ECONOMY::
Draft e-commerce rules
Rules, by Ministry of Consumer Affairs (MoCA), were notified under Consumer Protection Act, 2019 with an aim to protect the interests of consumers and encourage free and fair competition in the market.
Ban on fraudulent flash sales and mis selling, and appointment of chief compliance officer/grievance redressal officer are among the key amendments proposed to the Consumer Protection (e-commerce) Rules, 2020.
The ministry had sought public comments on the draft rules by July 6 and later the deadline was extended to July 21.
The official said that the issue related to competition does not come under the consumer affairs ministry and those issues come under the Competition Commission of India (CCI).
::SCIENCE AND TECHNOLOGY::
Super-hydrophobiccotton
Researchers at the Indian Institute of Technology (IIT), Guwahati, have developed a first-of-its-kind super-hydrophobic cotton composite with a Metal-Organic Framework (MOF), capable of cleaning the marine oil spill in near future.
About the technology:
The water-repellent super-hydrophobic cotton composite material contains Metal-Organic Framework (MOF), which is highly porous and acts like a sponge.
MOF are crystalline materials with ultrahigh porosity (up to 90% free volume) and have enormous internal surface areas. Due to these properties, the cotton can absorbs oil selectively from an oil-water mixture.
The material is easy to prepare, cost-effective, and recyclable.
The MOF material is applied in areas of clean energy, for storage medium of gases such as hydrogen and methane, and as adsorbents to meet various separation needs.
The separation efficiency of the super-hydrophobic cotton composite lies between 95% and 98%, irrespective of the chemical composition and density of the oils.
Besides, the MOF composite is capable of absorbing large volumes of oil. The novel technology is recyclable and can be used for a minimum of 10 times.
Process of development:
The researchers first developed a super-hydrophobic MOF which could repel water and float on the water surface, after which they grew the same MOF on the surface of medical cotton.
The researchers observed that the medical cotton changed from hydrophilic to super-hydrophobic material and floated on the water surface.
The MOF-coated cotton fiber composite showed water repellence with a water contact angle (WCA) of 163° and oil absorption capacity of more than 2500 wt%.
They also used motor oil, kerosene, and gasoline for the study.
 CLICK HERE FOR FULL CURRENT AFFAIRS (Only for Course Members)