Current Affairs for IAS Exams -24 February 2023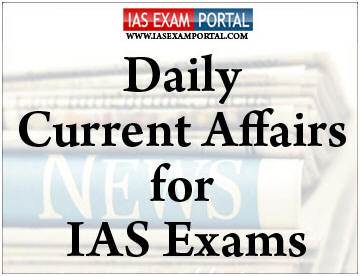 ---
Current Affairs for IAS Exams - 24 February 2023
::NATIONAL::
National Single Window System
National Single Window System, NSWS Portal for various Central, State, and UT clearances has hit a new milestone by crossing 75 thousand approvals. 
About:
The National Single Window System (NSWS) is a digital platform to guide you in identifying and applying for approvals according to your business requirements.
The portal hosts applications for approvals from 26 Central Departments and 19 State Governments. These approvals can be applied through NSWS.
NSWS is providing a single interface to apply for all G2B clearances from various Ministries and Departments as well as eliminating duplication of work by auto-populating form fields across different approvals based on single investor profile.
The platform is built to serve as an advisory tool to identify approvals based on user input and is to be used for guidance purpose only.
The NSWS initiative is an epitome of the 'Whole of Government' approach with different Central ministries/departments, states and UTs coming together to facilitate investor related clearances on a single portal, with transparency and accountability, enhancing ease of doing business exponentially.
Ministry of Health and Family Welfare review elimination of Kala-Azar 
Union Minister for Health & Family Welfare, chairs a high-level meeting with State Governments to review elimination of Kala-Azar from the country by 2023.
About:
As per MoHFW, there has been a 98.7 percent decline in cases of Kala-azar from 44,533 in 2007 to 834 in 2022 in India.
Kala-azar (Black Fever Disease) is a Neglected Tropical Disease (NTD) caused by a protozoan parasite of genus Leishmania andspread by infected female sandfly bites.
In India, Leishmania donovani is the only parasite causing the disease.
It is considered as the second deadliest parasitic killer in world after Malaria.
It is endemic in Bihar, Jharkhand, Uttar Pradesh, and West Bengal.
India contributes 11.5 percent of total cases reported globally.
It is a treatable and curable disease. Anti-leishmanial medicines are available for treatment.
Measures taken by the government so far:
National Kala Azar Elimination Programme was launched to control this disease.
National Vector Borne Disease Control Programme (NVBDCP) for prevention and control of Malaria, Dengue, Lymphatic Filariasis, Kala-azar, etc.
::INTERNATIONAL::
Y20 Summit
Youth Affairs and Sports Minister will launch the themes of the Y20 summit, logo, and website in New Delhi  in the curtain raiser event of Y20 Summit India.
About:
The Y20 is the official youth engagement group for the G20 (Group of 20), the forum for the world's largest and most advanced economies.
The Y20 is a process which brings together young leaders from across the globe, to discuss and debate global challenges and agree policy recommendations they would like to see G20 leaders take forward.
The list of policy recommendations is known as a communiqué, which is announced publicly at the Y20 Summit and presented to world leaders as part of the official G20 summit. 
India is hosting the Y20 summit for the first time. 
In Youth 20 Engagement Group, India's key focus is to bring young leaders from all across the globe together and discuss ideas for a better tomorrow and draft an agenda for action. 
The activities to be undertaken by Y20 during India's presidency will focus on global youth leadership and partnership. In a run-up to the final Youth-20 Summit, for the next eight months, there will be Pre summits on the five Y20 themes along with various discussions and seminars at different Universities across the country.
Lithium mining 
India has identified two lithium mines and one copper mine in Argentina for a possible acquisition or long-term lease.
KABIL, a joint venture formed through the participation of National Aluminium Company (Nalco), Hindustan Copper (HCL) and MECL, aims to ensure consistent supply of critical and strategic minerals in the domestic market.
Mining process
Lithium is found in cedemine rock formation and in brine form, which is called salar in Latin America. The other alternative is its liquid form. 
Argentina, Chile and Bolivia forms Lithium Triangle.
In South America, lithium is typically extracted from the salt flats by pumping brine into ponds and processing the lithium salts that crystallise once the water has evaporated. 
Australia is top lithium producer globally.
It requires time and investment to set up, but thereafter, the production is cheaper than the hard-rock mining practiced in Australia.
::Economy::
Reserve Bank – Integrated Ombudsman Scheme(RB- IOS)
As per Annual Report of Ombudsman Schemes 2021-22, the volume of complaints received under RBI ombudsman schemes rises 9.39 percent.
About:
Originated in Sweden an ombudsman is an official of the government who deals with complaints made by ordinary citizens against public organizations. 
It refers to an officer appointed by the Legislature to handle complaints against a service or administrative authority.
Key highlights:
RB-IOS aims to provide cost-effective grievance redressal mechanism to customers for deficiency in certain banking services.
It integrates existing three Ombudsman schemes of RBI namely, Banking Ombudsman Scheme, 2006; Ombudsman Scheme for Non-Banking Financial Companies, 2018; and Ombudsman Scheme for Digital Transactions, 2019.
It adopts 'One Nation One Ombudsman' approach by making RBI Ombudsman mechanism jurisdiction neutral.
It includes under its ambit Non-Scheduled Primary Co-operative Banks with deposit size of ₹50 crore and above.
::SCIENCE AND TECHNOLOGY::
Sodium tetrafluoroborate (NaBF4)
Recently, Scientists from the Institute of Nano Science and Technology (INST) Mohali, an autonomous institute of the Department of Science and Technology (DST), have introduced a new electrolyte called (NaBF4) which can help make electrochemical ammonia synthesis more efficient.
Sodium tetrafluoroborate
Sodium tetrafluoroborate is an inorganic compound with formula NaBF4.
It is a salt that forms colorless or white water-soluble rhombic crystals and is soluble in water but less soluble in organic solvents.
Key findings:
The electrochemical ammonia synthesis is largely limited by the poor solubility of nitrogen (N2) in the aqueous electrolyte environment as well as the competitive hydrogen evolution reaction.
Scientists have introduced a new electrolyte called (NaBF4), which not only acts as an N2 carrier in the medium but also works as a full-fledged "co-catalyst" along with active material transition metal-doped nanocarbon (MnN4) to deliver high-yield of ammonia (NH3) at absolutely ambient experimental conditions
This new aqueous electrolyte can help make electrochemical ammonia synthesis more efficient will be useful for industries producing green energy or hydrogen.