Current Affairs for IAS Exams - 24 June 2022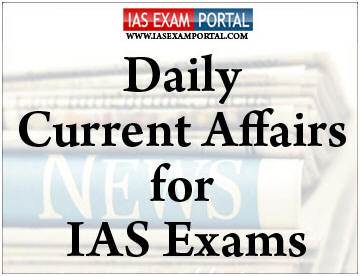 ---
Current Affairs for IAS Exams - 24 June 2022
::NATIONAL::
Section 295A
The debate surrounding the comments by BJP spokespersons Nupur Sharma and Naveen Jindal have put the spotlight on the law that deals with criticism of or insult to religion. 
About:
India does not have a formal legal framework for dealing with hate speech. However, a cluster of provisions, loosely termed hate speech laws, are invoked. These are primarily laws to deal with offences against religions.
Provisions in the Indian Penal Code (IPC), primarily Section 295A, define the contours of free speech and its limitations with respect to offences relating to religion.
Section 295A & others
Section 295A defines and prescribes a punishment for deliberate and malicious acts, intended to outrage religious feelings of any class by insulting its religion or religious beliefs.
Section 295A is one of the key provisions in the IPC chapter to penalise religious offences. 
The chapter includes offences to penalise damage or defilement of a place of worship with intent to insult the religion (Section 295); trespassing in a place of sepulture (Section 297); uttering, words, etc, with deliberate intent to wound the religious feelings of any person (Section 298); and disturbing a religious assembly (Section 296).
CLICK HERE FOR FULL CURRENT AFFAIRS (Only for Course Members)
Special remission to prisoners
The Union Home Ministry issued a set of guidelines to the States and the Union Territories on the grant of special remission to prisoners to commemorate the 75th year of Independence.
About:
As part of the 'Azadi Ka Amrit Mahotsav' celebrations, the special remission would be granted to a certain category of prisoners, and they would be released in three phases — August 15, 2022, January 26, 2023 and August 15, 2023.
The prisoners who would qualify for premature release under the scheme are women and transgender convicts of 50 years of age and male convicts of 60 years and above who have completed 50% of their total sentence period without counting the period of general remission earned.
Among others eligible for remission are physically challenged/disabled convicts with 70% disability and more who have completed 50% of their total sentence period, terminally ill convicts, convicted prisoners who have completed two-thirds (66%) of their total sentence period and poor or indigent prisoners who have completed their sentence but are still in jail due to non-payment of fine imposed on them by waiving off the fine.
The Ministry said that persons who committed an offence at a young age (18-21 years of age) and with no other criminal involvement or case against them and who have completed 50% of their sentence period would also be eligible for the remission. 
CLICK HERE FOR FULL CURRENT AFFAIRS (Only for Course Members)
::INTERNATIONAL::
Black Death
In a study published in the journal Nature on June 15, researchers have claimed that the disease originated in modern day northern Kyrgyzstan around 1338-1339 – nearly 7-8 years before it ravaged large parts of the world.
About:
The term Black Death refers to the bubonic plague that spread across Western Asia, Northern Africa, Middle East and Europe in 1346-53.
Most scholars agree that the Black Death, which killed millions, was caused by bacterium Yersinia pestis and was spread by fleas that were carried by rodent hosts.
The microorganism Y. pestis spread to human populations, who at some point transmitted it to others either through the vector of a human flea or directly through the respiratory system.
Contemporaries who wrote about the epidemic, often described the buboes (hard, inflamed lymph nodes) as the distinguishing clinical feature.
Matteo Villani, the Florentine chronicler, referred to the disease in 1348 as the 'mortal disease of buboes' and 'pestilence of buboes'.
The onset of symptoms was followed by intense fever and vomiting of blood. After the initial infection, most victims died within 2-7 days.
Northern Ireland Protocol
The Boris Johnson administration has come up with a new legislation, the Northern Ireland Protocol Bill, which would enable the U.K. to override provisions of the Brexit deal that concern trading arrangements in Northern Ireland — the Northern Ireland Protocol (NIP). 
Key highlights: 
Northern Ireland is the only part of the U.K. that shares a land border with the EU, as the Republic of Ireland (or Ireland) is an EU member-state. 
As long as the U.K. was part of the EU, things were fine. But with Brexit, the U.K. exited the EU's customs union.
This created a problem whose solution needed two seemingly contradictory outcomes: preserving the sanctity of the EU's single market, as well as that of the U.K.'s domestic market. 
The NIP's solution was to avoid a customs check at the actual customs border — on the island of Ireland, between Northern Ireland and the Republic of Ireland — as this would have violated the 1998 Good Friday Agreement and risked instability in a region with a volatile past.
It instead shifted the customs border to that between Northern Ireland and Britain, effectively at the former's ports. 
As per the NIP, goods flowing into Northern Ireland would be checked at this 'sea border' before entering the island, and Northern Ireland would continue to follow EU rules in product standards.
CLICK HERE FOR FULL CURRENT AFFAIRS (Only for Course Members)
::ECONOMY::
Open Network for DigitalCommerce
The government of India announced the launch of the pilot phase of open network for digital commerce (ONDC) in five cities in late April with an aim to "democratise" the country's fast growing digital e-commerce space that is currently dominated by the two U.S.-headquartered firms — Amazon and Walmart. 
About:
As per the strategy paper on ONDC, it is a not-for-profit organisation that will offer a network to enable local digital commerce stores across industries to be discovered and engaged by any network-enabled applications.
It is neither an aggregator application nor a hosting platform, and all existing digital commerce applications and platforms can voluntarily choose to adopt and be a part of the ONDC network.
The ONDC aims to enable buying of products from all participating e-commerce platforms by consumers through a single platform. Currently, a buyer needs to go to Amazon, for example, to buy a product from a seller on Amazon. 
Under ONDC, it is envisaged that a buyer registered on one participating e-commerce site (for example, Amazon) may purchase goods from a seller on another participating e-commerce site (for example, Flipkart).
The ONDC model is trying to replicate the success of the Unified Payments Interface (UPI) in the field of digital payments. UPI allows people to send or receive money irrespective of the payment platforms they are registered on. 
CLICK HERE FOR FULL CURRENT AFFAIRS (Only for Course Members)
::SCIENCE AND TECHNOLOGY::
Glischropusmeghalayanus
Scientists have discovered a new species of bamboo-dwelling bat in Ri Bhoi district of Meghalaya. The species, found near the forested patch of Nongkhyllem Wildlife Sanctuary, has been named  Glischropusmeghalayanus. 
About:
The present discovery is the first report of a thick-thumbed bat not only from India but also from South Asia.
The scientists behind the discovery are UttamSaikia from the Zoological Survey of India, who collected the specimen from the forested patch in the summer of 2020, Gabor Csorba of the Hungarian Natural History Museum and Manuel Ruedi of the Natural History Museum of Geneva.
Thick-thumbed bats of the genus  Glischropus are currently composed of four recognised species from Southeast Asia. The newly discovered species is small in size and has a dark brown colour with sulphur yellow belly.
Bamboo-dwelling bats are a particular kind of bats living in the internodes of bamboos with specialised morphological characters that help them to adopt to the life inside a bamboo.
With this new discovery, the total number of bat species known from India stands at 131. 
CLICK HERE FOR FULL CURRENT AFFAIRS (Only for Course Members)
::Miscellaneous::
Santhal Community
Santhal community is in the spotlight as one of the community leaders DroupadiMurmu has beennominated for election to the Presidential position in the country.
About Santhal community:
Third largest schedule tribe community in the country after Gond and Bhil.
Mostly found in the states of West Bengal, Bihar, Orissa, Jharkhand and Assam.
Language: Speak Santhali (belongs to the Austro- Asiatic language family) and Script calledOlchiki.
Festivals: Karam festival, Maghe, Baba Bonga, Sahrai, Ero, Asaria and Namah and Disumsendra.
CLICK HERE FOR FULL CURRENT AFFAIRS (Only for Course Members)