Current Affairs for IAS Exams - 24 November 2022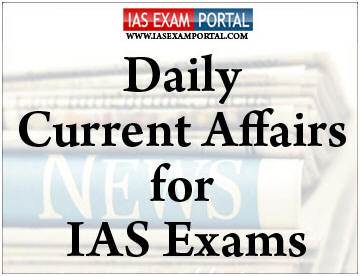 ---
Current Affairs for IAS Exams - 24 November 2022
::NATIONAL::
MAARG Portal
The Department for Promotion of Industry and Internal Trade (DPIIT) launched startup applications for registration on the MAARG portal, the National Mentorship Platform by Startup India.
About:
The purpose of the application is to provide further boost the startup ecosystem by catalysing the startup culture and building a strong and inclusive ecosystem for innovation and entrepreneurship in India.
MAARG portal, (Mentorship, Advisory, Assistance, Resilience and Growth) is a one stop platform to facilitate mentorship for startups across diverse sectors, functions, stages, geographies, and backgrounds.
The MAARG is being operationalized in three phases which include, Mentor Onboarding, Startup Onboarding, and MAARG Portal Launch and Mentor Matchmaking.
The objectives of the MAARG portal are: 
To provide sector focused guidance, handholding, and support to startups throughout their lifecycle
To establish a formalized and structured platform that facilitates intelligent matchmaking between the mentors and their respective mentees
To facilitate efficient and expert mentorship for startups and build an outcome-oriented mechanism that allows timely tracking of the mentor-mentee engagements.
FSSAI Proposes Regulations for Genetically Modified Food
FSSAI has come out with draft regulations for genetically modified food, proposing mandatory prior approval from the regulator to manufacture, sell and import food or ingredients produced from genetically-modified organisms.
About:
The proposed Food Safety and Standards (Genetically Modified Foods) Regulations, 2022 will apply to Genetically Modified Organisms (GMOs) intended for food use, as per the Food Safety and Standards Authority of India (FSSAI).
The regulations, once implemented, will also be applicable to food ingredients produced from GMOs that contain modified DNA as well as for food ingredients produced from GMOs that do not contain modified DNA but includes ingredients/additives/processing aids derived from GMOs.
GMO means any living organism that possesses a novel combination of genetic material obtained through the use of modern biotechnology.
This label must appear on the front of pack of pre-packaged products. 
This labelling requirement also applies to adventitious or technically unavoidable presence of GM ingredients.
The labelling requirement will not be applicable to GM-food products in which the modified DNA is not detectable.
::INTERNATIONAL::
Champions of the Earth award 2022
The UN Environment Programme (UNEP) recently announced its 2022 Champions of the Earth, honouring a conservationist, an enterprise, an economist, a women's rights activist, and a wildlife biologist for their transformative action to prevent, halt and reverse ecosystem degradation.
Key highlights: 
Indian wildlife biologist Dr Purnima Devi Barman is one among the recipients honoured with UN Environment Programme's(UNEP) 2022 Champions of the Earth award in Entrepreneurial Vision category.
Barman leads Hargila Army, an all-female grassroots conservation movement to protect Greater Adjutant Stork from extinction.
About Champions of the Earth award:
Since its inception in 2005, the annual Champions of the Earth award has been awarded to trailblazers at the forefront of efforts to protect our natural world. It is the UN's highest environmental honour. 
UN's highest environmental honour, it recognizes outstanding leaders from government, civilsociety, and private sector.
Honours individuals and organisations whose actions have a transformative impact onenvironment.
To date, the award has recognized 111 laureates: 26 world leaders, 69 individuals and 16 organizations. This year a record 2,200 nominations from around the world were received.
India gets CITES rules eased for export of Shisham items
India has got rules for export of timber-based products made of Shisham or North India Rosewood (Dalbergia Sissoo) eased under the Convention on International Trade in Endangered Species of wild fauna and flora (CITES) during its ongoing meeting in Panama.
About:
Shisham is a deciduous tree and is native toIndian subcontinent and southern Iran.
It occurs throughout sub-Himalayan tractfrom Ravi to Assam ascending up to 5000 ft.
Key highlights:
Decision was taken in ongoing 19th meeting ofConference of Parties (CoP19) to Convention onInternational Trade in Endangered Species of wildfauna and flora (CITES).
Presently, Shisham is included in Appendix II ofCITES, thereby requiring to follow CITES regulations for trade.
Now it has been agreed upon that any numberof Shisham timber-based items can be exported if they are adhering to certain weightrequirement.
This will help in exports of Shishamhandicrafts, which were falling continuously since 2016.
::Economy::
Standards National Action Plan (SNAP) 2022
SNAP proposes a set of actions that would enable BIS to fulfil its mandate as theNational Standards Body and deliver standards according to the market needsin an efficient and timely manner.
A standard certification implies a product or a service, by its design andprotocols, meets certain qualities.
Key features of the draft SNAP
Specific focus in developing and updating standards w.r.t. India'scommitment on UN SDG 2030 and Paris Agreement.
Proposal to bring technologies such as semiconductors, IT services,Information and Communications Technologies (ICT) such as metaverse, andcybersecurity techniques under BIS.
Other key subject areas to be taken up by BIS include Environment, Healthand Safety, Building, Construction & Urban Development, Textiles,Transportation etc.
::SCIENCE AND TECHNOLOGY::
Fordo Underground Facility
Iran has recently begun producing uranium enriched to 60 percent at the Fordo underground facility.
About:
60 percent enriched uranium still isn't technically weapons-grade (weapons require uranium enriched to 90 percent or higher), but having a significant stockpile of it could reduce the time Iran would need to make a bomb.
2015 agreement:
Under the terms of the 2015 agreement with world powers, Iran is only permitted to enrich uranium to 3.67% purity.
That deal gave Iran sanctions relief in return for curbs on its nuclear program to prevent the production of a weapon.
The deal also called for Fordo to become a research-and-development facility and restricted centrifuges there, used to spin enriched uranium into higher levels of purity, to non-nuclear uses.
Fordow Fuel Enrichment Plant (FFEP):
Fordow Fuel Enrichment Plant (FFEP) is Iran's second pilot enrichment plant.The first is the Pilot Fuel Enrichment Plant at Natanz.
It is located buried in a mountain near the city of Qom.