Current Affairs for IAS Exams - 24 September 2021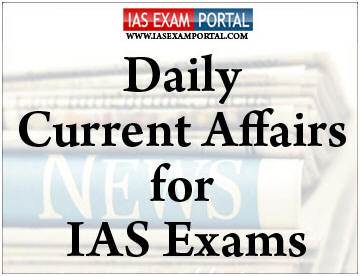 ---
Current Affairs for IAS Exams - 24 September 2021
::NATIONAL::
Acharya Vinoba Bhave
Vinayak Narahari "Vinoba" Bhave (11th September 1895 – 15th November 1982) is remembered as a great scholar-saint, was a 20th century Gandhian thinker who advocated for non-violence and human rights.
About:
He was inspired by Mahatma Gandhi's speech at the Benaras College during the freedom struggle.
He is best known for the Bhoodan Movement or 'Bloodless Revolution', a voluntary land reform movement at the Pochampally village, in Telangana.
Vinoba Bhabe was the first international figure to receive the Ramon Magsaysay Award in 1958.
He was awarded Bharat Ratna posthumously in 1983.
His publications among are, Geeta Pravachane; Teesri Shakti; Swarajya Shastra; Bhoodan Ganga; Moved by Love.
Subramania Bharati
Subramania Bharathi (11th December 1882 – 12th September 1921) was a pioneer of modern Tamil poetry, fondly called Mahakavi (great poet).
Raja of Ettayapuram impressed with his poetry had given him the title of Bharati' which means the one blessed by Goddess Saraswati.
About:
He had proficiency in 14 languages including three foreign languages.
He used his writings to imbibe feelings of national pride among Indian citizens.
He raised concern against child marriage, stood for reforming Brahminism and religion. He was also in solidarity with Dalits and Muslims.
His motto was "Ariveluthellivu"- clarity of mind.
CLICK HERE FOR FULL CURRENT AFFAIRS (Only for Course Members)
::INTERNATIONAL::
India and Australia 2+2 talks
Prime Minister Narendra Modi described first 2+2 talks between India and Australia as very productive, and said this was a sign of growing strategic convergence between both countries.
He also thanked his counterpart Scott Morrison for his focus on the comprehensive strategic partnership between the two counties.
External Affairs Minister S Jaishankar and Defence Minister Rajnath Singh held the 2+2 talks here with their Australian counterparts Marise Payne and Peter Dutton.
Significance of 2+2 dialogue:
Boost Quad grouping: Both sides reaffirmed their commitment to quadrilateral cooperation between Australia, India, Japan and the United States.
The Quad has a shared vision for an Indo-Pacific region that is free, open, prosperous and inclusive, and based on respect for international law.
Protectors of Emigrants
The fourth Conference of Protectors of Emigrants (PoEs) was held which coincides with the date of enactment of Emigration Act (EA), 1983.
POEs are responsible for granting emigration clearance to the intending emigrants as per the procedure prescribed under the Emigration Act, 1983.
It aims to protect and aid with his advice all intending emigrants and emigrants.
PoE shall perform the functions assigned to them by this Act under the general superintendence and control of the Protector General of Emigrants.
::ECONOMY::
Special Drawing Rights
The largest allocation of SDRs in history (about US$650 billion), to combat the crisis caused by the COVID-19 pandemic, comes into effect today.
It will boost India's forex reserves position and provide a cushion for import cover and strengthen the exchange rate.
SDRs are an international reserve asset created by the IMF in 1969 to supplement its member countries' official reserves.
Its value is based on a basket of five currencies: the U.S. dollar, the euro, the Chinese renminbi, the Japanese yen, and the British pound sterling
Background and role:
The SDR was created as a supplementary international reserve asset in the context of the Bretton Woods fixed exchange rate system.
The collapse of the Bretton Woods system in 1973 and the shift of major currencies to floating exchange rate regimes lessened the reliance on the SDR as a global reserve asset. Nonetheless, SDR allocations can play a role in providing liquidity and supplementing member countries' official reserves, as was the case amid the global financial crisis.
The SDR serves as the unit of account of the IMF and other international organizations.
The SDR is neither a currency nor a claim on the IMF. Rather, it is a potential claim on the freely usable currencies of IMF members. SDRs can be exchanged for these currencies.
::SCIENCE AND TECHNOLOGY::
ATL Space Challenge 2021
Niti Aayog's Atal Innovation Mission in collaboration with ISRO (Indian Space Research Organisation) and CBSE (Central Board of Secondary Education) has launched 'ATL (Atal Tinkering Labs) Space Challenge' for school students across India.
It is designed for all school students, mentors and teachers with schools having ATL labs and non-ATL as well.
It ensures that students of classes 6 to 12 are given an open platform where they can innovate and enable themselves to solve digital age space technology problems.
 CLICK HERE FOR FULL CURRENT AFFAIRS (Only for Course Members)