Current Affairs for IAS Exams - 25 February 2019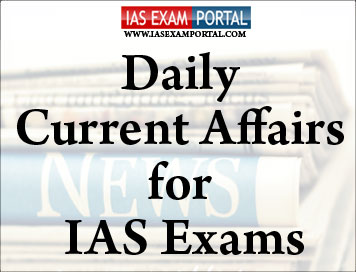 Current Affairs for IAS Exams - 25 February 2019
::NATIONAL::
Supreme court order on Forest dwellers may only affect encroachers
The February 13 order of the Supreme Court to several States to evict lakhs of claimants finally rejected under the Forest Rights Act (FRA), 2006, is an outcome of the consistent stand taken by the top court in the case since 2016 that encroachers should be evicted from forest land after due process.
On January 29, 2016, a three-judge Bench of Justices held that "if the claim is found to be not tenable by the competent authority, the result would be that the claimant is not entitled for the grant of any patta or any other right under the Act, but such a claimant is also either required to be evicted from that parcel of land or some other action is to be taken in accordance with law."
Two years later, on March 7 last year, an apex court Bench of Justices Madan B. Lokur, Kurian Joseph (both retired) and Deepak Gupta again sought information from the States concerned about the "action taken against those claimants whose claims have been rejected" and "the status of eviction of those claimants whose claims have been rejected and the total area from which they have been evicted", among other directions.
The process of verification of the claims of forest-dwelling Scheduled Tribes and Other Traditional Forest Dwellers (OTFD) is initiated by none other than the gram sabha.
The Scheduled Tribes and Other Traditional Forest Dwellers (Recognition of Forest Rights) Rules of 2007 mandate that the gram sabha should have adequate representation from the Scheduled Tribes, particularly vulnerable tribal groups and pre-agricultural communities.
National programme to eliminate viral Hepatitis launched
Union minister Ashwini Kumar Choubey launched a national programme aimed at eliminating viral hepatitis, recognized as an important public health problem.
The minister of state for health launched the National Action Plan - Viral Hepatitis at Mumbai in presence of Amitabh Bachchan, the goodwill ambassador for hepatitis, WHO South-East Asia Region.
Mr Choubey said, the programme is also in line with the country's global commitment towards achieving Sustainable Development Goal (SDG) 3.3. India has affirmed this commitment at the 69th World Health Assembly.
The Minister said, the aim of the programme is to combat hepatitis and achieve countrywide elimination of Hepatitis C by 2030.
India is one of the few countries to roll out management of Hepatitis B and Hepatitis C in a public health approach and offer free diagnostics and drugs lifelong to its beneficiaries.
::ECONOMY::
GST council gives relief to realty sector
The Goods and Services Tax Council on Sunday decided to reduce tax rates on the sale of under-construction residential properties from April 1, Finance Minister Arun Jaitley announced.
The Council decided that the rate for normal residential properties would be 5% without the option of availing input tax credits.
"It was found that the case of under-construction houses was the same as what was seen for restaurants, which set the precedent. The price of under-construction houses should have been reduced by the amount of input tax credits available, but this was not happening."said the minister
The Group of Ministers set up to look into the issue recommended reducing the rates to 5% for normal housing and 3% or below for affordable housing, he said.
However, the removal of input tax credits for the real estate sector could lead to several problems, tax analysts and industry leaders say. "Having certain categories not eligible for input tax credits is an aberration of the basic principles of a good GST, in addition to leading to issues of traceability of transactions and making the transactions opaque," M.S. Mani, partner at Deloitte India, said.
Union minister assures water transport in Yamuna soon
Water transport will soon start in Yamuna river in Uttar Pradesh, Union Minister for Road Transport & Highways, and Ganga Rejuvenation Nitin Gadkari announced on Wednesday.
He said a water port will also be set up in Baghpat district. Mr Gadkari inaugurated and laid the foundation stone of many highway projects in Meerut, Baghpat and Moradabad.
He said that inland waterways will be a game- changer for the region and it will help in increasing exports and reducing the cost of goods as well as passenger traffic.
The Minister also laid the foundation stone of several projects under the Namami Gange programme. The total cost of the projects is more than 12 thousand crore rupees.
Speaking in Baghpat, Nitin Gadkari said the government is planning to export sugar from western UP to Bangladesh through Yamuna water transport which will be connected to Allahabad and the DPR for this project is also ready.
In Meerut, the Minister laid the foundation stone of three projects. After completion of these projects, it will take only 40 to 45 minutes to reach Delhi from Meerut.
::INTERNATIONAL::
India to go for UNSC ban on JeM chief
With the UN Security Council and the Paris-based Financial Action Task Force both issuing strong press statements on the Pulwama attacks and calling on Pakistan to act against the Jaish-e-Mohammed (JeM), diplomats in Delhi and New York say they have begun negotiations on a new proposal to place JeM chief Masood Azhar on the ban list operated by the UNSC's 1267 committee, the fourth such request in four consecutive years.
Meanwhile, Beijing has vetoed each of the past three attempts to list Azhar: in 2016, 2017 and most recently in 2018. Ms. Swaraj is expected to meet Mr. Wang for the trilateral meeting of Russia-India-China (RIC) Foreign Ministers along with Russian Foreign Minister Sergey Lavrov in Wuzhen, and then will meet both bilaterally.
The extent of the disagreement was evident from the relatively much quicker response from the UNSC to a similar attack which killed 27 Iranian soldiers in Sistan Baluchistan on February 13, a day before the Pulwama attack. Despite the U.S.'s other issues with Iran, the UNSC was able to issue its statement on February 14, while the statement on Pulwama came a week later, on February 21.
Acknowledging the delay in a tweet, India's ambassador to the UN Syed Akbaruddin, who worked behind the scenes on the final statement, wrote: "A statement with many firsts takes more time than expected. In complex diplomatic situations, however, it is better to be late than never."
Indian built houses handed over to Srilankan workers
As many as 155 houses, built as part of India's ongoing housing project in Sri Lanka, were on Sunday handed over to estate workers in Hatton, located in the Central Province.
The effort is part of India's pledge to help construct 63,000 houses in Sri Lanka including 46,000 homes built in the war-hit north and east with a grant of $350 million, the largest Indian grant assistance project in any country abroad.
Prime Minister Ranil Wickremesinghe, Minister for Hill country New Villages, Infrastructure and Community Development Palani Digambaram and Indian High Commissioner to Sri Lanka Taranjit Singh Sandhu were present at the ceremony held on Sunday, to mark the completion and handing over of the 155 houses.
The houses have come up at a cost of about LKR 10 lakh each (roughly Rs. 4 lakh). Of the 14,000 houses coming up in the hill country with Indian aid, 1,000 have been completed, 3,000 are under construction and work on the remaining are expected to commence soon, officials said.
The newly-constructed houses will enable families of estate workers to move out of the cramped, colonial-era line rooms, into individual units.
::SCIENCE & TECHNOLOGY::
DNA forensics to help track poaching
A forensic DNA analysis showed that the meat was that of the Asian Palm Civet ( Paradoxurus hermaphroditus), a Schedule II species protected under the Wildlife (Protection) Act, 1972. The analysis helped Forest Department officials press charges against the youth and in further prosecution of the case.
"With investigating agencies facing increased challenges of collecting evidence to ensure convictions in wildlife crimes, DNA forensics are providing a major headway," said Mukesh Thakur, a scientist with the ZSI's wildlife forensics team who has contributed to the research.
Details of case studies, where advanced DNA forensics were used to help prosecute wildlife related crimes, have been documented in a recently published ZSI report, titled "Ascertaining species of origin from confiscated meat using DNA forensics and Wildlife forensics in nullifying the false accusation."
"We are not just confining our efforts up to species identification but our scientists are also involved in creating a reference database to assign the seizures to the source of origin, identifying sexes from seizures to understand poaching/ hunting pressure on the species which might impact the species demography in coming years," said Director of ZSI Kailash Chandra.
"We have a dedicated facility for DNA analysis at the ZSI, where we can identify samples at the molecular level using DNA forensics. This new tool is helping in solving a number of wildlife crimes," he added.
::SPORTS::
Apurvi Chandela wins gold in ISSF
Apurvi Chandela has won the gold medal in the women's 10-metre air rifle event at the Dr Karni Singh Shooting Range in New Delhi on Saturday.
This is India's first medal of the ISSF World Cup 2019. She set a new world record by registering a score of 252.9 points in the final.
Silver medallist Zhao Ruozhu of China scored 251.8 points. Xu Hong, also from China settled for the bronze medal with 230.4 points.