Current Affairs for IAS Exams - 25 February 2021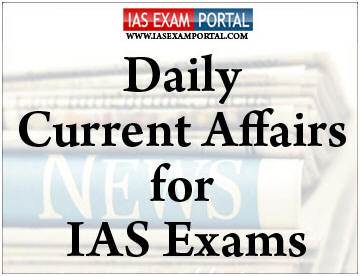 ---
Current Affairs for IAS Exams - 25 February 2021
::NATIONAL::
Your Honour
The debate around court etiquette in India was triggered again on Tuesday (February 23) after a Supreme Court Bench headed by Chief Justice of India (CJI) S A Bobde objected to a petitioner addressing judges as "Your Honour".
"When you call us Your Honour, you either have the Supreme Court of United States or the Magistrate in mind. We are neither," the CJI told the petitioner, a law student.
Efforts to end colonial salutations
For years, there have been efforts to purge from courtroom protocol salutations such as "My Lord" and "Your Lordship" — a practice inherited from British rule.
The Advocates Act of 1961, under section 49(1)(c), empowers the Bar Council of India to make rules on professional and etiquette standards to be observed by advocates.
To address this issue, a Resolution by the Bar Council of India in 2006 added Chapter IIIA to Part VI of the BCI Rules. The provision and its explanation read as follows:
Interestingly, while the 2006 notification discouraged the use of "My Lord" and "Your Lordship", it prescribed "Your Honour" or "Hon'ble Court" as an acceptable way for addressing the Supreme Court & High Courts, and "Sir" in Subordinate Courts and Tribunals.
Initiatives launched for Transforming Urban Governance
Housing and Urban Affairs Minister Hardeep Singh Puri launched various initiatives for Transforming Urban Governance. 
National Urban Digital Mission (NUDM):
The National Urban Digital Mission (NUDM) will create a shared digital infrastructure for urban India, working across the three pillars of people, process, and platform to provide holistic support to cities and towns. 
It will institutionalise a citizen-centric and ecosystem-driven approach to urban governance and service delivery in 2022 cities by 2022, and across all cities and towns in India by 2024.
India Urban Data Exchange (IUDX):
The India Urban Data Exchange has been developed in partnership between the Smart Cities Mission and the Indian Institute of Science (IISc), Bengaluru. 
IUDX serves as a seamless interface for data providers and data users, including ULBs, to share, request, and access datasets related to cities, urban governance, and urban service delivery. 
IUDX is an open-source software platform which facilitates the secure, authenticated, and managed exchange of data amongst various data platforms, 3rd party authenticated and authorised applications, and other sources. 
SmartCode Platform:
SmartCode is a platform that enables all ecosystem stakeholders to contribute to a repository of open-source code for various solutions and applications for urban governance. 
It is designed to address the challenges that ULBs face in the development and deployment of digital applications to address urban challenges, by enabling cities to take advantage of existing codes and customising them to suit local needs, rather than having to develop new solutions from scratch. 
CLICK HERE FOR FULL CURRENT AFFAIRS (Only for Course Members)
::INTERNATIONAL::
Minister of Loneliness
Earlier this month, Japan appointed a Minister of Loneliness after the country's suicide rate went up for the first time in 11 years. Prime Minister Yoshihide Suga allotted the portfolio to Tetsushi Sakamoto, who is also in charge of tackling the country's falling birth rate and revitalising the regional economy.
About:
Japan's suicide rate rose in 2020, with 20,919 people taking their lives according to data by the National Police Agency.
Most experts believe that the problem of escalating suicides in Japan is tied to the country's culture of loneliness. 
Japan's ageing population — over 20% of the country's population is more than 65 years old, which is the highest proportion for that category in the world — has created a huge section of middle-aged and older people who feel they have no one to turn to for help and company.
Since most ageing people do not socialise much, many of them die alone, with their bodies being discovered a long time after their death. The phenomenon is known as 'kodokushi', which means 'lonely death'.
The country also has some of the longest working hours in the world, which leaves people with little opportunity to spend time with their friends or be engaged in hobbies they are interested in. In fact, Japan has a term for sudden occupational mortality — 'karoshi', which means death due to overwork. 
Solar gigawatt dub
Nine African nations are on track to join solar gigawatt club.
Gigawatt club is an unofficial tag of Nations with installed capacity to produce 1 GW of solar power.
Currently, 37 countries that are part of the solar 'gigawatt club' (including India).
::ECONOMY::
Embargo lifted on grant of govt businesses to private banks
The Centre has lifted the restrictions on the grant of government businesses to private banks.
All private sector banks now will be allowed to conduct government-related banking transactions, such as tax and pension payments.
Union Finance Minister said that, the private banks can now be equal partners in the development of the Indian economy, furthering government social sector initiatives, and enhancing customer convenience.
By lifting the embargo, this move will spur competition and promote greater efficiency in the standards of customer services.
::SCIENCE AND TECHNOLOGY::
Cadmium (Cd) dopedSilver Antimony Telluride
It is a new Lead-free material which can efficiently convert waste heat to power small home equipment and automobiles.
It is based on thermoelectric energy conversion that allows generation of electrical voltage when one end of a material is heated while keeping the other side cold.
Most efficient thermoelectric materials developed by scientists so far use Lead (Pb) as a major constituent element, restricting their use for mass-market applications.
It was developed by scientists from Jawaharlal Nehru Centre for Advanced Scientific Research (JNCASR),Bengaluru, an autonomous institution of the Department of Science &Technology.
CLICK HERE FOR FULL CURRENT AFFAIRS (Only for Course Members)
::SPORTS::
Narendra Modi Cricket Stadium
The 130,000-seat arena at Motera in the Prime Minister's home state of Gujarat, which was inaugurated by President Ramnath Kovind, will be known as Narendra Modi Cricket Stadium and be a part of the Sardar Vallabhbhai Patel Sports Enclave.
In earlier known as Sardar Patel Stadium, or Motera stadium, before the massive redevelopment, the new name was revealed only when President Kovind opened a digital plaque, which said that the "Narendra Modi stadium" has been inaugurated.
This is the first such public structure to be named after Prime Minister Modi in the country, with the Gujarat government confirming later that it would be called Narendra Modi Cricket Stadium.