Current Affairs for IAS Exams - 25 March 2020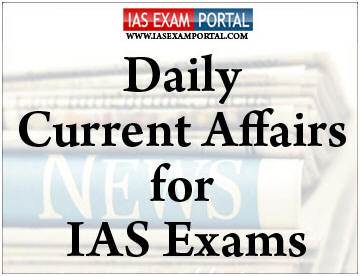 ---
Current Affairs for IAS Exams - 25 March 2020
---
::NATIONAL::
PM announces nationwide lockdown for 21 days
As the death toll from COVID-19 rose to 10, Prime Minister NarendraModi on Tuesday announced a 21-day lockdown for the entire country, stating that it was the only way for the country to break the chain of infection. The lockdown will be in effect till April 14.
In a nationwide television broadcast, Mr.Modi said the pandemic was a huge challenge to every country and even countries like the U.S. and Italy, considered to have good health infrastructure, were struggling to control the situation.
India on Tuesday recorded 564 positive cases, with the number of positive patients in Kerala and Maharahstra crossing 100.
Stating that it was the priority of both the Centre and State governments to set up health infrastructure as fast as possible to deal with the pandemic, Mr.Modi said the government had allotted ₹15,000 crore for the purchase of Personnel Protection Equipment for healthcare workers, setting up testing laboratories and quarantine centres.
CLICK HERE FOR FULL CURRENT AFFAIRS (Only for Course Members)
Centre asks states/UT's not to interrupt food processing units
Government has written to Chief Secretaries of all States and UTs to not obstruct or call for closure of food processing Units and to maintain uninterrupted supply for citizens during COVID-19 lockdown.
Secretary, Department for Promotion of Industry and Internal Trade Dr.GuruprasadMohapatra in the letter asked all states to ensure that food processing companies, retailers and chemists as well as workers and transporters engaged by these entities do not face any hardship in ensuring uninterrupted supply to consumers.
It said that any executive order under section 144 of the Indian Penal Code should include exemptions not just for these units but also to their distribution and sales channels servicing the food and beverage market, including food delivery, and employees associated with these activities.
Similarly, retail trade, wholesalers, chemists and pharmacies that sell or stock food products, medicines and water should be allowed to remain open to avoid any inconvenience to consumers and also to prevent panic buying.
CLICK HERE FOR FULL CURRENT AFFAIRS (Only for Course Members)
::ECONOMY::
RBI decides to advance variable rate term repo auctions
The Reserve Bank of India (RBI) has decided to to advance the first of the two variable rate term repo auctions to March 26 from March 30.
The central bank had announced two such auctions of ₹25,000 crore each on March 30 and March 31 to address the additional demand for liquidity.
"On a review of the rapidly evolving financial conditions and taking into account the impact of disruptions caused by COVID-19, it has been decided to advance the first auction scheduled for March 30, 2020 to March 26, 2020" the RBI said in a statement.There is no change in the auction scheduled for March 31, 2020.
"As a special case, standalone primary dealers (SPDs) were also allowed to participate in these auctions along with other eligible participants," the central bank said in the statement.
CLICK HERE FOR FULL CURRENT AFFAIRS (Only for Course Members)
Finance ministry to announce economic package to deal with COVID-19
An economic package to deal with COVID-19 situation will be announced soon, Finance Minister NirmalaSitharaman promised on Tuesday afternoon, adding that the government and regulators are constantly monitoring the state of the economy, markets and rupee depreciation.
However, she still offered little clarity on the composition of an economic task force announced by the PM last week, and explained the delay in announcing an economic package by saying extensive consultations were needed, and till yesterday, Parliament was in session and the Finance Bill had to be cleared.
She did not respond to specific queries on how the economic package would provide relief for millions of informal sector and daily wage workers who have been hit the hardest by the shutdown.
Ms.Sitharaman attributed the delay in announcing an economic package to the need for extensive consultations and to first pass the Finance Bill.
CLICK HERE FOR FULL CURRENT AFFAIRS (Only for Course Members)
::INTERNATIONAL::
UNSC holds meeting via videoconferencing
The UN Security Council met for the first time in its history via videoconference last night due to the coronavirus crisis. However, the diplomats said the meeting was not without technical difficulties.
One diplomat said that the meeting was meant to serve as a test run and thus was not listed on any official agenda. The meeting saw informal talks on the situation in the Democratic Republic of Congo.
The ambassadors and deputies all logged in from home, and the media had no access.
The meeting was interrupted several times when internet connections went down, or when some participants lost power.
The meeting was held in English, as technical difficulties made it impossible to provide simultaneous translation into the world body's other official languages.
UN Secretary-General Antonio Guterres has not shuttered the organization's headquarters in New York, but the city itself is under a stay-at-home order issued by the state's governor.
WHO claims India has tremendous potential to eradicate COVID pandemic
India, which led the world in eradicating two silent killers -- small pox and polio, in the past, has a tremendous capacity in eradicating the deadly Coronoa virus pandemic according to a top WHO official.
India, through targeted public intervention, ended small pox and gave a great gift to the world.
India also eradicated polio, said the Executive Director of the World Health Organization Michael Ryan during a press conference in Geneva yesterday on the COVIVD-19 pandemic.
India has tremendous capacities. It is exceptionally important that countries like India lead the way to show the world what can be done, Ryan said.
CLICK HERE FOR FULL CURRENT AFFAIRS (Only for Course Members)
::SCIENCE & TECHNOLOGY::
Study finds long tailed macaques proficiency in tool use and object manipulation
In recent times, there has been a lot of interest among primatologists in studying object handling and tool-use in non-human primates such as apes and chimpanzees.
A study from IISER Mohali has looked into how long-tailed macaques (Macacafascicularisumbrosus) in Greater Nicobar Island handle objects and use tools to simplify their efforts.
The researchers observed interesting behaviour related to object manipulation and tool use in six behavioural contexts involving eight different types of objects.
They also saw that males were more frequently involved in tool use than females. The results of the study are published in the International Journal of Primatology
There is a crucial difference between tool use and object use. A tool helps the user get better outcomes. JayashreeMazumder, first author of the paper explains.
According to her, the most exciting part was how the macaques decide what tool and technology to use. "Some of the macaques had few trials and errors, but it did not take them long to understand that the technique or tool was not providing the best outcome, and therefore, they were very quick in switching," she says.
CLICK HERE FOR FULL CURRENT AFFAIRS (Only for Course Members)
::SPORTS::
Tokyo Olympics getspostponed to 2021
Japan's Prime Minister and the head of the International Olympic Committee Shinzo Abe today agreed to postpone the Tokyo 2020 Games by a year in an extraordinary move, unprecedented in peacetime, as the world battles the coronavirus pandemic.
The move would be a devastating blow for the city of Tokyo, which had won widespread praise for its organization, with venues finished well ahead of time and tickets massively oversubscribed.
The Olympics, which has experienced boycotts, terrorist attacks and protests, but has been held every four years since 1948, would be the highest-profile event affected by the virus that has killed thousands and closed sports competitions worldwide.
CLICK HERE FOR FULL CURRENT AFFAIRS (Only for Course Members)