Current Affairs for IAS Exams - 25 August 2022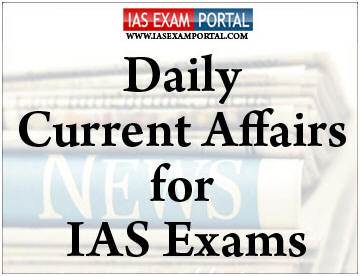 ---
Current Affairs for IAS Exams - 25 August 2022
::NATIONAL::
Supreme Court asks Centre to re-determine NFSA coverage
The Supreme Court has directed the Centre to increase coverage under the National Food Security Act (NFSA) so that "more and more needy persons and citizens get the benefit" under the 2013 law which entitles rural and urban poor to receive subsidised food grains under the Targeted Public Distribution System.
Key highlights: 
The coverage under the NFSA is still as per the population figures of 2011 census.
The apex court ordered the Union government to re-determine the NFSA coverage in States and Union Territories after taking into consideration the population increase between 2011-2021 so that benefits are not restricted to beneficiaries identified way back in 2011.
"Right to Food is a fundamental right available under Article 21 of the Constitution," the Supreme Court noted.
eShram portal
CLICK HERE FOR FULL CURRENT AFFAIRS (Only for Course Members)
Prevention of Money Laundering Act 2002
The Supreme Court will hear in open court a review of its judgment upholding key provisions of the Prevention of Money Laundering Act (PMLA), 2002.
What was the Supreme Court ruling on PMLA?
In Vijay Madanlal Choudhary &Ors v Union of India, a judgment delivered on July 27, the Supreme Court upheld the key provisions of the PMLA.
The SC accepted the government's arguments on virtually every aspect that was challenged by the petitioners: from reversing the presumption of innocence while granting bail to passing the amendments as a Money Bill under the Finance Act to defining the contours of the powers of the Enforcement Directorate (ED).
How is a judgment reviewed?
A ruling by the Supreme Court is final and binding. However, Article 137 of the Constitution grants the SC the power to review its judgments or orders.
CLICK HERE FOR FULL CURRENT AFFAIRS (Only for Course Members)
::INTERNATIONAL::
Defence Ministerial Conclave of the Shanghai Cooperation Organisation
Union Defence Minister Rajnath Singh attended to the Uzbek capital, Tashkent, on 23rd August on a three-day visit to attend a defence ministerial conclave of the Shanghai Cooperation Organisation (SCO).
Key findings: 
The SCO defence ministerial meeting is taking place around three weeks ahead of the annual summit of the influential grouping.
The summit is scheduled for September 15-16 in Samarkand.
The SCO meeting is expected to deliberate on regional security challenges, including the situation in Ukraine and Afghanistan.
The SCO is an influential economic and security bloc and has emerged as one of the largest transregional international organisations.
India and Pakistan became its permanent members in 2017.
The SCO was founded at a summit in Shanghai in 2001 by the presidents of Russia, China, the Kyrgyz Republic, Kazakhstan, Tajikistan and Uzbekistan.
India has shown a keen interest in deepening its security-related cooperation with the SCO and its Regional Anti-Terrorism Structure (RATS), which specifically deals with issues relating to security and defence.
CLICK HERE FOR FULL CURRENT AFFAIRS (Only for Course Members)
Egypt releases Postage Stamp celebrating 75th Anniversary of diplomatic ties with India
Egypt Post has recently released a commemorative postage stamp to celebrate 75 years of diplomatic relations between Egypt and India.
Key highlights: 
India and Egypt established diplomatic relations on 18th August 1947.
Political:
Founding members of Non-Aligned Movement (NAM), Friendship Treaty of 1955, India-Egypt Joint Commission (1983).
Economic: 
During 2021-22 bilateral trade reached a historic record high of USD 7.26 bn, India was 3rd largest export market for Egypt.
Egypt is also one of the largest investment destinations for India in the region.
Counter China's increased engagement with countries in West Asia and North Africa.
Egypt had sought India's help to contain radical Islam in the domestic front.
Egypt provides an anchor for India's developmental role in Africa.
CLICK HERE FOR FULL CURRENT AFFAIRS (Only for Course Members)
::ECONOMY::
The Competition (Amendment) Bill, 2022
The Competition (Amendment) Bill, 2022 was introduced in Lok Sabha on August 5, 2022. It seeks to amend the Competition Act, 2002. 
The Act establishes the Competition Commission of India (CCI) for regulating market competition.
The Competition (Amendment) Bill, 2022, has proposed the following changes:
changes in certain definitions like "enterprise", "relevant product market", "Group", "Control", etc., to provide clarity;
broadening the scope of anti-competitive agreements and inclusion of a party facilitating an anti-competitive horizontal agreement under such agreements;
provisions for reduction of time-limit for approval of combinations from two hundred and ten days to one hundred and fifty days and forming a prima facie opinion by the Commission within twenty days for expeditious approval of combinations;
provisions for "value of transaction" as another criteria for notifying combinations to the Commission;
limitation period of three years for filing information on anti-competitive agreements and abuse of dominant position before the Commission;
appointment of the Director General by the Commission with the prior approval of the Central Government;
introduction of Settlement and Commitment framework to reduce litigations;
CLICK HERE FOR FULL CURRENT AFFAIRS (Only for Course Members)
::SCIENCE AND TECHNOLOGY::
Vertical Launch ShortRange Surface-to-Air Missile 
The indigenously-developed ship-borne weapon system, Vertical Launch Short Range Surface to Air Missile (VL-SRSAM), was successfully flight tested by the Defence Research and Development Organisation (DRDO) and Indian Navy off the Chandipur coast in Odisha.
About:
VL-SRSAM, a ship-borne weapon system, is to strike aerial threats at close ranges (40 to 50 kmat an altitude of around 15 km), including sea-skimming targets.
Its design is based on Astra missile, which is a Beyond Visual Range Air to Air missile.
Key Features of VL-SRSAM:
Cruciform wings (for stable aerodynamic posture),
Thrust vectoring (to change direction of thrust from its engine control).
CLICK HERE FOR FULL CURRENT AFFAIRS (Only for Course Members)