Current Affairs for IAS Exams -25 February 2023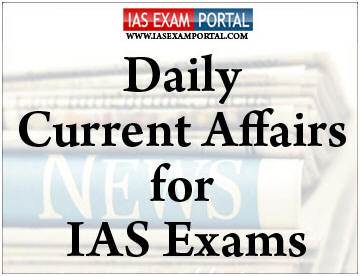 ---
Current Affairs for IAS Exams - 25 February 2023
::NATIONAL::
Sansad Ratna Awards
The Prime Minister of India recently congratulated fellow Members of Parliament who will be conferred the Sansad Ratna Awards 2023.
About Sansad Ratna Awards:
The Sansad Ratna Awards were instituted in 2010, inspired by the teachings of former President APJ Abdul Kalam, who launched the first edition of the Award function in Chennai.
The Jury Committee has chosen a total of 13 MPs and two parliamentary committees for the award, with a lifetime award being presented for the first 2023 awards.
The jury committee comprises "eminent Parliamentarians and (members of) civil society".
The nominations were based on an MP's cumulative performance in Parliament, from the beginning of the 17th Lok Sabha until the end of Winter Session 2022
Factors that the decision is based on include questions asked, private members' Bills introduced, debates initiated, attendance, funds utilised, etc.
The performance data of the members have been sourced from information provided by PRS Legislative Research.
Neuromorphic camera
Researchers at the Indian Institute of Science (IISc) have developed a novel technique that combines optical microscopy with a neuromorphic camera aided by machine learning algorithms that can go beyond the diffraction limit of light and detect minute objects.
About Neuromorphic camera:
A neuromorphic camera mimics the way the human retina converts light into electrical impulses.
How does it work?
In a typical camera, each pixel captures the intensity of light falling on it for the entire exposure time the camera focuses on the object. All these pixels are pooled together to reconstruct an image of the object.
In neuromorphic cameras, each pixel operates independently and asynchronously, generating events or spikes only when there is a change in the intensity of light falling on that pixel.
This generates sparse and lower amounts of data compared to traditional cameras, which capture every pixel value at a fixed rate, regardless of whether there is any change in the scene.
This allows a neuromorphic camera to "sample" the environment with much higher temporal resolution because it is not limited by a frame rate like normal cameras and also performs background suppression.
Neuromorphic cameras have a very high dynamic range ( >120 dB) which means they can be used in different conditions ranging from a very low-light environment to very high-light conditions. 
::INTERNATIONAL::
Pink Dolphin
Recently, two pink river dolphins, a mother and her calf, were rescued from a Colombian river where these mammals were trapped in shallow water.
About Pink Dolphin:
It is the Amazon River dolphin which is also known as the pink river dolphin or boto and lives only in freshwater.
It is found throughout much of the Amazon and Orinoco river basins in Bolivia, Brazil, Colombia, Ecuador, Guyana, Peru, and Venezuela. 
The river dolphin is smaller than other types of saltwater dolphins, and the species has excellent hearing.
Pink dolphins must live in warm, shallow water areas because they have very little blubber.
Unlike ocean-dwelling dolphins, pink dolphins have a hump instead of a dorsal fin.
Generally, these dolphins become more pink as they age, which has led to the species becoming known as the 'pink dolphin.'
These animal species use echolocation which lets the animal determine the size and shape of any surrounding item or object.
ULTRASAT
NASA will launch Israel's first space telescope mission, the Ultraviolet Transient Astronomy Satellite (ULTRASAT) in early 2026.
About:
ULTRASAT is an ultraviolet observatory with a large field of view, that will investigate the secrets of short-duration events in the universe, such as supernova explosions and mergers of neutron stars.
It is planned to launch into a geostationary orbit around Earth
NASA will provide the launch opportunity, Flight Payload Adapter, and other launch-related responsibilities for ULTRASAT.
Define geostationary orbit:
Satellites in geostationary orbit (GEO) circle Earth above the equator from west to east following Earth's rotation – taking 23 hours 56 minutes and 4 seconds – by travelling at the same rate as Earth.
This makes satellites in GEO appear to be 'stationary' over a fixed position.
To perfectly match Earth's rotation, the speed of GEO satellites should be about 3 km per second at an altitude of 35 786 km. This is much farther from Earth's surface compared to many satellites.
This particular orbit is used for meteorological and communications satellites.
The geostationary orbit is a special case of the geosynchronous orbit, which is any orbit with a period equal to Earth's rotation period.
::Economy::
Social Stock Exchange
The National Stock Exchange (NSE) has received final approval from the Securities and Exchange Board of India (Sebi) to set up a Social Stock Exchange (SSE) as a separate segment of the NSE.
About Social Stock Exchange:
SSE is a novel idea in India, and a stock exchange of this kind is intended to benefit the private and non-profit sectors by directing more capital to them.
The SSE will function as a distinct division of the current stock exchanges under the new regulations.
Who can list on SSE?
Not-for-profit organisations (NPOs) and for-profit social enterprises with social intent and impact as their primary goal will be eligible to participate in the SSE.
The social enterprises will have to engage in a social activity out of 16 broad activities listed by the regulator. The eligible activities include-
Eradicating hunger poverty, malnutrition and inequality
Promoting healthcare, supporting education, employability and livelihoods
Gender equality empowerment of women LGBTQIA communities.
Supporting incubators of social enterprise.
Corporate foundations, political or religious organisations or activities, professional or trade associations, infrastructure companies, and housing companies, except affordable housing, will not be eligible to be identified as social enterprises.
According to Sebi's framework, a minimum issue size of ₹1 crore and a minimum application size for the subscription of ₹2 lakh are currently required for SSE.
::SCIENCE AND TECHNOLOGY::
CCR5 Delta 32
Recently, the man referred to as the "Dusseldorf patient" became at least the third person to have been "cured of HIV" after a bone marrow transplant carrying a specific HIV-resistant mutation.
About CCR5 Delta 32:
Cysteine-cysteine chemokine receptor 5 (CCR5) is a protein on the surface of white blood cells that are involved in the immune system as it acts as a receptor for chemokines. 
CCR5 is found in the cell membranes of many types of mammalian cells, including nerve cells and white blood cells. 
In humans, the CCR5 gene that encodes the CCR5 protein is located on the short (p) arm at position 21 on chromosome 3. 
Role of CCR5: The role of CCR5 is to allow entry of chemokines into the cell—chemokines are involved in signalling the body's inflammation response to injuries. 
How does the mutation work in HIV patients?
Various mutations of the CCR5 gene are known that result in damage to the expressed receptor. 
One of the mutant forms of the gene is CCR5-delta 32, which results from the deletion of a particular sequence of 32 base pairs. 
HIV (Human Immunodeficiency Virus) mainly attacks the CD4 immune cells in the human body, thereby reducing a person's ability to fight off secondary infections.
The CCR5 receptors on the surface of the CD4 immune cells act as a doorway for HIV. However, the CCR5-delta 32 mutation prevents these receptors used by the HIV from forming on the surface, effectively removing the doorway.