Current Affairs for IAS Exams - 25 July 2022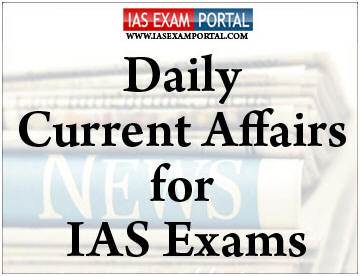 ---
Current Affairs for IAS Exams - 25 July 2022
::NATIONAL::
Flag Code of India
The Centre amended the Flag Code of India to allow the tricolour to be displayed in the open and on individual houses or buildings through day and night.
About:
The provision earlier allowed the flag, when displayed in the open, to be flown from sunrise to sunset as far as possible.
Now, a member of the public, a private organisation or an educational institution is allowed to hoist the flag on all days and occasions, ceremonial or otherwise, consistent with dignity and honour of the national flag. The move comes ahead of 75th anniversary of Indian Independence.
The Flag Code of India was earlier amended on December 30, 2021, allowing the use of polyester, apart from cotton, wool, silk and khadi for making hand-spun, hand-woven and machine-made flags.
CLICK HERE FOR FULL CURRENT AFFAIRS (Only for Course Members)
Anusilan Samity
Union Education and Skill Development Minister said that Anusilan Samity was a prominent secret revolutionary society operating from Bengal in the 20th century with a mission to overthrow colonial rule and give momentum to India's struggle for freedom. 
About:
Anusilan Samity was founded by Satish Chandra Pramatha Mitra, Aurobindo Ghose and Sarala Devi.
It was one among the many illustrious institutions from the pious land of Bengal that shaped the nation's conscience through nationalist writings, publications and emphasis on Swadeshi.
The Minister urged NCERT and the Education fraternity to include enough information about Anusilan Samity, especially in the upcoming National Curriculum Framework.
CLICK HERE FOR FULL CURRENT AFFAIRS (Only for Course Members)
::INTERNATIONAL::
Africa's 1st malaria vaccine
Gavi, the global vaccine alliance, announced $160 million in international support July 21, 2022 for the rollout of the first malaria vaccine in Africa from 2022-2025. The World Health Organisation (WHO) welcomed the move and called it a "historic decision". 
This international support will facilitate increased vaccine access to children at high risk of illness and death from malaria, the United Nations health agency noted. 
About:
Malaria is an acute febrile illness caused by Plasmodium parasites, which are spread to people through the bites of infected female Anopheles mosquitoes.
According to WHO's World Malaria Report (WMR) 2021, there were an estimated 241 million malaria cases and 627 000 malaria deaths worldwide in 2020.
Malaria remains a primary cause of childhood illness and death in sub-Saharan Africa.
Malaria in India:
India launched the National Framework for Malaria Elimination (NFME), 2016-2030 to eliminate malaria in a phased manner.
India accounted for 83% of estimated cases and about 82% of all malaria deaths in WHO South-East Asia Region (WMR 2021).
CLICK HERE FOR FULL CURRENT AFFAIRS (Only for Course Members)
WHO declares monkeypox a global emergency
The World Health Organisation has declared the global monkeypox outbreak a 'public health emergency of international concern' (PHEIC), one step below that of a 'pandemic.'
About:
So far 14,533 probable and laboratory-confirmed cases have been reported to WHO from 72 countries across six WHO regions; up from 3,040 cases in 47 countries at the beginning of May 2022.
The transmission was occurring in many countries that had not previously reported cases of monkeypox, and the highest numbers of cases are currently reported from countries in the European region and the region of the Americas.
The majority of reported cases of monkeypox currently are in males, and most of these cases occur among males who identified themselves as gay, bisexual and other men who have sex with men (MSM), in urban areas, and are clustered in social and sexual networks. Early reports of children affected include a few with no known epidemiological link to other cases.
CLICK HERE FOR FULL CURRENT AFFAIRS (Only for Course Members)
::ECONOMY::
TIES
The central government has released Rs 206 crore to states for the promotion of exports under the Trade Infrastructure forExport Scheme (TIES).
About:
The scheme is being implemented from FY 2017-18.
Under the scheme, financial assistance in the form of grant-in-aid is provided to Central/StateGovernment owned agencies (or their Joint Ventures with major stake-holding by them) for settingup or upgrading export infrastructure in States/UTs.
The scheme can be availed for infrastructure projects with significant export linkages like Border Haats, Land customs stations, etc.
CLICK HERE FOR FULL CURRENT AFFAIRS (Only for Course Members)
::SCIENCE AND TECHNOLOGY::
China's Second Space Station 
China launched the second of three modules to its permanent space station, in one of the final missions needed to complete the orbiting outpost by year's end.
About:
The 23-tonne Wentian ("Quest for the Heavens") laboratory module was launched on the back of China's most powerful rocket, the Long March 5B from the Wenchang Space Launch Centre on the southern island of Hainan. The launch was "a complete success".
China began constructing the space station in April 2021 with the launch of the Tianhe module, the main living quarters, in the first of 11 crewed and uncrewed missions in the undertaking.
The Wentian lab module, 17.9 m long, will provide space for experiments, along with the other lab module yet to be launched — Mengtian ("Dreaming of the Heavens").
CLICK HERE FOR FULL CURRENT AFFAIRS (Only for Course Members)