Current Affairs for IAS Exams - 25 October 2022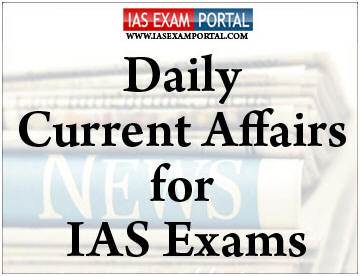 ---
Current Affairs for IAS Exams - 25 October 2022
::NATIONAL::
General Consent to the Central Bureau of Investigation
Chief Minister Eknath Shinde restored general consent to the Central Bureau of Investigation (CBI) to investigate cases in Maharashtra, reversing the decision of the state's previous government.
CBI will no longer require the permission of the state government to open investigations in the state.
Why is the consent of states needed?
CBI is governed by The Delhi Special Police Establishment (DSPE) Act, 1946, and it must mandatorily obtain the consent of the state government concerned before beginning to investigate a crime in a state.
Section 6 of The DSPE Act ("Consent of State Government to exercise of powers and jurisdiction") says: "Nothing contained in section 5 (titled "Extension of powers and jurisdiction of special police establishment to other areas") shall be deemed to enable any member of the Delhi Special Police Establishment to exercise powers and jurisdiction in any area in a State, not being a Union territory or railway area, without the consent of the Government of that State."
The CBI's position is in this respect different from that of the National Investigation Agency (NIA), which is governed by The NIA Act, 2008, and has jurisdiction all over the country.
What is the general consent for CBI?
The consent of the state government to CBI can be either case-specific or "general".
General consent is normally given by states to help the CBI in the seamless investigation of cases of corruption against central government employees in their states. This is essentially consent by default, which means CBI may begin investigations taking consent as having been already given.
In the absence of general consent, CBI would have to apply to the state government for its consent in every individual case, and before taking even small actions.
Withdrawal of consent
Traditionally, almost all states have given CBI general consent. However, since 2015, several states have begun to act differently.
NAREDCO sets up finance committee to help builders in getting funds
National Real Estate Development Council (NAREDCO)has set up a finance committee to enable member developers to easily access fundsfrom banks and financial institutions.
About:
It is an autonomous self-regulatory body established in 1998 under Ministry of Housing andUrban Affairs (MoHUA).
It acts as premier real estate government industry association of India.
CLICK HERE FOR FULL CURRENT AFFAIRS (Only for Course Members)
::INTERNATIONAL::
Financial Action Task Force
Pakistan is off the 'grey list' of the Financial Action Task Force (FATF) after four years, a development that has been welcomed across the country.
About:
The Financial Action Task Force (FATF) is commonly referred to as the world's "terrorism financing watchdog", which means it is the author — and custodian — of an international regime that works to ensure that the flows of money in the global financial system are not misused to fund terrorist activities.
FATF describes itself as an inter-governmental body that works to "set standards and promote effective implementation of legal, regulatory and operational measures for combating money laundering, terrorist financing and other related threats to the integrity of the international financial system".
FATF's grey list:
FATF maintains a "grey list" of countries that it watches closely. In essence, these are countries that have, in the assessment of the FATF, failed to prevent international money laundering and terrorist financing, and are, therefore, on a global watchlist for bad behaviour.
FATF calls these countries "jurisdictions under increased monitoring". Basically, these countries have to comply with certain conditions laid down by the FATF, failing which they run the risk of being "black listed" by the watchdog. Their compliance is periodically reviewed by the FATF.
According to the FATF, when a jurisdiction is placed under increased monitoring, "it means the country has committed to resolve swiftly the identified strategic deficiencies within agreed timeframes and is subject to extra checks".
Specifically, these jurisdictions are now "actively working with the FATF to address strategic deficiencies in their regimes to counter money laundering, terrorist financing, and proliferation financing".
Scorched Earth Policy
Russia is being accused of using Scorched earth tactics in ongoing war against Ukraine.
About:
Scorched earth tactics form part of a military strategy which seeks to destroy anything thatcould be of use to enemy, including energy supplies, bridges, agricultural fields, road and railwaylinks, etc.
Russia has used missiles to destroy civilian infrastructure, including power and water supplylines.
CLICK HERE FOR FULL CURRENT AFFAIRS (Only for Course Members)
::Economy::
Sugarcane production in India shifting from South to North: NSO report
As per National Statistical Office (NSO) report, Six sugarcane-producing northern Indian states (M.P, U.P, Bihar, Haryana, Punjab, Uttarakhand) saw a 42% increase in their output value between 2011 and 2020.
Five states from south (Andhra Pradesh, Karnataka, Telangana, Tamil Nadu, and Maharashtra) saw decline of 32.4% during the same period.
Reasons for this shift:
Larger irrigated area in Northern region.
Higher State Advisory Price (SAP) over and above the Centre's Fair and Remunerative Price (FRP) being offered in North.
While Centre announces FRP, states fix their own sugarcane price called 'SAPs, which are usually higher than FRP.
Also, southern states are diverting their water to other high value crops.
Climatic conditions for sugarcane:
There are two distinct agro-climatic regions of sugarcane cultivation in India, viz., tropicaland subtropical.
Largest producers of sugarcane include: U.P, Maharashtra, Bihar, Tamil Nadu, Karnataka, Andhra Pradesh etc.
CLICK HERE FOR FULL CURRENT AFFAIRS (Only for Course Members)
::SCIENCE AND TECHNOLOGY::
Agni Prime ballistic missile
The Agni Prime new generation ballistic missile was successfully test fired off the coast of Odisha.
What is the Agni Prime missile?
The 'Agni Prime' is a two-stage canisterised solid-propellant missile with dual redundant navigation and guidance system.
Agni Prime is a new generation advanced variant of the Agni class of missiles with range capability between 1,000 and 2,000km.
Significantly, it weighs 50 per cent less than the Agni 3 missile and has new guidance and propulsion systems. 
In addition, since it is canisterised, it can be launched from rail or road, be stored for longer periods and can be transported as per operational requirements.
List of Agni missiles:
Agni-I (Range: 700-800 Km): The Agni-I is a short to medium-range ballistic missile.
Agni-II (Range: 2000 Km): The Agni-II is a medium-range ballistic missile equipped with two solid fuel stages.
Agni-III(Range: 3000 Km): The Agni-III is an intermediate-range ballistic missile equipped with two solid fuel stages.
CLICK HERE FOR FULL CURRENT AFFAIRS (Only for Course Members)