Current Affairs for IAS Exams - 25 September 2021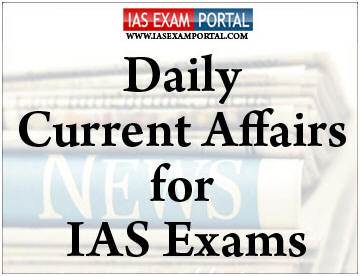 ---
Current Affairs for IAS Exams - 25 September 2021
::NATIONAL::
Airspace map for drone operations
The Union Government has released India's airspace map for drone operations on 24 September 2021. The map is available on DGCA's digital sky platform.
Salient features:
The drone airspace map is an interactive map of India that demarcates the yellow and red zones across the country. 
Green zone is the airspace upto 400 feet that has not been designated as a red or yellow zone; and upto 200 feet above the area located between 8-12 km from the perimeter of an operational airport.
In green zones, no permission whatsoever is required for operating drones with an all-up weight upto500 kg. 
Yellow zone is the airspace above 400 feet in a designated green zone; above 200 feet in the area located between 8-12 km from the perimeter of an operational airport and above ground in the area located between 5-8 km from the perimeter of an operational airport.
Drone operations in yellow zone require permission from the concerned air traffic control authority – AAI, IAF, Navy, HAL etc. as the case may be. 
Yellow zone has been reduced from 45 km earlier to 12 km from the airport perimeter.
Red zone is the 'no-drone zone' within which drones can be operated only after a permission from the Central Government.
The airspace map may be modified by authorised entities from time to time.
Anyone planning to operate a drone should mandatorily check the latest airspace map for any changes in zone boundaries.
The drone airspace map is freely available on the digital sky platform to all without any login requirements.
National Single Window System
Union Minister for Commerce and Industry launched the National Single Window System (NSWS) for investors and businesses.
The Minister said that this single window portal will become a one-stop shop for investors ushering freedom from the legacy of running to govt offices for approvals and registrations.
What is a National Single Window System?
The Department for Promotion of Industry and Internal Trade along with Invest India initiated the process of developing the portal as a National Single Window System 
A National Single Window is a customs portal where traders can submit all documents relating to trade and can access all relevant information regarding trade via a single electronic gate way.
All solutions on this portal will be there for all at one click of the mouse through 'End to End' facilitation.
This would bring Transparency, Accountability and Responsiveness in the ecosystem where all information will be available on a single dashboard.
Simultaneously, an applicant Dashboard will also be available to apply, track & respond to queries.
The National Single Window System will provide several services like Know Your Approval (KYA), Common Registration & State Registration Form, Document repository & E-Communication.
The beta version of the portal has now been completed and is being opened to all stakeholders and the public as a trial soft launch.
CLICK HERE FOR FULL CURRENT AFFAIRS (Only for Course Members)
::INTERNATIONAL::
Evergrande crisis
Chinese real estate conglomerate Evergrande Group has been in the news recently over its inability to pay interest on its huge debt obligations. The company recently defaulted on interest payment and is set to miss more deadlines.
About:
The Evergrande Group is China's second-largest real estate company in terms of total sales and employs over 200,000 employees.
Its core business deals with buying large amounts of land, developing them into houses, restaurants and so on and selling them to interested buyers.
The company uses large amounts of debt from banks and investors as well as short-term loans extended by suppliers and property buyers to fund its business.
It has total liabilities worth over $300 billion and has to pay around $37 billion in interest and maturing debt over the next one year.
The company's bonds have been downgraded by rating agencies such as Fitch and S&P and have traded well below 50 cents on the Dollar, given the company's precarious financial position.
World Rhino day
On the occasion of World Rhino day (September 22), Assam government set 2400 rhino horns to fire.
Ceremony was aimed at busting myths about rhino horns.
Key highlights:
Assam has 71% of the world's population (2652 as per 2018 census) with KazirangaNational Park harbouring the highest number.
Threats: Poaching for medical purpose (biggest threat), habitat loss, low genetic diversity.
IUCN status: Vulnerable.
Initiatives taken:Indian Rhino Vision 2020 (to expand rhino's range), Special Rhino Protection Forceetc.
::ECONOMY::
Silk Yarn Production Centre
Khadi and Village Industries Commission (KVIC) has taken a historic initiative to set up Odisha's first ever Tussar Silk Yarn Production Centre at Choudwar in Cuttack district.
This silk yarn production centre will ensure local availability of Tussar Silk yarn, create local employment and reduce the silk production cost.
Tussar silk is one of the finest varieties of Silk that is distinguished by its coarseness and porous weave that give it a rugged and rustic appearance.   
The development assumes great significance as Silk comprises nearly 75% of the total Khadi fabric production in Odisha.
For hundreds of years, Odisha has been known for its exquisite Silk, particularly the Tussar variety, which provides livelihood to thousands of tribal people, particularly women. 
::SCIENCE AND TECHNOLOGY::
Light Fidelity technology
Recently, Students' Educational and Cultural Movement of Ladakh (SECMOL) institute for LiFe network.
About:
LiFi means transmitting data with a light beam spectrum through open space in outdoor and indoor environments.
It makes a LED light bulb emit pulses of light that are undetectable to human eye and within those emitted pulses, data can travel to and from receivers.
Advantages of LiFi systems:
Provide ultra-fast data connections, Useful in urban areas where radiospectra are congested and also in rural areas wherein Fiber Optic Cables or networks are not reachable.
 CLICK HERE FOR FULL CURRENT AFFAIRS (Only for Course Members)