Current Affairs for IAS Exams - 26 February 2021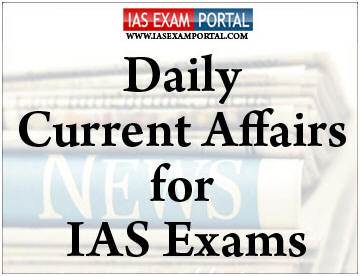 ---
Current Affairs for IAS Exams - 26 February 2021
::NATIONAL::
Biocoal
Recently, UP government has set up Bio-Coal Production Plant in Bahraich district to convert farm waste into fuel for power generation.
Biocoal Is a carbon neutral solid biofuel made from organic waste. It is a viable option for coal consumers looking to reduce their emissions.
It is produced by processing dry biomass in an inert environment (no oxygen) at high temperatures, a process referred to as pyrolysis.
Govt approves proposal for 'green tax' on old vehicles to contain air pollution
The Ministry of Road Transport and Highways approved a proposal to levy 'Green Tax' on old vehicles which are polluting the environment.
The main principles to be followed while levying the Green Tax are:
Transport vehicles older than 8 years could be charged Green Tax at the time of renewal of fitness certificate, at the rate of 10 to 25 % of road tax;
Personal vehicles to be charged Green Tax at the time of renewal of Registration Certification after 15 years;
Public transport vehicles, such as city buses, to be charged lower Green tax;
Higher Green tax (50% of Road Tax) for vehicles being registered in highly polluted cities
Differential tax, depending on fuel (petrol/diesel) and type of vehicle;
Vehicles like strong hybrids, electric vehicles and alternate fuels like CNG, ethanol,LPG etc to be exempted;
Vehicles used in farming, such as tractor, harvester, tiller etc to be exempted;
Revenue collected from the Green Tax to be kept in a separate account and used for tackling pollution, and for States to set up state of-art facilities for emission monitoring.
The benefits of the "Green Tax", according to the government could be:
To dissuade people from using vehicles which damage the environment
To motivate people to switch to newer, less polluting vehicles
CLICK HERE FOR FULL CURRENT AFFAIRS (Only for Course Members)
::INTERNATIONAL::
New Zealand tops COVID-19 performance ranking
New Zealand and Vietnam were ranked the best performing countries in their response to the pandemic.
According to a COVID-19 "performance index" put together by the Lowy Institute, an Australian think tank, which sought to assess the impact of geography, political systems and economic development in assessing outcomes.
The index, which was based on six different indicators, including confirmed cases and deaths per million people and the scale of testing, sought "to gauge the relative performance of countries".
It assessing 98 countries in the 36 weeks that followed their hundredth case.
U.S., Brazil worst:
India ranked 86 out of 98 countries, while the U.S. stood at 94 and Brazil at the bottom of the index.
Taiwan, Thailand and Cyprus were in the top five.
Sri Lanka was the best faring nation in South Asia, ranking 10, while the Maldives was at 25, Pakistan at 69, Nepal at 70, and Bangladesh at 84.
 
India inks MoU with International Energy Agency
India inked a strategic partnership agreement with the International Energy Agency (IEA) to strengthen cooperation in global energy security, stability and sustainability.
About:
This partnership will lead to an extensive exchange of knowledge and would be a stepping stone towards India becoming a full member of IEA.
The Framework for Strategic Partnership between the IEA members and the Government of India was signed on 27th January, 2021 to strengthen mutual trust and cooperation and enhance global energy security, stability and sustainability.
The contents of the strategic partnership will be jointly decided by IEA members and India, including a phased increase in benefits and responsibilities for India as an IEA strategic partner, and building on existing areas of work within Association and the Clean Energy Transitions Programme, such as Energy Security, Clean and Sustainable Energy...Expansion of gas-based economy in India etc.
The IEA Secretariat will be responsible for implementation of the cooperative activities in India and for facilitating discussion between the IEA members and India to further develop the strategic partnership.
::ECONOMY::
M-sand (manufactured sand) policy
Manufactured sand (M-Sand) is artificial sand produced from crushing hard stones into small sand sized angular shaped particles, washed and finely graded to be used as construction aggregate.
Significance of the policy:
To reduce dependency on the river sand
To boost the use and production of M-Sand
To resolve the problem of waste coming out from the mines in the state
To create employment opportunities at the local level
::SCIENCE AND TECHNOLOGY::
Bungarusromulusi
A study of snakes in southern and western India has identified a new species of snake. Named the Romulus' krait (Bungarusromulusi) after the 'snake man of India', Romulus Whittaker.
The species has so far remained undetected because of its similarity in appearance to the common krait (B. caeruleus) and only a careful genetic analysis revealed that the two were distinct species.
The study also showed that some kraits in Maharashtra that were misidentified as the Wall's Sind krait were actually the same as the Sind krait which is also found in parts of Pakistan and Rajasthan and has been identified as the snake with the most potent venom in India. 
CLICK HERE FOR FULL CURRENT AFFAIRS (Only for Course Members)