Current Affairs for IAS Exams - 26 March 2021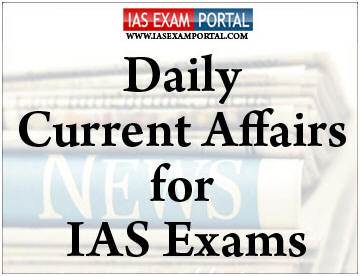 ---
Current Affairs for IAS Exams - 26 March 2021
::NATIONAL::
Electoral bonds
The Supreme Court on Friday refused to stay the sale of electoral bonds before Assembly elections in crucial States like West Bengal and Tamil Nadu.
About:
The judgment by a Bench led by Chief Justice of India Sharad A. Bobde said the scheme began in 2018 and continued in 2019 and 2020 without any impediments.
The judgment came on an urgent application moved by NGO Association for Democratic Reforms, to stay the sale scheduled between April 1 and 10.
The government had notified the scheme on January 2, 2018, and defended electoral bonds as an antidote to the influence of black money in politics and anonymous cash donations of huge amounts.
National Commission for Allied, Healthcare Professions Bill
The Lok Sabha cleared the National Commission for Allied and Healthcare Professionals Bill, 2021.
It seeks to set up a commission to regulate the allied healthcare sector, standardise training and qualifications across the country.
About:
The Bill aims to establish a statutory body or commission that frames policies and standards, regulate professional conduct and qualifications for allied healthcare professionals, besides providing uniformity of service standards across institutions.
The chairman and vice-chairman of the body will be selected for two years and they would be eligible for renomination for further two terms.
State governments will be represented in the commission, 12 seats have been set aside for them, and State-level commissions are also to be set up under the Bill. 
The standards for regulation, training, eligibility and service have been coded by international yardsticks and according to International Labour Code (ILO) codes.
The Bill had been pored over by the standing committee on health which had suggested 110 amendments of which 102 have been incorporated into the Bill, one of the reasons for bipartisan support for it. 
CLICK HERE FOR FULL CURRENT AFFAIRS (Only for Course Members)
::INTERNATIONAL::
UN Institute for Training & Research
The Prime Minister, Shri Narendra Modi has expressed gratitude to UN Institute for Training & Research (UNITAR). 
UNITAR has commended India's remarkable progress in reducing the premature mortality from Non-Communicable Diseases.
About:
The United Nations Institute for Training and Research (UNITAR) is a dedicated training arm of the United Nations system.
UNITAR was founded in 1963, following the recommendation of the UN Economic and Social Council to the General Assembly. The headquarters are based in Geneva (Switzerland).
It provides training and capacity development activities to assist mainly developing countries with special attention to Least Developed Countries (LDCs), Small Island Developing States (SIDS) and other groups and communities who are most vulnerable, including those in conflict situations.
World Development Report 2021
World Bank recently releases the World Development Report 2021.
The report also points that the "I paid a bribe"online initiative by the Janaagraha Centre for Citizenship andDemocracy in India has developed into one of the largest crowd sourced anti corruption platforms in the world.
Key highlights of the report:
The World Bank group report gives 5 messages to improve life of poor
Need for enhanced data governance and a social contract for data.
Increasing data use and reuse to realize greater value.
Create more equitable access to data.
Foster trust through safeguards that protect people from data misuse.
Work towards an integrated national data system.
::ECONOMY::
Status quo in e-comm policy
Flipkart and Amazon opposed the proposed changes in the FDI in e-commerce policy at a meeting with the Department for Promotion of Industry and Internal Trade (DPIIT).
Almost 15 e-commerce players participated in the discussion as part of the ongoing consultations on the need to tweak the existing FDI policy for e-commerce players.
Check violation:
One group of players said that a tweak was imperative because of constant violations by certain players.
There is a need for a stricter policy, and a tougher regime in order to avoid discrepancies and defaults. The DPIIT must issue a fresh press note.
Greater compliance:
Those seeking a status quo argued said that since there was a mandatory annual audit certification (by statutory bodies for FDI compliance) that companies have to submit, there was greater compliance by companies that have FDI.
Also, "there are specific enforcement agencies who have the mandate to, and are currently looking into appropriate enforcement of the FDI regime.
As many as seven players opposed any changes to the existing rules.
::SCIENCE AND TECHNOLOGY::
Double mutant coronavirus variant
A unique "double mutant" coronavirus variant with a combination of mutations not seen anywhere else in the world has been found in India.
About:
According to the Health Ministry said, it is still to be established if this has any role to play in increased infectivity or in making COVID-19 more severe.
Genome sequencing of a section of virus samples by a consortium of 10 labs across the country, called the Indian SARS-CoV-2 Consortium on Genomics (INSACOG).
It revealed the presence of two mutations, E484Q and L452R together, in at least 200 virus samples from Maharashtra, as well as a handful in Delhi, Punjab and Gujarat.
Mutations in the virus per se are not surprising but specific mutations that help the virus evolve to thwart vaccines or the immune system, or are linked to a spike in cases or in disease severity, are of interest.
While the two mutations have been individually identified in other variants of SARS-CoV-2 globally, and have been associated with a reduction in vaccine efficacy as well as infectivity, their combined effect and biological implication has not yet been understood.
 CLICK HERE FOR FULL CURRENT AFFAIRS (Only for Course Members)
::SPORTS::
ISSF World Cup 
India's Vijayveer Sidhu settled for the silver medal behind Estonia's PeeterOlesk in the men's 25m rapid fire pistol final of the ISSF World Cup.
The other Indian shooters in the final, Anish Bhanwala and Gurpreet Singh occupied the fifth and sixth places, while Poland's Oskar Miliwek bagged the bronze with 20.