Current Affairs for IAS Exams - 26 August 2021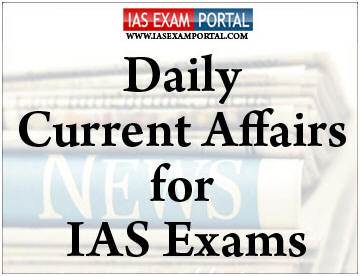 ---
Current Affairs for IAS Exams - 26 August 2021
::NATIONAL::
National Monetisation Pipeline
Developed by Niti Aayog, the national monetisation pipeline (NMP), wherein operational infrastructure assets including port terminals are being privatised through the public-private-partnership (PPP) route.
This will be the end of the road for stevedores who load and unload cargo to-and-from ships at Centre-run major port trusts.
About:
The NMP has listed 31 cargo berths across nine of the 12 major ports for privatisation by 2025.
Stevedores buy licenses from the port authorities after paying an annual fee but are not required to share revenue with the port trusts unlike PPP operators.
These entities are engaged directly by the exporters and importers based on competitive quotations to load and unload cargo from non-mechanised, common user berths run by the port trusts themselves.
 Right to Protest
Recently, the Supreme Court observed that Right to protest of farmers should not hinder traffic or public movement.
About Right to Protest:
Under Article 19 (1) (a) and 19 (1) (b), the Right to protest is a Fundamental Right.
It allows people to assemble (without arms) and express their views through peaceful protest,strengthening India's democracy by holding government accountable and raise voice against misuse of power.
But it is not an absolute right. Under Article 19 (2) and 19 (3), it is subjected to reasonable restrictions.
CLICK HERE FOR FULL CURRENT AFFAIRS (Only for Course Members)
::INTERNATIONAL::
Chakma and Hajong communities
Chakma organisations have slammed the proposed deportation of 60,000 people belonging to the Chakma and Hajong communities from Arunachal Pradesh.
About Chakma and Hajong communities:
The Chakmas and Hajongs are ethnic people who lived in the Chittagong Hill Tracts, most of which are located in Bangladesh.
Chakmas are predominantly Buddhists, while Hajongs are Hindus.
They fled erstwhile East Pakistan in 1964-65, since they lost their land to the development of theKaptai Dam on the Karnaphuli River and also faced religious persecution and eventually sought asylum in India.
KAZIND-21
The 5th edition of Indo- Kazakhstan Joint Training Exercise, "KAZIND-21" will be conducted at Training Node, Aisha Bibi, Kazakhstan, from 30 August to 11 September 2021.
The exercise is a joint training between both the Armies, which will boost the bilateral relations between India and Kazakhstan.
About:
The Indian Army contingent represented by a battalion of The Bihar Regiment consists of a total of 90 personnel led by a Contingent Commander. The Kazakhstan Army will be represented by a company group.
The Exercise will provide an opportunity to the Armed Forces of India & Kazakhstan to train for Counter Insurgency/ Counter Terrorism operation in mountainous, rural scenario under UN mandate.
The scope of Joint Exercise includes professional exchange, planning & execution of operation in Counter terrorism environment at sub unit level and sharing expertise on skills at arms, combat shooting and experiences in Counter Insurgency/ Counter Terrorism operations.
The exercise will culminate after a 48 hours long validation exercise which will involve a scenario of neutralization of terrorists in a semi-rural hideout.
The exercise will strengthen mutual confidence, inter-operability and enable sharing of best practices between the Armed Forces of India and Kazakhstan.
::ECONOMY::
e-CWBP Toolkit
Case study from Hyderabad on the steps it took to become 'water positive' through the 'City Water Balance Plan' (CWBP) was showcased at a virtual session of the World Water Week 2021.
About:
The e-CWBP Toolkit that acts as a decision support system for the municipalities and sector stakeholders to implement the government of India's $40 billion Jal Jeevan Mission (Urban's) initiative was also launched at the session, a release said here.
The World Water Week 2021 is being organised by the Stockholm International Water Institute.
Hyderabad is rapidly expanding and extending piped water supply to the residents beyond the city in the peripheral areas. This is made possible by the vision and investment in the water sector by the state government, support of the Union government, and addressing the core water scarcity problems through social and technological interventions.
The e-toolkit 'Making Cities Water Positive' assists gap identification and provides knowledge translation strategies for making water-secure cities.
::SCIENCE AND TECHNOLOGY::
Missile silos
Satellite images have revealed that China is building at least three missile silo fields in Yumen in Gansu province, near Hami in Xinjiang province, and at Hanggin Banner, Ordos City, in Inner Mongolia.
It appears that China is constructing around 120 missile silos at Yumen, around 110 silos in Hami, and 29 in the Hanggin Banner field.
Earlier this year, 16 missile silos were detected in the People's Liberation Army Rocket Force's (PLARF) Jilantai training area, also in Inner Mongolia.
Why is China building missile silos?
There could be three explanations.
Some Chinese political scientists believe this could be China's attempt to move towards a launch-on-warning (LOW) nuclear posture. LOW refers to a launch at an adversary on detection of an incoming missile before the adversary's missile hits its target.
China's nuclear strategy has remained largely unchanged since 1964, when it first exploded a nuclear device.
It is based on achieving deterrence through assured retaliation. The crucial requirement for this is the survivability of China's nuclear arsenal following the first strike — conventional or nuclear — by an adversary.
In order to move to the LOW posture, China would have to mate a few warheads with missiles, and keep them in alert status for a quick response.
Currently, China stores its warheads and missiles in a de-alerted status separately under different commands.
 CLICK HERE FOR FULL CURRENT AFFAIRS (Only for Course Members)