Current Affairs for IAS Exams - 26 August 2022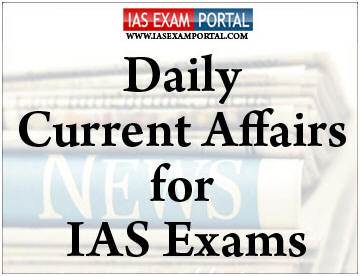 ---
Current Affairs for IAS Exams - 26 August 2022
::NATIONAL::
Anang Tal lake
The Anang Tal lake in South Delhi,  has been declared a monument of national importance through a gazette notification by the Ministry of Culture earlier this week.
About:
Ministry of Culture has declared Anang Tal Lake as a monument of national importance under Ancient Monuments and Archaeological Sites and Remains (AMASR) Act, 1958.
Anang Tal Lake, dated back to 1060AD, is situated to north of Jog Maya temple and northwest of Qutub Complex in South Delhi.
National Monuments are ancient monuments and all archaeological sites and remains which have been deemed/declared to be of national importance under:
Section 126 of States Reorganisation Act, 1956.
Section 3 covering monuments declared by Ancient and Historical Monuments and Archaeological Sites and Remains (Declaration of National Importance) Act, 1951.
Section 4 by Central Government through notification in Official Gazette.
Archaeological Survey of India is responsible for protection, conservation and maintenance of such monuments.
Supreme Court Judges Rules
The Government amended the Supreme Court Judges Rules to entitle a retired Chief Justice rent-free Type-VII accommodation in Delhi for six months from the date of superannuation.
About:
A notification issued by the Ministry of Law and Justice said the accommodation would be other than the designated official residence.
The amended Rules added that a retired Chief Justice and Judges of the Supreme Court shall be entitled to a chauffeur, a secretarial assistant and round-the-clock security cover, in addition to his or her personal security guard for a period of a year from the date of retirement.
CLICK HERE FOR FULL CURRENT AFFAIRS (Only for Course Members)
::INTERNATIONAL::
India and Bangladesh Joint Rivers Commission
India and Bangladesh discussed issues related to water-sharing treaties of Teesta, Ganga and other rivers at a minister-level meeting of the Joint Rivers Commission (JRC).
About:
Bangladesh Minister of State for Water Resources ZaheedFarooque led a 17-member delegation at the ministerial talks with his Indian counterpart Shekhawat.  
Attended the 38th India-Bangladesh ministerial level Joint Rivers Commission meeting at New Delhi. Bangladesh's Minister for Water Resources Mr. ZaheedFarooque attended it along with their 17-member delegation.
The JRC meeting, the first since 2010, comes ahead of Bangladesh Prime Minister Sheikh Hasina's three-day visit to India, starting September 5. 
Defence cooperation and regional stability are likely to be the focus of the talks between Hasina and Prime Minister Narendra Modi.
India become the highest number of sponsored study visas in the U.K
Indian citizens received the largest share of U.K. student, skilled worker and visitor visas for the year ending June 2022, as per official data published by the British government.
About:
As per the data, 1,17,965 students received student visas in the year ending June 2022, up 215% from 2019.
India has displaced China to become the country with the highest number of sponsored study visas in the U.K. for the first time since the year ending June 2011. Indian and Chinese nationals get just under half of all sponsored study visas.
Indians received 1,02,981 work visas in the year ending June 2022, an 80% increase compared to the year ending December 2019, just before the pandemic began. 
CLICK HERE FOR FULL CURRENT AFFAIRS (Only for Course Members)
::ECONOMY::
Moonlighting
Food delivery start-up Swiggy recently announced an "industry-first" policy of allowing its employees to take up gigs or projects outside of their regular employment at the company, during the hours away from work. Swiggy calls these new norms the "moonlighting" policy.
About:
Moonlighting is the act of working at an extra job beyond regular working hours, usually without the knowledge of the employer.
Since the side job was mostly at nighttime or on weekends, it was referred to as moonlighting. The term gained popularity when workers in the US started seeking a second job beyond their regular 9-to-5 work for additional income.
CLICK HERE FOR FULL CURRENT AFFAIRS (Only for Course Members)
::SCIENCE AND TECHNOLOGY::
CSA6
A newly identified gene can hold the key to prevent fungal infection Candidiasis that often affects intensive-care unit (ICU) patients, cancer patients and patients receiving immunosuppressive therapy.
The gene called CSA6 has been identified in Candida albicans a fungal species infamous for causing high rates of morbidity and mortality under certain immuno-compromised conditions such as AIDS or during cancer treatment. 
The fungal species residing in mucosal linings of the gastrointestinal and urogenital tract of healthy individuals turns into a pathogen under immuno-compromised conditions breaching the host defense causing superficial as well as life-threatening systemic infection.
CLICK HERE FOR FULL CURRENT AFFAIRS (Only for Course Members)