Current Affairs for IAS Exams - 26 July 2022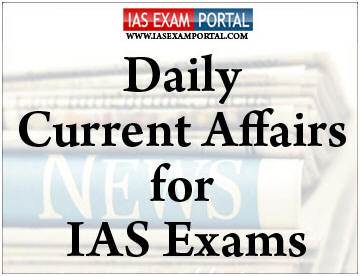 ---
Current Affairs for IAS Exams - 26 July 2022
::NATIONAL::
India to set up joint theatre commands of tri-services
Defence Minister Rajnath Singh announced the setting up of joint theatre commands of the tri-services to enhance coordination among the armed forces.It has also been recommended by DB Shekatkar, Kargil review and Naresh Chandra Committees.
About:
In the backdrop of the celebrations of Kargil Vijay Divas, proposal to set up JTC of tri services in the country was underscored.
Theaterisation refers to placing resources of land forces, naval units and aviation assets under a single theatre commander forefficient availability of resources to meet objectives in today's hi-tech warfare.
India currently has 19 military commands with 17 of them service-oriented.
India also has a Tri-Service Command, the Andaman and Nicobar Command, besides the Strategic Forces Command (SFC),which looks after country's nuclear stockpile.
Aim is to bring all the 17 individual commands into four or five unified or theatre commands.
About Kargil Vijay Diwas:
It was on this day in 1999 that the Indian Army recaptured all the Indian posts in Kargil that had been occupied byPakistan's army.
CLICK HERE FOR FULL CURRENT AFFAIRS (Only for Course Members)
Section 41 and 41A of the Code of Criminal Procedure
On July 11, a division bench of the Supreme Court of India in Satender Kumar Antil vs CBI laid down fresh guidelines on arrests in order to have strict compliance with the provisions of Section 41 and 41A of the Code of Criminal Procedure, 1973.
About:
These guidelines are in addition to the earlier ones which the apex court had already laid down in the case of Arnesh Kumar vs State of Bihar (2014).
The Court in the present case has also emphasised upon separate legislation on the law relating to bail and has also issued specific directions in this regard.
On July 16, even the Chief Justice of India (CJI) cautioned against "hasty and indiscriminate arrests". He further commented on the delay in bails and the plight of undertrial prisoners.
Sections 41 and 41A of the Code of Criminal Procedure:
Section 41 of the Code provides for the circumstances in which arrest can be made by the police without a warrant and mandates for reasons to be recorded in writing for every arrest and non-arrest.
CLICK HERE FOR FULL CURRENT AFFAIRS (Only for Course Members)
::INTERNATIONAL::
Will Russia-Ukraine deal ease global food crisis? 
Russia and Ukraine agreed to resume grain exports from Black Sea ports as part of a deal negotiated by the United Nations and Turkey.
Significance of deal:
Russia accounts for 13% of world output of fertilisers.
It will enable Ukraine to export 22 milliontonnes of grain and essential goods such as sunflower oil, stuck in BlackSea ports due to Russia's invasion.
Ease Russia's export of fertilisers essential for ensuring future high yields oncrops and bring down food prices.
Both countries account for more than a quarter of the world's wheatsupplies (Russia- 20%; Ukraine-8%).
Ukraine is the world's fourth largest exporter of corn, accounting for 16%of global exports.
Ukraine is the world's largest exporter of sunflower oil.
Pakistan and China invite third country to join the CPEC 
Launched in 2013, the CPEC is a USD 60 billion flagship project of the Belt and Road Initiative (BRI).
About:
CPEC links Pakistan's Gwadar port on the Arabian Sea with Kashgar in northwest China's Xinjiang Uygur Autonomous Region.
The BRI aims to reintroduce historic trade networks by creating a modern-daySilk Road that links it to south and southeast Asia, the Middle East, Africa,and Europe.
However, the project has entered in troubled water and is facing inordinatedelay due to:
CLICK HERE FOR FULL CURRENT AFFAIRS (Only for Course Members)
::ECONOMY::
Fresh milk and pasteurised milk fully exempted from GST
The government today clarified that fresh milk and pasteurised milk are fully exempted from Goods and Service Tax (GST). 
About:
Further, milk products like curd, lassi, butter milk and paneer are also exempted from GST if sold in forms other than those pre-packaged and labelled.
In a written reply in the Lok Sabha, Finance Minister said a nominal GST of 5 per cent applies to curd, lassi, butter milk and paneer when sold in pre-packaged and labelled form, and Ultra High-Temperature Milk.
Further, a GST of 12 per cent applies to condensed milk, butter, ghee and cheese. GST exemptions and rates apply uniformly across States.
She said GST rates are prescribed on the recommendation of the GST Council, which is a constitutional body comprising of representatives from both Centre and the States and Union Territories.
CLICK HERE FOR FULL CURRENT AFFAIRS (Only for Course Members)
::SCIENCE AND TECHNOLOGY::
N-Treat Technology
To prevent sludge and sewage from 25 storm water drains between Bandra and Dahisar from flowing into the sea, Brihanmumbai Municipal Corporation (BMC) has planned in-situ treatment of sewage from the drains.
About:
This initiative will be done with the help of Indian Institute of Technology-Bombay's (IIT-B) N-Treat Technology.
N-Treat is a seven-stage process for waste treatment that uses screens, gates, silt traps, curtains of coconut fibres for filtration, and disinfection using sodium hypochlorite.
It is a natural and environment friendly way for sewage treatment. Its set up takes place within the nullah channels, that is through the in-situ or on-site method of treatment, and does not require additional space.
::Sports::
World Athletics Championships 2022
Tokyo Olympic champion Neeraj Chopra made history by winning the silver medal in the men's javelin throw at the World Athletics Championships. 
About:
At the prestigious competition in Eugene, Oregon, USA, Neeraj Chopra placed second with her best throw of 88.13 meters.
Granada's javelin thrower Anderson Peters won the gold medal with a throw of 90.54 meters.
Neeraj Chopra is the first Indian to win a silver medal at a World Athletics Championships. 
CLICK HERE FOR FULL CURRENT AFFAIRS (Only for Course Members)