Current Affairs for IAS Exams - 26 October 2022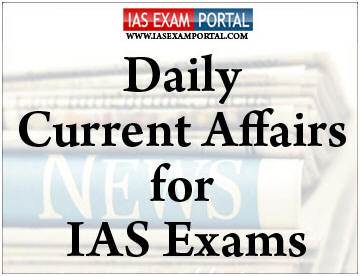 ---
Current Affairs for IAS Exams - 26 October 2022
::NATIONAL::
Pradhan Mantri Bhartiya Janaushadhi Pariyojana
Union Health Minister said, Pradhan Mantri Bhartiya JanaushadhiPariyojana significantly reduced patients' out-of-pocket expenditure.
About:
The scheme ensures easy reach of affordable quality medicines to the people in every nook and corner of the country.
More than 8700 Jan Aushadhi stores have been opened across the country, covering almost every district. 
The government has set a target to increase the number of Pradhan Mantri Bhartiya JanaushadhiKendras to ten thousand five hundred by the end of March 2025.
Objective:
To make available quality medicines, consumables and surgical items at affordable prices for all and reduce out of pocket expenditure of consumers/patients.
To popularize generic medicines among the masses and eliminate the notion that low priced generic medicines are of inferior quality or are less effective.
Generate employment by engaging individual entrepreneurs in the opening of JanaushadhiKendras.
Vikram Sanvat
Gujarati New Year or BestuVarsh is being celebrated today. 
About:
New Year is being celebrated with traditional zeal and fervor by Gujarati community across the globe today.
The Gujarati New Year, Vikram Sanvat 2079 is beginning today.
In Gujarat, the new year which is popularly known as BestuVarsh is celebrated as part of the five-day Diwali Celebrations. 
CLICK HERE FOR FULL CURRENT AFFAIRS (Only for Course Members)
::INTERNATIONAL::
HAWK Air Defence Equipment 
The United States is considering retrieving older HAWK air defence equipment from storage to send to Ukraine which is facing a heavy barrage of Russian drone-fired and cruise missiles.
About:
The HAWK interceptor missiles would be an upgrade to the Stinger missile system, which is a smaller, shorter-range air defence system. 
HAWK, short for 'Homing All the Way Killer', entered service with the US Army in 1959, during the Vietnam War.
It is a mobile air defense system.
It is a medium-range surface to air missile.
It underwent upgrades over the decades that followed, including a major one in 1971 that produced the so-called I-HAWK (or improved HAWK), with a kill probability of 85%.
The first versions of the system had a range of 25 km for aerial targets, and an altitude of 14 km. After modernization: the maximum target interception range increased to 40 km with a maximum interception altitude of 18 km.
Like-Minded Developing Countries
18 Like-Minded Developing Countries (LMDC) issued a wish list of sorts for the forthcoming UNFCCC (United Framework Convention of Climate Change) Conference of Parties (COP). 
Key highlights:
For India's counterpart, Union Minister for Environment Forest and Climate change recently participated in Ministerial Meeting of Like Minded Developing Countries (LMDC).
The statement reiterated the group's old grouse about the inequity in fund allocations for global warming mitigation efforts. 
About:
It comprises of around 18 developing countries from Asia and other regions.
India is part of the LMDC grouping along with Egypt, Indonesia, Malaysia, Iran, Bangladesh, Sri Lanka, the Philippines and others.
CLICK HERE FOR FULL CURRENT AFFAIRS (Only for Course Members)
::Economy::
IARI introduces five new basmati rice varieties
Five new Basmati varieties, developed by a group of scientists from Indian Agriculture Research Institute (IARI), in 2020 and 2021 will bring changes in the way paddy is cultivated in the country.
About:
Three of the five varieties can resist two common diseases of paddy.
Bacterial leaf blight (BLB) and blast (leaf and collar) diseases caused by the fungus Magnaportheoryzae.
New Varieties:
1.    Pusa Basmati 1847,
2.    Pusa Basmati 1885 and
3.    Pusa Basmati 1886.
All these varieties have two genes to resist BLB and two genes to resist blast disease.
The other two can save 35% of the water now required as the seeds can be directly sown, obviating the need for transplanting seedlings.
CLICK HERE FOR FULL CURRENT AFFAIRS (Only for Course Members)
::SCIENCE AND TECHNOLOGY::
Neanderthals
Nobel laureate Svante Paabo and his team have recently published one of the biggest genetic studies yet of Neanderthals, providing clues about their community life and structure.
About:
Neanderthals are a hominin species that existed for at least 200,000 years throughout Europe and western Asia, and disappeared about 27,000 years ago.
During this time, they witnessed some of the coldest climatic conditions ever known in these regions.
Many of their physical features suggest that they were adapted for the cold, such as their barrel-shaped chests, shorter limbs, and larger brains, all of which suggest a body shape adapted for retaining heat.
Their face was also distinctive. The central part of the face protruded forward and was dominated by a very big, wide nose. 
CLICK HERE FOR FULL CURRENT AFFAIRS (Only for Course Members)