Current Affairs for IAS Exams - 27 February 2021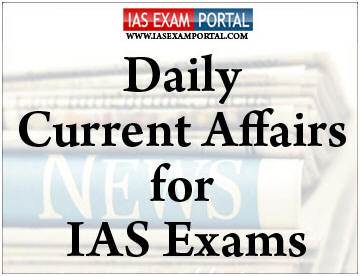 ---
Current Affairs for IAS Exams - 27 February 2021
::NATIONAL::
New Chairman appointed to National Commission for Scheduled Castes
Former Union Minister of State for Social Justice and Empowerment and ex-BJP MP, Vijay Sampla, took charge as chairman of the National Commission for Scheduled Castes (NCSC), a post that was vacant since May 2020.
About:
NCSC is a constitutional body under Article 338.
NCSC investigates and monitors all matters relating to safeguards provided for SCs under Constitution, law or order and to evaluate working of such safeguards.
NCSC consists of a chairperson, a vice-chairperson and 3 other members.They are appointed by the President.
Their conditions of service and tenure of office are also determined by the President.It has powers of civil court.
Swachh Iconic Places 
The Ministry of Jal Shakti and Department of Drinking Water and Sanitation has announced the selection of the 12 iconic sites under Phase IV of Swachh Iconic Places.
Under Swachh Iconic Places (SIP) initiative of Swachh Bharat Mission Gramin (SBM-G) aims to transform iconic heritage, spiritual and cultural places in the country as 'Swachh Tourist Destinations'.
The initiative aims at enhancing the experience of both domestic and foreign visitors by improving the sanitation and cleanliness standards at and around the sites.
The objective of SIP is to achieve a distinctly higher level of Sanitation/Cleanliness at these places, especially on the peripheries and in approach areas. 
This project is being coordinated by the Department of Drinking Water and Sanitation (DDWS), Ministry of Jal Shakti in association with the Ministry of Housing and Urban Affairs (MoHUA), Ministry of Tourism, Ministry of Culture and the concerned State/UT governments.
CLICK HERE FOR FULL CURRENT AFFAIRS (Only for Course Members)
::INTERNATIONAL::
Churmosquagogue
In the heart of Berlin, a new sacred building is coming up with the aim of bringing Christians, Jews and Muslims to a single place of worship. 
Called the House of One or, colloquially, Churmosquagogue, it incorporates a church, a mosque and a synagogue.
The foundation stone will be laid on May 27 by people of these faiths.
A meeting space at the center of the building will be open to people of other faiths and world views as well as the secular urban society. 
The House of One is coming up on the site of the old St Peter's Church, which was damaged in World War II and completely demolished by the government of East Germany in 1964.
Covid-19 Oxygen Emergency Taskforce
A World Health Organisation-led consortium has announced the launch of a Covid-19 Oxygen Emergency Taskforce.
It launched the taskforce as the pandemic has put huge pressure on health systems, with hospitals in many low-and-middle-income countries running out of oxygen.
The multilateral organisation noted that the shortage of oxygen supply has resulted in preventable deaths and families of hospitalised patients paying a premium for scarce oxygen supplies.
Funds needed:
The task force has determined an immediate funding need of $90 million to address key challenges in oxygen access and delivery in up to 20 countries, including Malawi, Nigeria and Afghanistan.
WHO revealed that the first set of countries has been identified based on assessments coordinated by WHO's Health Emergencies Programme.
::ECONOMY::
Nidhi companies
Ministry of Corporate Affairs (MCA) has advised investors to verify status of Nidhi companies before investing in them after it found that many such firms were not complying with the rules set for them.
Earlier Companies Act, 2013 and Nidhi Rules, 2014 were amended for better regulation of such companies.
A Nidhi company is a non-banking financial company doing the business of lending and borrowing with its members or shareholders.
It is notified by the government under Companies Act, 1956.FDI is prohibited in Nidhi Companies.
::SCIENCE AND TECHNOLOGY::
Global Bio-India 
The second edition of Global Bio-India aimed at showcasing the strength and opportunities of India's biotechnology sector at the national level and to the global community will be organised from March 1-3 on a digital platform.
The theme for this year is "Transforming Lives" with a tag line "Biosciences to Bioeconomy".
There will be around 24 knowledge sessions across different segments that will be held over these three days. 
Global Bio-India is one of the largest biotechnology stakeholders' conglomerates that is being co-organised by the DBT along with its Public Sector Undertaking Biotechnology Industry Research Assistance Council (BIRAC) in partnership with industry association Confederation of Indian Industry (CII), Association of Biotechnology Led Enterprises (ABLE) and Invest India.
CLICK HERE FOR FULL CURRENT AFFAIRS (Only for Course Members)
::SPORTS::
India Toy Fair 
Prime Minister Shri Narendra Modi will inaugurate The India Toy Fair 2021 on 27th February at 11 AM via video conferencing.
About the Fair
The Fair will be held from 27th February to 2nd March 2021. 
It aims to bring together all stakeholders including buyers, sellers, students, teachers, designers etc. on a virtual platform to create sustainable linkages and encourage dialogue for the overall development of the industry. 
Through this platform, the Government and the Industry shall come together to discuss how India can be made the next global hub for manufacturing and sourcing of toys by way of attracting investments in the sector and promoting exports.
Over 1000 exhibitors from across 30 States and Union Territories will display their products in an e-commerce enabled virtual exhibition.