Current Affairs for IAS Exams – 27 August 2016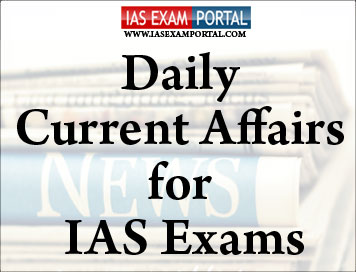 Current Affairs for IAS Exams – 27 August 2016
:: National ::
Haji Ali Dargah opened for women
Women be permitted to enter the sanctum sanctorum of the Haji Ali Dargah at par with men", ruled the Bombay High Court in a landmark verdict allowing the entry of women up to the mazar in the revered Sufi dargah in south central Mumbai.

However, the Division Bench of Justices V.M. Kanade and Revati Mohite-Dere granted a six-week stay on the order on a request by the Haji Ali Dargah Trust to enable it to go on appeal before the Supreme Court.

Court said that the ban order by the Trust contravened Article 14, 15 and 25 of the Constitution.

The Bench said: "The Trust is always at liberty to take steps to prevent sexual harassment of women, by having separate queues for men and women, as was done earlier."
Maharastra Govt to look for consensus on internal security bill
Maharashtra government decided to withdraw the draft, posted on its official website, and evolve a political consensus before placing it for Cabinet approval.

The legislation proposes special security zones where movement of arms, explosives and inflow of unaccounted funds will be prohibited.

The draft Bill, if passed, will make Maharashtra the first state to implement such a law, and came under fire from the Opposition as well as Shiv Sena.

The draft has also come in for sharp criticism from Mumbai citizens' pressure groups, the Commonwealth Human Rights Initiative (CHRI) and Police Reforms Watch (PRW), which question both the necessity and justification for a new internal security law.

The Bill tried to deal with challenges of 'terrorism, insurgency, communalism, and caste violence' , and does not differentiate between the nature of the threats from each.
:: International ::
Assassination attempt on German Chancellor
An assassination attempt on German Chancellor Angela Merkel has reportedly been foiled here as police in the Czech Republic detained an armed man who tried to join her motorcade.

The perpetrator has been detained," the Mirror quoted police spokesman Josef Bocan as saying.

He is suspected of attempting to cause a crime: specifically an attempt to use violence against an official.
:: Business and Economy ::
Unified Payment Interface become operational
National Payments Corporation of India (NPCI) announced that bank applications for the Unified Payment Interface have officially become operational, which means that UPI apps of banks can now be downloaded and used for transactions:

UPI is a payment system that allows money transfer between any two bank accounts by using a smartphone.

UPI allows a customer to pay directly from a bank account to different merchants, both online and offline, without the hassle of typing credit card details, IFSC code, or net banking/wallet passwords.

The UPI app of 19 banks and it will be available on the Google Play Store of Android phones in the next few days for customers to download.

It is safe as the customers only share a virtual address and provide no other sensitive information.

Merchant payments, remittances, bill payments among others.The per transaction limit is Rs.1 lakh.

A user can make an in-app payment for goods or services purchased online.
With an aim to discourage cash transactions, govt has set up a high-level committee (Register and Login to read Full News..) 
Sources: Various News Papers & PIB