Current Affairs for IAS Exams - 27 August 2022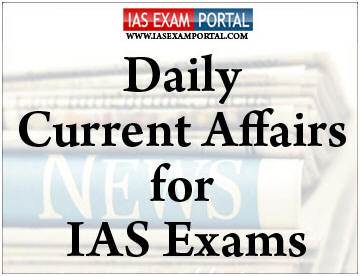 ---
Current Affairs for IAS Exams - 27 August 2022
::NATIONAL::
Har Ghar Jal
Goa has become the first 'Har Ghar Jal' certified state in the country where all households now have access to clean water through taps, the Ministry of Jal Shakti informed on Thursday. Also, Dadra & Nagar Haveli and Daman & Diu has become the first Union Territory (UT) in the country.
About:
'Har Ghar Jal' is a flagship programme of the Union Government, implemented by Jal Jeevan Mission (JJM) under the Ministry of Jal Shakti, in partnership with States/ UTs to ensure tap water connection in every rural household by 2024.
More than 52% rural households in India are now connected with tap water which was only 17% at the time of programme's launch in 2019.
JJM also implements source sustainability measures as mandatory elements, such as recharge and reuse through grey water management, water conservation, and rain water harvesting.
Har Ghar Jal Certification Process:
First, field engineer submits a completion certificate regarding water supply scheme to the Panchayat during the Gram Sabha meeting.
Villages confirm through a resolution of the Gram Sabha that every household is getting regular supply of water of prescribed quality and not a single household is left out.
Lord Curzon
The 119-year-old Curzon Gate in Bardhaman in West Bengal is at the centre of a political row after it emerged earlier this week that the Trinamool Congress (TMC)-run Bardhaman municipality has decided to erect a statue of Bardhaman's Maharaja Bijay Chand Mahatab and his wife Radharani in front of the city's prominent landmark.
About Lord Curzon:
Born in 1859, George Nathaniel Curzon was a British conservative politician who was educated at the elite institutions of Eton and Oxford. 
He served as Under-Secretary of State for India (1891-1892), and for Foreign Affairs (1895-1898), before being appointed Viceroy of India in 1899.
CLICK HERE FOR FULL CURRENT AFFAIRS (Only for Course Members)
::INTERNATIONAL::
Historical and cultural connections between India and Thailand
As part of his visit to Thailand for the ninth India-Thailand joint commission meeting, External Affairs Minister S. Jaishankar visited the Devasthan in Bangkok.
About:
The Devasthan is the Royal Brahmin Office of the Thai Royal Court and is the official centre of Hinduism in Thailand.
India and the Southeast Asia region share a long history of cultural and commercial relations.
The classical Sanskrit and Pali texts from India carry references of the region using various names such as Kathakosha, Suvarnabhumi (the land of god) or Suvarnadvipa (the golden island), indicating that this was a region that attracted Indian merchants.
In more recent times, European and Indian scholars have referred to Southeast Asia as 'Farther India', 'Greater India', or 'Hinduised or Indianised states'.
CLICK HERE FOR FULL CURRENT AFFAIRS (Only for Course Members)
Pravasi Bhartiya Divas
The 17th Pravasi Bhartiya Divas 2023 will be held at Indore in January next year. 
Pravasi Bharatiya Divas is celebrated every year on 9th Januray to mark the contribution of the overseas Indian community in the development of India.
It also commemorates the return of Mahatma Gandhi from South Africa to India on 9th January 1915.
Background:
The decision to celebrate Pravasi Bharatiya Divas was taken in accordance with recommendations of the High-Level Committee (HLC) on the Indian Diaspora set up by government of India under the chairmanship of L. M. Singhvi. 
The then Prime Minister of India, Shri Atal Bihari Vajpayee, received the report of the Committee at a public function at Vigyan Bhavan in New Delhi on 8 January 2002, and announced the "Pravasi Bharatiya Divas" (PBD) on 9 January 2002.
CLICK HERE FOR FULL CURRENT AFFAIRS (Only for Course Members)
::ECONOMY::
CAROTAR Rules
Exemptions specified in Free Trade Agreement (FTA) with regard to country of origin will prevail in case of conflict between revenue department and importer, the finance ministry has said.
About:
The Central Board of Indirect Taxes and Customs (CBIC) said the customs field officers should be sensitive to applying CAROTAR and maintain consistency with the provisions of relevant trade agreement or its Rules of Origin.
Customs(Administration of Rules of Origin under Trade Agreements) or CAROTAR Rules, came into effect from September 21, 2020.
It empowers the customs officers to ask the importer to furnish further information, consistent with the trade agreement, in case the officer has reasons to believe that the country-of-origin criteria have not been met. Where the importer fails to provide the requisite information, the officer can make further verification consistent with the trade agreement.
CLICK HERE FOR FULL CURRENT AFFAIRS (Only for Course Members)
::SCIENCE AND TECHNOLOGY::
Exo-Moons
Scientists at Indian Institute of Astrophysics have developed a model to trace habitable exo-moons with the help of the James Webb Space Telescope (JWST).
Launched in 2021, JWST is NASA's largest and most powerful space telescope to probe the cosmos to uncover the history of the universe.
About Exo-Moons
They are natural satellites that revolve around exoplanets (planets orbiting stars other than the Sun).
So far, 5000 exoplanets have been discovered by using several telescopes (Kepler Hubble space telescopes etc).
CLICK HERE FOR FULL CURRENT AFFAIRS (Only for Course Members)