Current Affairs for IAS Exams - 27 June 2022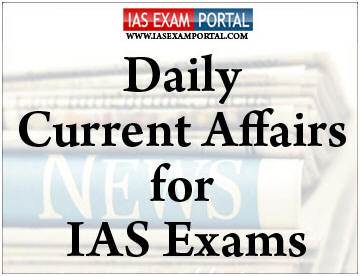 ---
Current Affairs for IAS Exams - 27 June 2022
::NATIONAL::
Norms to protect rights of kids working on OTT platforms
The National Commission for the Protection of Child Rights (NCPCR) has published draft guidelines to regulate child protection within the entertainment industry. 
While the "Guidelines to Regulate Child Participation in the Entertainment Industry" were issued by the Commission in 2011, today's draft increases the scope of the guidelines to cover social media and OTT platforms for the first time.
About:
The commission has further included stringent penal provisions for violating the guidelines, including imprisonment, and has mandated that child artists and children being used in entertainment need to be registered with District Magistrates.
Provisions under the Juvenile Justice Act, 2015, Child Labour Amendment Act, 2016, Protection of Children from Sexual Offences Act, 2012, Information Technology (Intermediary Guidelines and Digital Media Ethics Code) Rules, 2021, etc., have been included in the guidelines.
Key provisions :
Producers must get a district magistrate's approval before including a child in a shoot.
Production facilities must make sure that the workplace is secure and that kids aren't exposedto hazardous lighting, irritating chemicals, or tainted cosmetics.
CLICK HERE FOR FULL CURRENT AFFAIRS (Only for Course Members)
Registered Unrecognised Political Parties
The Election Commission decided to delete 111 Registered Unrecognised Political Parties (RUPPs) from the register, as part of the poll panel's "graded action" against parties that flouted its rules.
About:
The EC had deleted 87 RUPPs in May after announcing a clean-up drive against more than 2,100 such parties that it said had violated a string of rules by failing to furnish contribution reports or communicating changes to party-related information.
The poll panel has also sent a reference to the revenue department for necessary legal and criminal action against three RUPPs that it said were involved in "serious financial impropriety".
There are 2,796 RUPPs, according to EC's data till September 2021, an increase of more than 300% since 2001.
The EC has for long been seeking powers to deregister political parties.
The poll panel has also been seeking modification to Form 24A to mandate disclosure of all donations above Rs 2,000 instead of the current Rs 20,000.
CLICK HERE FOR FULL CURRENT AFFAIRS (Only for Course Members)
::INTERNATIONAL::
U.S. Supreme Court overturns ruling on abortion rights
US SC overturned the 1973 landmark decision that provided constitutional protection to woman's right to terminate her pregnancyand had institutionalised abortion-related protections.
Recent judgement is supported by religious and pro life groups while opposed by right activists with risk of domino effect onother rights.
It also paves way for individual states to ban the procedure
Reproductive Rights in India:
Under Medical Termination of Pregnancy (Amendment) Rules, 2021:
Termination of Pregnancy is allowed up to 24 weeks (1 doctor advice for abortion within 20 weeks and 2 doctors for 20-24 weeks)for certain categories of women.
State level medical board can allow (or deny) termination of pregnancy beyond 24 weeks in cases of substantial foetalabnormalities.
Arguments in favour of access to abortion:
Secure women's Right to Choose about their body'scapacities to (not) reproduce.
Instrumental to achieve population, health, anddevelopment goals.
Help identify foetal abnormalities, and avoids risks of illegal abortions.
Arguments against access to abortion:
Ethical Issues of misuse of technologies forsex-determination.
Increases risks of forced and coerced sterilization.
CLICK HERE FOR FULL CURRENT AFFAIRS (Only for Course Members)
Canada to ban companies from importing or making plastic bags
The Canadian Government is going to ban companies from importing or making plastic bags and Styrofoam takeout containers by the end of this year. 
About:
The country is also banning their sale by the end of next year and their export by the end of 2025. 
Canada previously announced a ban on plastic, however, environment advocates were dismayed about delays. 
In addition to bags and takeout boxes, the ban will affect plastic straws, bags, cutlery, stir sticks and six-pack rings that hold cans and bottles.
The federal government listed plastics as toxic under the Canadian Environmental Protection Act last year. 
CLICK HERE FOR FULL CURRENT AFFAIRS (Only for Course Members)
::ECONOMY::
Card Tokenisation
RBI extended deadline for card data storage and tokenisation implementation to September 30,2022.
About:
Tokenisation refers to replacement of actual card details with an alternate code called the token,which shall be unique for a combination of card, token requestor and device.
A tokenised card transaction is considered safer as it doesn't expose sensitive card details.
Opting for creating tokens is voluntary for cardholders. Those who do not wish to create a tokencan continue to transact as before by entering card details manually.
::SCIENCE AND TECHNOLOGY::
AR3038
A sunspot, called AR3038, grew to almost twice its size in the span of 24 hours.
About:
Sunspots are areas that appear dark on the surface of the Sun. They appear dark because theyare cooler than other parts of the Sun's surface.
Sunspots are relatively cool as they form at areas where magnetic fields are particularly strongthus keeping some of the heat within Sun from reaching the surface.
Magnetic field lines near sunspots can cause a sudden explosion of energy called a solar flare.
Hermit
Hermit is a new spyware with capability to affect both Android and iOS devices.
About:
Hermit is a commercial spyware known to be used by governments with victims in Kazakhstan,Italy and northern Syria.
CLICK HERE FOR FULL CURRENT AFFAIRS (Only for Course Members)