Current Affairs for IAS Exams - 27 May 2022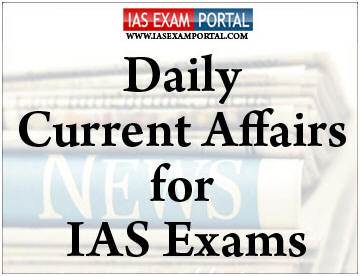 ---
Current Affairs for IAS Exams - 27 May 2022
::NATIONAL::
Service charge levied by restaurants on customers
The Department of Consumer Affairs (DoCA) under the Ministry of Consumer Affairs, Food and Public Distribution, will be held on June 2, 2022, with the National Restaurant Association of India (NRAI).
About:
The ministry wrote a letter to NRAI – the umbrella restaurant body – saying the restaurants are collecting service charges from consumers by default, even though collection of any such charge is voluntary and at the discretion of consumers and not mandatory as per law.
A restaurant bill in India comprises food charge (from the menu), with an addition of service charge (anywhere between 5 to 15 per cent) and a 5 per cent GST on this amount (IGST+SGST). This is for all kinds of standalone restaurants.
While the GST is a mandatory component as per law, it is the service charge which is supposed to be optional. It is the equivalent of what is known as gratuity around the world, or tip, in casual parlance.
Most restaurants decide the service charge on their own, and print it at the bottom of the menu with an asterisk. It is this component which has come under dispute from time to time, with consumers arguing they are not bound to pay it.
The matter
Earlier, the Ministry of Consumer Affairs had come out with "Guidelines on Fair Trade Practices Related to Charging of Service Charge from Consumers by Hotels/ Restaurants", 
Wherein it was clearly mentioned that "a component of service is inherent in the provision of food and beverages ordered by a customer, and therefore the pricing of the product is expected to cover both the goods and service components".
It also said that hotels and restaurants charging tips from customers "without their express consent in the name of service charges" amounts to unfair trade practice. 
CLICK HERE FOR FULL CURRENT AFFAIRS (Only for Course Members)
National Achievement Survey report
Department of School Education and Literacy has released the National Achievement Survey (NAS) 2021 report. 
It assesses the health of school education system in the country by conducting comprehensive evaluation survey of children's learning competencies at classes 3, 5, 8 and 10th with a cycle period of three years.
Key findings of the report:
The report reflects the overall assessment of school education system. The last National Achievement Survey was held in 2017.
The NAS 2021 was held on 12th of November last year at all India level and covered Government Schools, Government Aided Schools and Private Unaided Schools.
About 34 lakh students of 1.18 lakh schools in 720 districts from both rural and urban areas have participated in NAS 2021.
It will enable analysis of results and remedial action at the appropriate levels.
CLICK HERE FOR FULL CURRENT AFFAIRS (Only for Course Members)
::INTERNATIONAL::
India has joined the First Movers Coalition
India has joined the First Movers Coalition Steering Board.
About:
It was launched by the US and World Economic Forum (WEF) at COP26 in Glasgow, Scotland.
It is 'a global initiative harnessing the purchasing power of companies to decarbonize seven"hard to abate" industrial sectors'.
It seeks to commercialize zero-carbon technologies and to scale up critical emerging technologies essential for the Net-Zero Transition.
This includes Aluminum, Aviation, Chemicals, Concrete, Shipping, Steel, and Trucking sectoraccounting for 30% of global emissions.
CLICK HERE FOR FULL CURRENT AFFAIRS (Only for Course Members)
Govt flagged low score in World Bank's governance indicators
In an analysis of the World Bank's WGI, a key input for India's sovereign ratings, India's scores were "much below" its peers on allcounts.
About:
WGI reports aggregate and individual governance indicators for over200 countries and territories over the period 1996–2020.
It is based on 6 dimensions of governance combining views of a largenumber of enterprise, citizen and expert survey respondents in industrialand developing countries.
Such methodologies have an issue like over weightage to a particularindicator, using inappropriate statistical/mathematical models, comparison ofthe past performance of a country without incorporating significant inputs,use of a subjective approach to quantify other objective measures etc.
Earlier, other reports also flagged such downgrading like WHO's a methodologyto estimate Covid-19 mortalities, Economic Intelligence Unit showed India'srank fell from 27 in 2014 to 51 in 2019 and Global hunger Index 2021, rankedndia at the 101st position out of 116 countries.
CLICK HERE FOR FULL CURRENT AFFAIRS (Only for Course Members)
::ECONOMY::
Import of Paper
Import of Paper brought under Compulsory Registration from 1st October.
About:
The import policy of major paper products has been amended from 'Free' to 'Free subject to compulsory registration under Paper Import Monitoring System'. A notification to this effect has been issued by DGFT.
This order shall be applicable on a range of paper products, such as newsprint, handmade paper, wallpaper base, duplicating paper, coated paper, uncoated paper, Litho and offset paper, tissue paper, parchment paper, carbon paper, wall paper, envelops, toilet paper, cartons, account books, labels, bobbins, etc. 
All imports arriving on or after 1.10.2022 shall be governed by this policy.
Paper products like currency paper, bank bond and cheque paper, security printing paper, etc. have been excluded from this policy change.
CLICK HERE FOR FULL CURRENT AFFAIRS (Only for Course Members)
::SCIENCE AND TECHNOLOGY::
PARAM PORUL
The state-of-the-art Supercomputer, PARAM PORUL was inaugurated at NIT Tiruchirappalli on May 25, 2022. 
About:
PARAM PORUL system is based on Direct Contact Liquid Cooling technology to obtain a high power usage effectiveness. This also helps in reducing the operational cost.
The system is equipped with a mix of CPU nodes, GPU nodes, High Memory nodes, High throughput storage, and high-performance Infiniband interconnect to cater to the computing needs of various scientific and engineering applications.
Benefits :
The facility installed under NSM will strengthen research in the field of supercomputing. Further, the new high-performance computational facility would also aid researchers to solve large-scale problems in different areas of Science and Engineering.
This Supercomputing facility will provide a major boost to the research and development initiatives in Indian academia and industries to reach a position of global esteem.
CLICK HERE FOR FULL CURRENT AFFAIRS (Only for Course Members)