Current Affairs for IAS Exams - 28 February 2021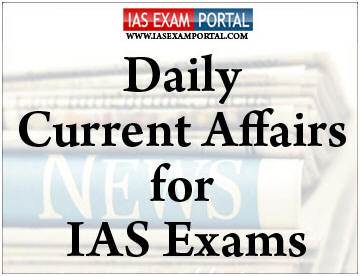 ---
Current Affairs for IAS Exams - 28 February 2021
::NATIONAL::
Plastic burning main cause behind reduction of visibility in Delhi
According to researchers from the IIT Madras, Chloride-rich particles resulting from plastic burning may be primarily responsible for haze and fog formation in Northern India, including Delhi, during the winter months.
About:
The new study found that chloride-rich particles were the highest inorganic fraction in particulate matter, primarily responsible for haze and fog formation in the region.
The latest study greatly enhances our understanding about the precise role of PM2.5 in chemistry of fog formation, which will help policy makers to frame the better policies for improving the air quality and visibility over the national capital.
The researchers noted that during winter season, most of the Indo Gangetic Plain invariably is engulfed in a dense fog and haze, particularly during the months of December and January.
The researchers explained that HCl from various sources combines with ammonia, which is emitted in great amounts over this region.
The resulting ammonium chloride (NH4Cl) condenses to aerosol and exponentially increase the water uptake ability of aerosol particles resulting in the increase in size, eventually leading to dense fog formation.
35th PRAGATI interaction
Prime Minister chaired the meeting of 35th edition of Pro-Active Governance and Timely Implementation (PRAGATI).
The ICT based multi-modal platform for Central and State governments.
It is held on every Fourth Wednesday of each month to be known as PRAGATI Day.
Participants include Union Government Secretaries, and Chief Secretaries of the States.
The programme is held through Video-conferencing enabled by data and geo-informatics visuals and is aimed at addressing common man's grievances, and simultaneously monitoring and reviewing important programmes and projects of the Centre and States.
CLICK HERE FOR FULL CURRENT AFFAIRS (Only for Course Members)
::INTERNATIONAL::
Common Trust Network
Dr Harsh Vardhan, Union Minister of Health and Family Welfare, addressed the event on Restoring Cross-Border Mobility by the World Economic Forum Common Trust Network via videoconference.
As countries around the world work to overcome the COVID-19 pandemic and restart their economies, they all face the challenge of how to reopen their borders and allow travel and commerce to resume while protecting the health of their populations. 
To address this challenge, the Commons Project Foundation and the World Economic Forum have launched the Common Trust Network in collaboration with a broad voluntary network of public and private stakeholders.
The Common Trust Registry: 
The Common Trust Network is enabled by a global registry of trusted laboratory and vaccination data sources, standard formats for lab results and vaccination records, and standard tools to make those results and records digitally accessible.
World Neglected Tropical Diseases Day 
On January 30 to mark the second World Neglected Tropical Diseases (NTD) Day as India joins other countries to combat such diseases, the health ministry.
About:
It highlighting the global community's commitment to ending such diseases that cause immeasurable suffering among the world's most marginalised communities.
India joins the world to combat Neglected Tropical Diseases. On this day, the Qutub Minar will be lit up along with other landmarks across the world.
On World NTD Day, more than 50 landmarks representing 25 nations will be lit up to celebrate how far the world has come together in defeating NTDs. 
The ministry said one in five people in the world are affected by NTDs. India is home to the world's largest absolute burden of at least 11 of these major neglected tropical diseases. These diseases debilitate, disfigure and can even be fatal to those affected.
::ECONOMY::
Centre approved grants for rural local bodies (RLBs) in 18 states
The Centre released ₹12,351.5 crore to 18 States as grants to rural local bodies (RLBs) for 2020-21, taking the total grants released for such bodies this year to ₹45,738 crore.
Grants to RLBs are released as per recommendations of 15th Finance Commission (FC).
They are provided to all three tiers of Panchayati Raj- Village, Block and District.
15th FC has recommended two types of grants- basic and tied grants.
Basic grants are untied and can be used by the local bodies for location specific felt needs except for salary or other establishment expenditure.
Tied grants can be used for the basic services of (a) sanitation and maintenance of Open Defecation Free (ODF) status and (b) supply of drinking water, rain water harvesting and water recycling.
::SCIENCE AND TECHNOLOGY::
Axiom Mission
A former Israeli fighter pilot, an American technology entrepreneur and a Canadian investor will be part of the crew of the first entirely-private orbital space mission. 
The three men are paying a whopping $55 million each to fly aboard a SpaceX rocket for an eight-day visit to the International Space Station. 
It organised by Houston-based spaceflight firm Axiom.
About:
The Axiom Mission 1 (AX 1) flight is being arranged under a commercial agreement with NASA. 
The mission will be the first to use a commercially built spacecraft, the SpaceX Dragon 2, best known for flying its first two crews to the ISS late last year.
But Axiom insists that the mission is by no means a vacation. 
The three men will participate in research and philanthropic projects alongside the astronauts from all over the world who are already stationed at the ISS.
The private astronauts will have to pass medical tests and also undergo 15 weeks of rigorous training before their trip to space.
CLICK HERE FOR FULL CURRENT AFFAIRS (Only for Course Members)
::SPORTS::
Union Sports Minister launches anti-doping reference material
A reference material (RM), jointly synthesised by the National Dope Testing Laboratory (NDTL) and the National Institute of Pharmaceutical Education and Research (NIPER), Guwahati, for use in the anti-doping field was launched by Union Sports Minister.
The RM, identified by NDTL as one of the rarely available ones globally, would be used to strengthen anti-doping measures in all World Anti-Doping Agency (WADA) accredited labs.
During testing of a sample, RMs provide identity confirmation for prohibited substances which do not have threshold limits.
NDTL and NIPER-G had signed a memorandum of understanding (MoU) in August 2020 to synthesise 20 rare RMs over three years.
It has been decided to distribute 5mg of this indigenously developed RM to all the WADA-accredited dope testing laboratories free of cost.