Current Affairs for IAS Exams - 28 March 2021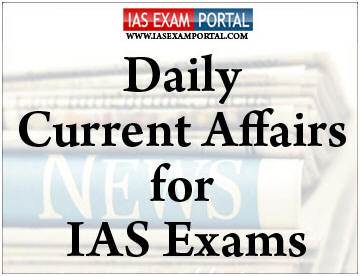 ---
Current Affairs for IAS Exams - 28 March 2021
::NATIONAL::
Exit Poll
Election Commission of India has recently ban on exit poll.
In exercise of the powers under sub-section (1) of Section 126A of the Representation of the People Act, 1951 has notified the period between 7:00A.M  on 27th March, 2021 and 7.30 PM on 29thApril, 2021.
Further, under Section 126(1)(b) of the Representation of the People Act, 1951, displaying any election matter including results of any opinion poll or any other poll survey, in any electronic media, would be prohibited during the period of 48 hours ending with the hour fixed for conclusion of poll in the respective polling areas in each phase of the aforesaid General election and bye-elections.
Tribal TB Initiative
Union Health Minister launches Tribal TB Initiative in pursuit of 'TB Mukt Bharat'.
A Guidance Note on Joint Action Plan for Tuberculosis (TB) Elimination, a Special Edition of Tribal Ministry's Publication 'ALEKH' on TB, and a document on Tribal Tuberculosis (TB) Initiative was also released at the event.
About:
Over 104 million tribal population lives in India, across 705 tribes, accounting for 8.6 % of the country's population.
177 tribal districts were identified as high priority districts where physical remoteness, malnutrition, poor living conditions and lack of awareness contribute to the vulnerability of the tribal population to TB. Initially, the activities of the joint plan will be focusing on 161 districts across 18 identified States.
They would involve deploying improved vulnerability mapping techniques, organization of sensitization and capacity building workshops for volunteers, periodic TB active case finding drives, provision of TB Preventive Therapy (IPT) to identified vulnerable population and develop long term mechanisms for vulnerability reduction.
CLICK HERE FOR FULL CURRENT AFFAIRS (Only for Course Members)
::INTERNATIONAL::
Indo-Korean Friendship Park 
India's First Indo-Korean Friendship Park was jointly inaugurated by Mr Suh Wook, Hon'ble Minister of National Defence, Republic of Korea and Shri Rajnath Singh, Hon'ble Raksha Mantri, at Delhi Cantonment.
The park's significance is not only because of it being a symbol of strong India-South Korea friendly relations, but also as a monument to India's contributions as part of 21 countries which participated in Korean war 1950-53, under the aegis of the United Nations.
The park has been developed in joint consultation with Ministry of Defence, Government of India, Indian Army, Delhi Cantonment Board, Embassy of Korea and Korean War Veterans Association of India.
Indian beamline project
The third phase of the Indian beamline project, a facility for materials research set up under India-Japan Scientific and Technological Cooperation, was initiated on March 23, 2021, with special focus on industrial application research.
About:
The phase would increase the number of young researchers from India to be trained in advanced X-ray techniques of material research.
Besides, steps will be taken to allocate more beamtime so that more researchers can get access to it. At present, only 50 % of Indian researchers who apply receive beamtime.   
The Indian beamline has been constructed and maintained by Saha Institute of Nuclear Physics (SINP), Kolkata and Jawaharlal Nehru Centre for Advanced Scientific Research (JNCASR), Bangalore; in Japanese synchrotron light source Photon Factory (PF) of High Energy Accelerator Research Organization (KEK), with support from Nano Mission, Department of Science and Technology (DST).
This India-Japan Scientific and Technological Cooperation project was initiated between the DST and the KEK on 24 July 2007.
In the first phase (2009-2015) of this project, an X-ray beamline (BL18B) was constructed by SINP in PF, and over the years, this facility has provided substantial amount of quality beamtime for the use of Indian scientists to carry out front-ranking research in advanced materials including nano materials.
::ECONOMY::
Union Minister for Finance & Corporate Affairs virtually launched Central Scrutiny Centre (CSC) and Investor Education and Protection Fund Authority's (IEPFA) Mobile App.
The initiatives by Ministry of Corporate Affairs. These initiatives leverage to strengthen the Prime Minister's vision of 'Digitally empowered India'. Shri Rajesh Verma, Secretary, MCA, and other senior officials attended the virtual launch event. 
Investor Education and Protection Fund Authority's (IEPFA) Mobile App
The IEPFA Mobile App aims at achieving the goal of financial literacy, spreading investors' awareness, education, and protection among investors.
The IEPFA App will have the facility of tracking the status and progress of the IEPF claim refund process. Moreover, it also provides a mechanism for investors and common citizens to report on the suspected fraudulent schemes.
::SCIENCE AND TECHNOLOGY::
NISAR
NASA and ISRO are collaborating on developing a satellite called NISAR, which will detect movements of the planet's surface as small as 0.4 inches over areas about half the size of a tennis court.
The satellite will be launched in 2022 from the Satish Dhawan Space Center in Sriharikota, India, into a near-polar orbit and will scan the globe every 12 days over the course of its three-year mission of imaging the Earth's land, ice sheets and sea ice to give an "unprecedented" view of the planet.
What is NISAR?
NISAR is an all-weather satellite that's going to give us an unprecedented ability to look at how Earth's surface is changing.
It's an SUV-sized satellite that is being jointly developed by the space agencies of the US and India.
The partnership agreement was signed between NASA and ISRO in September 2014.
NASA will provide one of the radars for the satellite, a high-rate communication subsystem for science data, GPS receivers and a payload data subsystem.
ISRO, on the other hand, will provide the spacecraft bus, the second type of radar (called the S-band radar), the launch vehicle and associated launch services.
 CLICK HERE FOR FULL CURRENT AFFAIRS (Only for Course Members)