Current Affairs for IAS Exams - 28 December 2020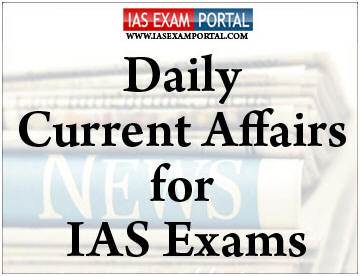 ---
Current Affairs for IAS Exams - 28 December 2020
::NATIONAL::
India's first indigenous digital asset management platform launched
CEO of NITI Aayog virtually launched India's first digital asset management platform DigiBoxx.
It is India's first digital asset management platform launched by NITI Aayog.
It provides an easy and secure wayto store all the files in one centralised location.
It is a digital file storage, sharing, and management SaaS (Software as a Service) product that providesstorage options for business as well as individual users.
It can act as a potential alternative to Google Drive, Dropbox, and Microsoft OneDrive.
A free account on DigiBoxx gives up to 20 GB of storage space.
India's first Lithium refinery
India's first Lithium refinery which will process Lithium ore to produce battery-grade material will be set up in Gujarat.
Manikaran Power Limited, one of the country's largest power trading and renewable energy company will be investing over Rs 1,000 crore to set up this refinery.
The proposed project is expected to help Gujarat secure the raw material supply for domestic manufacturing of Lithium batteries as it looks to promote electric vehicles.
There are already a few Lithium-ion battery manufacturing plants which are being set up in Gujarat. So, we felt a Lithium refinery will help make the state a hub for Lithium-ion batteries.
TDS Lithium-Ion Battery Gujarat Private Ltd is India's first Lithium-ion battery manufacturing plant in Gujarat.
Tata Group has also acquired land in Dholera Special Investment Region (Dholera SIR) near Ahmedabad to set up a Rs 4000 crore Lithium-ion battery plant. Apart from this, the Adani Group is also planning to set up a Lithium battery manufacturing complex in the state.
CLICK HERE FOR FULL CURRENT AFFAIRS (Only for Course Members)
::INTERNATIONAL::
Centre for Economics and Business Research
According toCentre for Economics and Business Research, India which appears to have been pushed back to being the world's sixth biggest economy in 2020, will again overtake the UK to become the fifth largest in 2025 and race to the third spot by 2030.
Key highlights:
India had overtaken the UK in 2019 to become the fifth largest economy in the world but has been relegated to 6th spot in 2020.
The UK appears to have overtaken India again during 2020 as a result of the weakness of the rupee.
The CEBR forecasts that the Indian economy will expand by 9 per cent in 2021 and by 7 per cent in 2022.
Growth will naturally slow as India becomes more economically developed, with the annual GDP growth expected to sink to 5.8 per cent in 2035.
This growth trajectory will see India become the world's third largest economy by 2030, overtaking the UK in 2025, Germany in 2027 and Japan in 2030.
The UK-based think tank forecast that China will in 2028 overtake the US to become the world's biggest economy, five years earlier than previously estimated due to the contrasting recoveries of the two countries from the COVID-19 pandemic.
Japan would remain the world's third-biggest economy, in dollar terms, until the early 2030s when it would be overtaken by India, pushing Germany down from fourth to fifth.
The CEBR said India's economy had been losing momentum even ahead of the shock delivered by the COVID-19 crisis.
The rate of GDP growth sank to a more than ten-year low of 4.2 per cent in 2019, down from6.1 per cent the previous year and around half the 8.3 per cent growth rate recorded in 2016.
The Tibetan Policy and Support Act of 2020
US President Donald Trump has signed into law a bill which calls for establishing a US consulate in Tibet and building an international coalition to ensure that the next Dalai Lama is appointed solely by the Tibetan Buddhist community without China's interference.
The Tibetan Policy and Support Act of 2020 modifies and re-authorises various programmes and provisions related to Tibet.
About:
US President signed the act on Sunday as part of the massive USD 2.3 trillion package for the year-end bill to provide long-delayed coronavirus relief and fund the federal government.The US Senate last week unanimously passed the bill despite China's protest.
It authorises assistance to non-governmental organisations in support of Tibetan communities in Tibet; places restrictions on new Chinese consulates in the United States until a US consulate has been established in Lhasa, Tibet.
The law now authorises the Office of the US Special Coordinator for Tibetan Issues and expands the office's duties to include additional tasks, such as pursuing international coalitions to ensure that the next Dalai Lama is appointed solely by the Tibetan Buddhist faith community. 
It also directs the Secretary of State not to open a new Chinese consulate in the US unless China allows the opening of an American consulate in Lhasa.
It is the policy of the US to take all appropriate measures to hold accountable senior officials of the Chinese Government or the Chinese Communist Party (CCP) who directly interfere with the identification and installation of the future 15th Dalai Lama of Tibetan Buddhism, the successor to the 14th Dalai Lama.
Beijing views the 14th Dalai Lama as a "separatist" working to split Tibet from China. Some of the prominent measures approved by the US Congress include imposing sanctions on Chinese officials, including travel restrictions.
Economy
Zero coupon bonds
The government has used financial innovation to recapitalise Punjab & Sind Bank by issuing the lender Rs 5,500-crore worth of non-interest bearing bonds valued at par. 
The funds raised through issuance of these instruments, which are a variation of the recapitalisation bonds issued earlier to public sector banks, are being deployed to capitalise the state-run bank.
Though these will earn no interest for the subscriber, market participants term it both a 'financial illusion' and 'great innovation' by the government where it is using Rs 100 to create an impact of Rs 200 in the economy.
About:
A coupon is a periodic interest received by a bondholder from time of issuance of bond till maturity.
Zero Coupon Bonds are issued at a discount and redeemed at par value or face value. 
No interest payment ismade on such bonds at periodic intervals before maturity.
Science and Technology
Nuclear reactor on the moon
USA's plan to have the first nuclear reactor on the moon by the end of 2026.
The US Department of Energy in collaboration with Nasa intends to solicit industry design proposals in early 2021.
The space agency aims to establish a flight hardware system that is ready for integrating with the lunar lander by 2026-end. 
The fission power system — as the nuclear reactor is called — will benefit future robotic and human exploration missions to the moon as well as Mars.
The fission surface power system will be fully manufactured and assembled on earth and integrated on a lander as a payload. 
The system will be designed to deploy and operate from the payload platform after the lander arrives on the lunar surface.
The system — consisting of four major subsystems including a nuclear reactor, an electric power conversion unit, heat rejection array, and power management and distribution subsystem — will be designed to operate for up to 10 years.
CLICK HERE FOR FULL CURRENT AFFAIRS (Only for Course Members)
Sports
SumitNagal 
Indian tennis player SumitNagal has been given a singles wildcard entry for the Australian Open 2021.
Sumit and Wang Xiyu of China will compete in the main draw after being named recipients of the tournament's Asia-Pacific wildcards.
Sumit and Wang have joined Daria Gavrilova, Astra Sharma, Christopher O'Connell, Maddison Inglis, Lizette Cabrera, and Marc Polmans, who was announced as Australian Open 2021 main-draw wildcards prior to Christmas.
Former world number one Andy Murray has received a wild-card entry into the mega event. Murray is one of eight main draw wildcard recipients to be announced, joining Aussies Thanasi Kokkinakis (SA), Alex Bolt (SA), Aleksandar Vukic (NSW), DestaneeAiava (Vic), and Arina Rodionova (Vic).
Miscellaneous
Arya Rajendran
Arya Rajendran is set to become the youngest Mayor of the capital city
The earliest memory of political activity for Arya Rajendran is of joining the Balasangham, a children's organisation, as a 10-year old.
She had begun accompanying her father K.Rajendran, an electrician who had become a member of the CPI(M) in 2000, to party meetings much before that.
On Saturday evening, many young and old party workers who accorded her a reception at the Mudavanamugal ward, remembered the young girl who has been active on the ground as a red volunteer.
The 21-year old who is set to become the youngest Mayor of the Thiruvananthapuram Corporation, is still reluctant to take any questions regarding Mayorship, until her party makes the official announcement.