Current Affairs for IAS Exams - 29 March 2021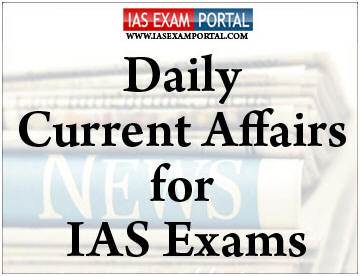 ---
Current Affairs for IAS Exams - 29 March 2021
::NATIONAL::
Plastic burning main cause behind reduction of visibility in Delhi
According to researchers from the IIT Madras, Chloride-rich particles resulting from plastic burning may be primarily responsible for haze and fog formation in Northern India, including Delhi, during the winter months.
About:
The new study found that chloride-rich particles were the highest inorganic fraction in particulate matter, primarily responsible for haze and fog formation in the region.
The latest study greatly enhances our understanding about the precise role of PM2.5 in chemistry of fog formation, which will help policy makers to frame the better policies for improving the air quality and visibility over the national capital.
The researchers noted that during winter season, most of the Indo Gangetic Plain invariably is engulfed in a dense fog and haze, particularly during the months of December and January.
The researchers explained that HCl from various sources combines with ammonia, which is emitted in great amounts over this region.
The resulting ammonium chloride (NH4Cl) condenses to aerosol and exponentially increase the water uptake ability of aerosol particles resulting in the increase in size, eventually leading to dense fog formation.
35th PRAGATI interaction
Prime Minister chaired the meeting of 35th edition of Pro-Active Governance and Timely Implementation (PRAGATI).
The ICT based multi-modal platform for Central and State governments.
It is held on every Fourth Wednesday of each month to be known as PRAGATI Day.
Participants include Union Government Secretaries, and Chief Secretaries of the States.
The programme is held through Video-conferencing enabled by data and geo-informatics visuals and is aimed at addressing common man's grievances, and simultaneously monitoring and reviewing important programmes and projects of the Centre and States.
CLICK HERE FOR FULL CURRENT AFFAIRS (Only for Course Members)
::INTERNATIONAL::
United Nations Peacekeeping Force
India delivered on its promise of 2,00,000 doses of COVID-19 vaccines for the United Nations Peacekeeping Force (UNPKF) worldwide, sending a shipment bound for Copenhagen.
The cargo of AstraZeneca Covishield vaccines produced by the Serum Institute of India (SII) in Pune was sent despite the government's decision to reduce exports in view of the need for vaccines domestically, honouring a commitment made by External Affairs Minister at UNSC.
Indian donation, combined with a Chinese commitment for 3,00,000 doses of vaccines would ensure that the entire force of more than two lakh soldiers, which comprises about 91,000 active personnel and 1,11,512 uniformed personnel, receives the requisite two doses each. 
India's donation to the UNPKF will also benefit Indian soldiers, who make up one of the largest contingents of peacekeeping troops and police.
With more than 5,000 men and women deployed in the Congo, South Sudan and Lebanon, among other countries. 
China, Iran sign 25-year 'strategic pact
China and Iran signed what was described as a 25-year "strategic cooperation pact", during Chinese Foreign Minister Wang Yi's on-going six-nation tour to West Asia.
The agreement comes amid a major push from China to back Iran, which counts on Beijing as its largest trading partner, as it deals with the continuing weight of sanctions reinstated following then U.S. President Donald Trump's decision to withdrawal from the Iranian nuclear deal.
China and Russia called for the U.S. to "unconditionally return to the Joint Comprehensive Plan of Action (JCPOA) as soon as possible and revoke the unilateral sanctions against Iran" as their Foreign Ministers met in China.
In this context, they proposed "the establishment of a regional security dialogue platform to converge a new consensus on resolving the security concerns of countries in the region."
::ECONOMY::
Centre approved grants for rural local bodies (RLBs) in 18 states
The Centre released ₹12,351.5 crore to 18 States as grants to rural local bodies (RLBs) for 2020-21, taking the total grants released for such bodies this year to ₹45,738 crore.
Grants to RLBs are released as per recommendations of 15th Finance Commission (FC).
They are provided to all three tiers of Panchayati Raj- Village, Block and District.
15th FC has recommended two types of grants- basic and tied grants.
Basic grants are untied and can be used by the local bodies for location specific felt needs except for salary or other establishment expenditure.
Tied grants can be used for the basic services of (a) sanitation and maintenance of Open Defecation Free (ODF) status and (b) supply of drinking water, rain water harvesting and water recycling.
::SCIENCE AND TECHNOLOGY::
Axiom Mission
A former Israeli fighter pilot, an American technology entrepreneur and a Canadian investor will be part of the crew of the first entirely-private orbital space mission.
The three men are paying a whopping $55 million each to fly aboard a SpaceX rocket for an eight-day visit to the International Space Station.
It organised by Houston-based spaceflight firm Axiom.
About:
The Axiom Mission 1 (AX 1) flight is being arranged under a commercial agreement with NASA.
The mission will be the first to use a commercially built spacecraft, the SpaceX Dragon 2, best known for flying its first two crews to the ISS late last year.
But Axiom insists that the mission is by no means a vacation.
The three men will participate in research and philanthropic projects alongside the astronauts from all over the world who are already stationed at the ISS.
The private astronauts will have to pass medical tests and also undergo 15 weeks of rigorous training before their trip to space.
 CLICK HERE FOR FULL CURRENT AFFAIRS (Only for Course Members)

::SPORTS::
Thisara Perera
All-rounder Thisara Perera became the first Sri Lankan to hit six sixes in an over in any form of professional cricket during a domestic tournament near here.
The 31-year-old achieved the feat during his unbeaten 13-ball 52 while captaining Sri Lanka Army in a group match against Bloomfield Cricket and Athletic Club in the Major Clubs Limited Over List A tournament at the Army Ground in Panagoda town.
His knock, which had eight sixes in it, was also the second-fastest half-century by a Sri Lankan in List A cricket, after former Sri Lanka all-rounder Kaushalya Weeraratne's 12-ball fifty in 2005.