Current Affairs for IAS Exams – 29 October 2016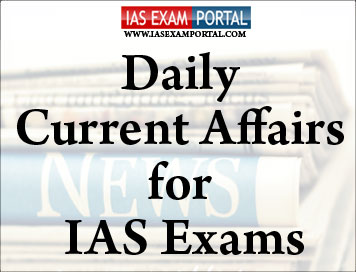 Current Affairs for IAS Exams – 29 October 2016
:: National ::
Supreme court says Centre failed to deliver on its assurance
Chief Justice of India T.S. Thakur said the Centre failed to deliver on its assurance that filling judicial vacancies is its "topmost priority", accusing the government of trying to choke justice by not appointing judges.

In an open court hearing, a three-judge Bench led by Chief Justice Thakur accused the government of trying to "decimate the judiciary and lock justice out."

"In Karnataka HC, an entire floor of courts are locked [up] because there are no judges. Once we had a situation where we had judges but no court rooms. But now there are court rooms but no judges," Chief Justice Thakur said.

He said no action had been taken for the past nine months since a Constitution Bench scrapped the NJAC law and asked the government to frame a new Memorandum of Procedure (MoP) for Judicial Appointments.

CJI said that in Allahabad HC, the Collegium had recommended 18 judges for appointment; the government chose eight out of them and now wants only two of those.

The judicial strength is now 464 out of a total sanctioned strength of 1079 judges in 24 High Courts.

In the Supreme Court, the number of judges is down to 26 out of a total sanctioned strength of 31. With Justices Anil R. Dave and S.K. Singh retiring in November 2016, the number would again come down to 24.
PM Modi will spend Diwali with soldiers of the ITBP
Prime Minister Narendra Modi will spend Diwali with soldiers of the Indo-Tibetan Border Police (ITBP) at Mana post in Chamoli district of Uttarakhand.

He will be visiting some areas near the India-China border as well as worshipping at the Badrinath Temple.

Prime Minister Modi had earlier spent Diwali with soldiers of the Indian Army posted at the world's highest battlefield of Siachen, as well as the Dogra war memorial at Amritsar.

He also made it a point to be in Srinagar before his visit to Siachen in 2014, in solidarity with the flood victims in Jammu and Kashmir.

Mr. Modi, also launched a campaign to send Diwali greetings to those serving on India's borders, called "Sandesh for Soldiers."

Prominent celebrities like film actor Aamir Khan, Akshay Kumar as well as several Union Ministers have sent messages tagging Prime Minister Modi during the course of this campaign.
:: International ::
Islamic State is trying to tap into already established jihadist groups in Asia
The Dhaka café siege and the recent attack at a police academy in Quetta in Pakistan claimed by the IS indicate that the terror group is trying to "tap into already established jihadist groups" for its operations in the subcontinent.

IS is trying to set up shop and grow (in the region), but it may be much harder for them to do so today. This is mostly why we are seeing ISIS tap into already established jihadi groups like LeJA in Pakistan and JMB in Bangladesh.

Despite it's large Muslim population, South Asian has seen proportionally less IS recruits travelling to Iraq and Syria than West Asia and South East Asia.

With some losses in Syria and Iraq, greater attention will be to foreign theatres, and they will seek to ally themselves with established groups, simply because it is operationally easy.
:: Science and Technology ::
Special telescope-array established in Ooty
The GRAPES-3 experiment is a special telescope-array established in Ooty to detect muons from cosmic ray showers.

The experiment has detected a surge in muon intensity correlated with a weakening of the earth's magnetic field due to a solar storm that hit the earth on June 22, 2015.

An Indo-Japanese collaboration, this experiment is unique in that it can be used to study solar storms and space weather at distances up to two times the earth's radius.

A coronal mass ejection (CME) left the sun on June 21, 2015 and, along with two such others that left the sun on June 18 and 19, reached earth on June 22, 2015.

Solar flares are often followed by CMEs which are nothing but giant clouds of plasma which also contain embedded magnetic fields.

This CME was associated with a solar flare from the sunspot region 12371 near the central disc of the sun. This caused a solar storm and ensuing radio blackouts and Aurore Borealis.

Analysing data from the GRAPES-3 muon-tracking telescope, scientists have inferred that while it lasted, the CME resulted in weakening the earth's magnetic field, allowing high energy cosmic rays to burst through.

The earth's atmosphere provides a shield against UV rays and other incident particles. But its protection stretches to less than 100 km around the earth.

The stronger protection comes from the earth's magnetic field which stretches to around 10 times the radius of the earth — about 60,000 km beyond the surface.
:: Business and Economy ::
Benami Transactions Amendment Act will come into force on November 1
The Benami Transactions (Prohibition) Amendment Act will come into force on November 1, 2016, the Central Board of Direct Taxes said on Friday.

Following this, the existing Benami Transactions (Prohibition) Act will be renamed as the Prohibition of Benami Property Transactions Act (PBPT Act).

The PBPT Act defines benami transactions, prohibits them and further provides that violation of the PBPT Act is punishable with imprisonment and fine.

The PBPT Act prohibits recovery of the property held benami from benamidar by the real owner. Properties held benami are liable for confiscation by the Government without payment of compensation.

According to the new law, people caught with 'benami' properties could serve up to seven years of rigorous imprisonment and have to pay a significant fine.

Additionally, the properties will be confiscated. Under the Act, a transaction is named 'benami' if property is held by one person, but has been provided or paid for by another person.

A person could also face rigorous imprisonment for up to five years for knowingly giving false information and will have to pay a fine of up to 10 per cent of the market value of the property.

The PBPT Act provides for the creation of an appellate mechanism called the Adjudicating Authority and Appellate Tribunal.
India must be in a state of readiness to implement the Trade Facilitation Agreement (Register and Login to read Full News..)
Sources: Various News Papers & PIB