Current Affairs for IAS Exams - 29 May 2022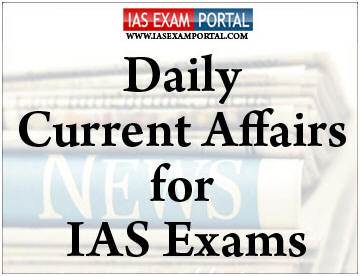 ---
Current Affairs for IAS Exams - 29 May 2022
::NATIONAL::
The State of Inequality in India Report
The report released by the Economic Advisory Council to the Prime Minister (EAC-PM) on the state of inequality of India in Niti Bhavan. 
The report recommended that the government launch a guaranteed employment programme for the urban unemployed and roll out a universal basic income (UBI) scheme to reduce income gaps, among other things.
About the report:
Prepared by Institute for Competitiveness, report gives a holistic analysis of depth and nature of inequality in India based on inequities in health, education, household characteristics, income distribution and labour market dynamics.
Inequality refers to uneven distribution of resources and opportunities,contributing to poverty and deprivation.
Based on data from various rounds of Periodic Labour Force Survey (PLFS),National Family and Health Survey (NFHS) and UDISE+, report found that:
An Indianearning amonthly wageof ₹25,000 isamong top 10%of earners in thecountry.
CLICK HERE FOR FULL CURRENT AFFAIRS (Only for Course Members)
Implementation issues regarding proposal of Universal basic income plan
The Universal Basic Income(UBI) scheme proposed by experts facing challenges for implementation.
Key highlights: 
The report highlights to identifying beneficiaries, getting them on board and monitoring implementation are some of the challenges 
The State of Inequality in India report, released by Economic Advisory Council to Prime Minister (EAC-PM), has highlighted practicalchallenges in implementation of UBI scheme.
About:
UBI was first mooted in the 2016-17 Economic Survey.
It is a form of minimum income guarantee that is being paid irrespective of any income from other sources.
UBI requires that every person should have a right to a basic income to cover their needs, just by virtue of being citizens.
UBI has three components:
1.     Universality, 
2.    unconditionality, and 
CLICK HERE FOR FULL CURRENT AFFAIRS (Only for Course Members)
::INTERNATIONAL::
WMO releases State of the Global Climate Report
The new report 'State of the Global Climate 2021' which was released by the World Meteorological Organization (WMO) in Geneva.
Key highlights: 
The report confirms that the past seven years have been the warmest seven years on record. 
It's mentions about four key climate change indicators – greenhouse gas concentrations, sea-level rise, ocean heat and ocean acidification – set new records in 2021.
Global mean temperature in 2021 wasaround 1.11 ± 0.13°C above 1850–1900pre-industrial average. Past seven years(2015-2021) have been warmest years.
Global mean sea level reached a newrecord high in 2021, rising an average of4.5 mm per year over the period2013–2021.
WMO flagship report to call for urgent action to grab the "low-hanging fruit" of transforming energy systems away from the "dead-end" of fossil fuels.
UN Secretary-General proposed five critical actions to jump-start the renewable energy transition. 
Finland, Sweden Seek to Join NATO
Finland and Sweden have applied to join NATO, ending decades of both states' respective non-aligned status. Finnish and Swedish NATO accession would boost the capabilities and defensibility of the alliance.
About:
NATO is a transatlantic political and military alliance whichpromotes democratic values and committed to peaceful resolutionof disputes.
It was created in 1949 with the signing of the North Atlantic Treaty,popularly known as the Washington Treaty, with 12 foundingmembers.
The North Atlantic Treaty derives its authority from Article 51 ofthe United Nations Charter.
CLICK HERE FOR FULL CURRENT AFFAIRS (Only for Course Members)
::ECONOMY::
Shared economy
India will soon come up with standards for shared-economy services players owing to the rising number of complaints from consumers and the increasing reach of digital players across the consumer ecosystem.
About:
The Bureau of Indian Standards (BIS), which is under the Ministry of Consumer Affairs, held a meeting on this on April 25. India's effort on this replicates initiatives taken by the International Organization for Standardization (ISO).
Sharing economy is an umbrella term for a great variety of organisational models where goods and services, skills and spaces are shared, exchanged, rented or leased.
It often involves some type of online platform that connects buyers and sellers.
CLICK HERE FOR FULL CURRENT AFFAIRS (Only for Course Members)
::SCIENCE AND TECHNOLOGY::
Bharat Drone Mahotsav 2022
Prime Minister Narendra Modi inaugurated India's biggest Drone Festival - Bharat Drone Mahotsav 2022. The Prime Minister also gave away 150 drone pilot certificates.
About:
Various industry leaders, government officials, foreign diplomats, representatives from Public Sector Units, private companies and drone start-ups are participating in the Mahotsav. They will deliberate upon India's Civil Aviation sector.
Prime Minister highlighted the importance of drone technology in the fields of defence, disaster management, agriculture, tourism, film and entertainment. He said that the use of this technology is bound to increase in the coming days.
As appreciating the use of drones in PM-SVAMITVA scheme, he said, 65 lakh property cards have been generated with the help of drones.
CLICK HERE FOR FULL CURRENT AFFAIRS (Only for Course Members)
::Miscellaneous::
Nechiphu tunnel
Border Roads Organisation (BRO) conducted final break through blast of Nechiphu Tunnel.
About:
Nechiphu tunnel is located along the Balipara-Charduar-Tawang Road, which connects Balipara inAssam to Tawang in Arunachal Pradesh bordering China.
It has been completed under the Project Vartak of BRO.
CLICK HERE FOR FULL CURRENT AFFAIRS (Only for Course Members)