Current Affairs for IAS Exams - 30 March 2020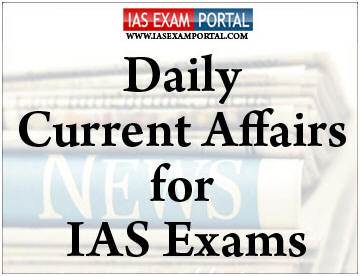 ---
Current Affairs for IAS Exams - 30 March 2020
---
::NATIONAL::
Centre forms several empowered groups to suggest measures during lockdown
Government has constituted 11 different Empowered groups to suggest measures to ramp up healthcare, put the economy back on track and reduce the misery of people as quickly as possible post 21-day lockdown imposed to contain the Coronavirus pandemic.
Each group has a senior representative from PMO and the Cabinet Secretariat to ensure seamless coordination. These groups have been set up under the Disaster Management Act.
The groups have been empowered to formulate plans and to take all necessary steps for their time-bound implementation. The initiative is being viewed as pro-active step by the government to deal with multiple challenges which the outbreak of COVID-19 has posed.
The Empowered Group on Medical Emergency and Management Plan will be headed by NITI Aayog member Dr V Paul, while the Group on Availability of Hospitals, Disease Surveillance and Testing and Critical Care Training will work under the Chairmanship of Environment Secretary C K Mishra.
The Empowered Group on ensuring the availability of essential medical equipment, production Procurement, Import and Distribution will be headed by Pharmaceuticals Secretary P D Vaghela, while the Group on augmenting Human Resources and Capacity Building will function under Ministry of Micro, Small and Medium Enterprises (MSME) Secretary Arun Panda.
Drinking Water Secretary ParameswaranIyer will lead the Group on Facilitating Supply Chain and Logistics Management for availability of necessary items.
CEO NITI Aayog Amitabh Kant will head the Group on coordinating with the private sector. The Group on Economic and Welfare measures will function under Economic Affairs Secretary AtanuChakraborty and Information and Broadcasting Secretary Ravi Mittal will head the Group on Information, Communication and Public Awareness.
CLICK HERE FOR FULL CURRENT AFFAIRS (Only for Course Members)
Govt.to use cargo flights to supply essentials to north eastern region
The Cargo Air Flights will be used exclusively for transporting medical equipment and emergency goods besides other essential items to the North Eastern States in the wake of lockdown. This was disclosed by Union Minister for Development of North Eastern Region, Dr Jitendra Singh.
This will go a long way in reassuring the people of the region that even at this hour of trial, they are receiving as much attention as any other part of the country.
It has been intimated that the contact details and road map for the Cargo operation will be provided soon. The Directors of the airports of the region have been asked to inform about their requirements through Twitter.
Dr Jitendra Singh noted that Prime Minister NarendraModi has always placed the welfare of the North Eastern Region highest on the priority. It was primarily because of his personal outreach that Northeast has undergone a revolutionary transformation over the last six years.
And, the decision to operate Cargo flights for North-East is only a reiteration of the fact that the concern for Northeast is close to Mr.Modi's heart even at this crucial time.
CLICK HERE FOR FULL CURRENT AFFAIRS (Only for Course Members)
::ECONOMY::
Banks and other lenders ready with EMI holiday offer
The Housing Development and Finance Corporation (HDFC), the country's largest mortgage lender, and some other lenders will reach out to customers and give them the option to skip equated monthly instalment (EMI) for the next three months as announced by the Reserve Bank of India on Friday.
The move will enable customers, particularly those who have opted for the electronic clearing service (ECS) facility, to opt for deferring payments for the next three months.
Private sector lender Kotak Mahindra Bank has also communicated through social media that the bank is working on the issue and will inform the customers via email and SMS.
The other alternative for the borrower to defer EMIs is to instruct the bank from where the EMI is debited to stop the ECS facility.A borrower who has not opted for the ECS facility can simply avoid paying the instalment for three months.
On Friday, the RBI allowed all banks and financial institutions including non-banking finance companies to extend a three-month moratorium on the instalments falling due between March 1, 2020 and May 31, 2020 for all term loans.
This relaxation is also applicable for consumer loans like auto loans, home loans and personal loans, as well as credit card outstanding.This would mean a consumer may choose not to pay monthly equated instalments on their loans for the next three months.
ICAR warns farmers to maintain social distancing while harvesting crops
As rabi harvesting likely to pick up in the coming days, the government's agri-research body ICAR on Saturday asked farmers to follow social distancing and safety precaution while handling farm machines and labour in the field.
For tackling any emerging issue related to managing crops, livestock and fisheries, farmers should consult and be in touch with agri-scientists in KrishiVigyanKendras (KVKs), ICAR research institutes and state agricultural universities for timely advisories, it said.
Similarly, proper sanitation is required for using shared or hired machinery for harvesting, he said, adding simple measures on washing of hands with soap, alcohol rub and maintaining isolation distance at personal level and proper cleaning of shared machinery are to be followed.
CLICK HERE FOR FULL CURRENT AFFAIRS (Only for Course Members)
::INTERNATIONAL::
India decides to suspend missions in Afghanistan
With a growing number of cases of SARS-CoV-2 infection from Iran and Pakistan and the worsening security situation, India has decided to suspend operations at its missions in the Afghanistan cities of Jalalabad and Herat, highly placed sources confirmed to The Hindu.
On Sunday, all Indian personnel at the Consulate in Jalalabad, near the Pakistan border, were moved to Kabul, and are likely to return to India by special flights coming in to transport Afghan citizens back. Those at the Consulate in Herat near the Iranian border are likely to return later this week.
Officials say that an influx of Afghan refugees over the porous borders from Iran, which has seen more than 38,000 confirmed cases of COVID-19, and from Pakistan that has seen a rapid rise to more than 1,200 confirmed cases, has raised concerns about Herat and Jalalabad in particular.
The move to pull out Indian personnel also follows a deep security assessment undertaken by the government on the situation in Afghanistan following the deadly attack by the Islamic State Khorasan Province (ISKP) on a gurdwara in Kabul on March 25, in which 25 people, including an Indian were gunned down.
A senior official said the government's view of the security situation and the impact of the COVID-19 pandemic was that it cannot be "business as usual" for the Indian missions.
As a result, India's assessment is that the month-old U.S.-Taliban deal, which only stipulates that the Taliban will ensure no attacks on American forces and interests,will lead to an increase in attacks on Indian missions. New Delhi is re-strategising the impact on all Indian missions, installations and projects, sources said.
Panama Govt. cruise ship with COVID infected people to pass through canal
Panama's government has given permission to a cruise ship on which four passengers have died during travel through its canal.
Earlier, Panama Government had denied the access to Panama canal over Coronavirus fears. The government said it decided to allow the ship to pass on humanitarian ground but stressed that no passenger nor member of crew can disembark on Panamanian soil.
The Zaandam cruise ship has been stranded at sea since March 14 after several South American ports refused to let it dock due to dozens of people aboard shown flu-like symptoms.
On Friday the ship's Dutch owner Holland America said four passengers had died and two more had tested positive for COVID-19.
CLICK HERE FOR FULL CURRENT AFFAIRS (Only for Course Members)
::SCIENCE & TECHNOLOGY::
FDA approves plasma treatment for serious COVID patients
The Food and Drug Administration of the United States has approved the use of Convalescent plasma collected from patients recovered from COVID-19 to treat seriously ill COVID-19 patients. The idea of the method is to inject plasma with antibodies into critically ill patients for them to gain immunity against the virus.
The Convalescent plasma treatment had earlier been studied during the outbreaks of 2003 SARS-CoV-1 epidemic, 2009-10 H1N1 influenza virus and 2012 MERS-CoV epidemic.The treatment is mere collection of plasma from a COVID-19 recovered patient and inject them into a critically ill patient of COVID-19.
Plasma is the major part of the blood. Apart from RBC, WBC and platelets in the blood, all the other fluid content is referred as Plasma.It makes up more than 55% of blood in human body.
When separated from blood, it becomes light yellow liquid. This is because, blood is red in colour due to the RBCs.The main role of plasma is to carry hormones, nutrients and proteins to different parts of the body.
CLICK HERE FOR FULL CURRENT AFFAIRS (Only for Course Members)
::SPORTS::
Indian Olympic bound boxers to provide online classes
India's Olympic-bound boxers will be provided online classes from tomorrow by their coaches after training halted by the coronavirus-forced national lockdown. Nine Indian boxers M C Mary Kom, SimranjitKaur, LovlinaBorgohani, Pooja Rani, AmitPanghal, Manish Kaushik, VikasKrishan, Ashish Kumar and Satish Kumar have qualified for the Tokyo Games, postponed to 2021 due to the global pandemic.
In a conference call with these boxers today, the President of the Boxing Federation of India, Ajay Singh took stock of their preparations amid a national lockdown till April 14 to fight the pandemic.
He told the boxers that this is a challenging time for all of us and is all the more a reason for us to take care of ourselves stay fit. He asked them to continue with the exercises as directed by the coaches and try to maintain weights as much as possible.
The classes for women will be conducted by their high performance director RafaelleBergamasco. India booked an unprecedented nine Olympic slots at the Asian qualifiers in Jordan earlier this month.
CLICK HERE FOR FULL CURRENT AFFAIRS (Only for Course Members)