Current Affairs for IAS Exams - 30 August 2022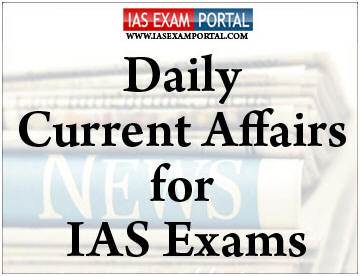 ---
Current Affairs for IAS Exams - 30 August 2022
::NATIONAL::
Scheme for Economic Empowerment of Denotified, Nomadic, Semi-nomadic Tribes
The Union Social Justice Ministry received 402 applications online from across the country for benefits under the Scheme for Economic Empowerment of Denotified, Nomadic, Semi-nomadic (SEED) Tribes.
About:
More than 10 crore Indians from 1,400 communities belong to these groups, show the latest estimates available with the government.
The scheme aims to provide free competitive exam coaching to students, health insurance and financial assistance for housing and uplift clusters of these communities through livelihood initiatives.
The Ministry has been allocated ₹200 crore for this scheme to be spent over five financial years from 2021-22 to 2025-26.
At the time of the launch, the Ministry announced that the scheme would be implemented through an online portal that would issue a unique ID to each applicant to apply and track the status of the application online. 
Background:
The term 'De-notified Tribes' stands for all those communities which were once notified under the Criminal Tribes Acts, enforced by the British Raj between l871 and 1947. These Acts were repealed by the Independent lndian Government in 1952, and these communities were "De-Notified". A few of these communities which were listed as de-notified were also nomadic.
CLICK HERE FOR FULL CURRENT AFFAIRS (Only for Course Members)
National Crime Records Bureau 2021 report
Violent crimes such as rape, kidnapping, atrocities against children, and robberies registered across India increased in 2021, after the pandemic-related restrictions led to a decline in these severe offences in 2020.
About:
Murders, which did not come down even in 2020, continued to increase in 2021 too, according to data from National Crime Records Bureau (NCRB)'s 2021 report.
The number of registered rape cases increased from 28,046 in 2020 to 31,677 in 2021, closer to the 2019 figure of 32,032. Cases related to kidnapping and abduction fell to 84,805 in 2020 from 1,05,036 cases in 2019, but again rose to 1,01,707 in 2021.
On the other hand, murder cases continued their consistent increase with 29,272 cases in 2021, up from 29,193 in 2020 and 28,915 in 2019.
However, the number of overall registered cognisable crimes decreased from 66 lakh in 2020 to 60.9 lakh in 2021, a 7.6% fall.
The crime rate (crimes per 1 lakh people) also decreased from 487.8 in 2020 to 445.9 in 2021.
CLICK HERE FOR FULL CURRENT AFFAIRS (Only for Course Members)
::INTERNATIONAL::
NATO warns about Russian, Chinese interest in Arctic
NATO Secretary General Jens Stoltenberg warned about Russia's military buildup in the Arctic and China's increasing interest in that part of the world.
Key highlights: 
In 2018, China declared itself a 'Near-Arctic State' with interest inshipping, research and exploration projects in the Arctic to exploitregions' oil, gas, minerals etc.
China has also shown interest to build Polar Silk Road, i.e., Arctic shippingroutes connecting North America, East Asia, and Western Europethrough the Arctic Circle.
About:
It is the northernmost region of the Earth, representing the area withinthe Arctic Circle- a line of latitude at 66.5° north of the Equator.
It includes the territory of the US, Russia, Canada, Denmark, Finland,Iceland, Norway and Sweden, all of which are part of the Arctic Council.
The Arctic Council was established in 1996 through the Ottawa Declaration by the Eight Arctic States.
India is part of Arctic Council Observers as a non-Arctic State.
UN High Seas treaty
Negotiations involving 168 countries, including the European Union, to agree on a UN treaty for protecting oceans failed on August 27. 
About:
Also referred to as the 'Paris Agreement for the Ocean', the treaty to deal with Biodiversity Beyond National Jurisdiction has been under discussion for several years.
The proposed treaty concerns the ocean existing beyond the Exclusive Economic Zones that lie from the coast of a country to about 200 nautical miles or 370 km into the sea, till where it has special rights for exploration. Waters beyond that are known as open seas or high seas.
CLICK HERE FOR FULL CURRENT AFFAIRS (Only for Course Members)
::ECONOMY::
Fraud Registry
The Reserve Bank of India (RBI) is considering setting up a fraud registry with a database of fraudulent websites, phones and various modus operandi for digital fraud. 
The mechanism is aimed at preventing fraudsters from using banking infrastructure.
About:
Such a database will help prevent these fraudsters from repeating the fraud as the websites or phone numbers would be blacklisted.
There is no definite timeline for setting up of the fraud registry. At present, we are talking to different stakeholders including different departments like payments and settlement and supervision of RBI.
Payment system participants will be provided access to this registry for near-real time fraud monitoring. 
CLICK HERE FOR FULL CURRENT AFFAIRS (Only for Course Members)
::SCIENCE AND TECHNOLOGY::
Standalone 5G architecture
India's largest telecom company Reliance Jio on Monday announced the launch of its 5G services in Delhi, Mumbai, Kolkata, and Chennai by Diwali this year, with an aim to expand and cover the entire country by December 2023.
The company said it will launch its 5G services on a "standalone" 5G architecture, against the "non-standalone" approach that other operators are betting on. 
Key highlights: 
5G networks are deployed mainly on two modes: standalone and non-standalone. 
In the standalone mode, which Jio has chosen, the 5G network operates with dedicated equipment, and runs parallel to the existing 4G network, while in the non-standalone mode, the 5G network is supported by the 4G core infrastructure.
The standalone mode provides access to full 5G capabilities and new network functionalities such as slicing that provides greater flexibility to operators to efficiently use their spectrum holdings.
CLICK HERE FOR FULL CURRENT AFFAIRS (Only for Course Members)