Current Affairs for IAS Exams - 30 May 2022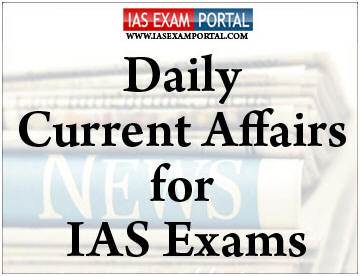 ---
Current Affairs for IAS Exams - 30 May 2022
::NATIONAL::
UN-Habitat finds multi-hazard vulnerabilities in Jaipur city
Posing a challenge for urban planners, UN-Habitat has identified multi-hazard vulnerabilities, urban sprawl, weak urban mobility and 'green-blue disconnect' as the pressing issues for Jaipur city. 
Key highlights:
The global body has based its findings on a sustainable cities integrated approach pilot project, as part of which the 'sustainable urban planning and management' component was implemented in collaboration with the Jaipur Development Authority and Jaipur Greater Municipal Corporation.
Jaipur has received an overall sustainability rating of three on the Urban Sustainability Assessment Framework (USAF) on the basis of data collected for 87 of its 131 parameters. 
Experts have identified urban sectors where the city needs to pay maximum attention, and made recommendations to increase its green cover, strengthen urban biodiversity, and enhance the quality of life for citizens.
The project has received funding from the Global Environment Facility (GEF-6) to estimate the carbon sequestration potential of Indian cities.
Mitigating urban sprawl remains a major challenge in the State capital, with the UN body emphasising the concept of a compact city with re-development and re-densification of the existing urban areas.
CLICK HERE FOR FULL CURRENT AFFAIRS (Only for Course Members)
Sela macaque
A new species of old world monkey recorded from Arunachal Pradesh has been named after a strategic mountain pass at 13,700 ft above sea level.
About:
Sela macaque (Macacaselai), the new-to-science primate was identified and analysed by a team of experts from the Zoological Survey of India (ZSI) and the University of Calcutta. 
Their study has been published in the latest edition of Molecular Phylogenetics and Evolution.Phylogenetics relate to the evolutionary development and diversification of a species or group of organisms.
The phylogenetic analysis revealed that the Sela macaque was geographically separated from the Arunachal macaque ( Macacamunzala) of Tawang district by Sela. 
This mountain pass acted as a barrier by restricting the migration of individuals of these two species for approximately two million years, the study said.
Sela is situated between Dirang and Tawang towns in western Arunachal Pradesh.
The study says the Sela macaque has a tail longer than the Tibetan macaque, Assamese macaque, Arunachal macaque and the white-cheeked macaque but shorter than the bonnet macaque and toque macaque.
CLICK HERE FOR FULL CURRENT AFFAIRS (Only for Course Members)
::INTERNATIONAL::
Unconventional Water Resources 
Unconventional Water Resources — compiled by experts at the United Nations University's Institute for Water, Environment and Health (UNU-INWEH), has showcased the potential of resources such as offshore and onshore deep groundwater, irrigation water, municipal wastewater, and water vapour trapped in fog. 
Key highlights:
Non-conventional/ Unconventional water resources (UWRs) commonly include saline water, brackish water, agricultural drainage water, treated or untreated wastewater effluents etc.
All these are waters of inferior or marginal quality.
Use of this water requires adoption of more complex management practices and stringent monitoring procedures.
Key areas need to be focus mentioned in this book:
Harvesting water from air and ground by Cloud Seeding or Rain Enhancement, Fog Harvesting.Fog harvesting and micro-catchment rainwater harvesting marked as low-cost and low-impact methods.
Desalination- Removing salts or other minerals fromwastewater effluent, to obtain fresh water for humanconsumption.
Tapping fresh and brackish groundwater offshore and onshore.
Reusing used water i.e. municipal waste-water andagricultural drainage water.
Moving water physically to water-scarce areas in ships' ballastholds, or towing icebergs.
CLICK HERE FOR FULL CURRENT AFFAIRS (Only for Course Members)
International Booker Prize
Delhi-based author Geetanjali Shree has become the first Indian author to win the prestigious International Booker Prize for her novel 'Tomb of Sand', published originally in Hindi in 2018 as 'Ret Samadhi'.
Shree shares her 50,000-pound prize money with the book's English translator Daisy Rockwell. 
About:
In 2005, the International Booker Prize opened for English translations of foreign language books and since 2016, it is equally recognised the work of both author and translator. 
Every year given this award is to a book translated into English and published in Britain or Ireland.
It's distinct from the Booker Prize, which has been won by Indian writers like Arundhati Roy and Aravind Adiga in the past.
About Geetanjali Shree: 
Mainpuri-born Shree is the author of five novels and several story collections. 
Her works have been translated into English, French, German, Serbian, and Korean.
CLICK HERE FOR FULL CURRENT AFFAIRS (Only for Course Members)
::ECONOMY::
Indian Business Portal 
Union Minister of State for Commerce & Industry launched the Indian Business Portal - An International Trade Hub for Indian Exporters and Foreign Buyers. 
About:
FIEO in partnership with GlobalLinker, has designed and developed the 'Indian Business Portal', an International Trade Hub for Indian Exporters and Foreign Buyers. 
This is a B2B digital marketplace to empower SME exporters, artisans and farmers to identify new markets for their products and grow their sales globally.
 Strategic objectives of Indian Business Portal:
Digitizing Indian Exporters and help them become discoverable online
Promoting exports from all Indian States
Showcasing India's strength in wide range of Products & Services
Encouraging virtual meetings between buyers and sellers
CLICK HERE FOR FULL CURRENT AFFAIRS (Only for Course Members)
::SCIENCE AND TECHNOLOGY::
True random number generator
A team at the Department of Electrical Communication Engineering (ECE), Indian Institute of Science (IISc) has developed a true random number generator (TRNG).
Key highlights:
This can improve data encryption and provide improved security for sensitive digital data such as credit card details, passwords, and other personal information. 
The study describing the TRNG device has been published in the journal ACS Nano.
Encrypted information can be decoded only by authorised users who have access to a cryptographic 'key'. But the key needs to be unpredictable and, therefore, randomly generated to resist hacking. 
Cryptographic keys are typically generated in computers using pseudorandom number generators, which rely on mathematical formulae or pre-programmed tables to produce numbers that appear random but are not.
In contrast, a TRNG extracts random numbers from inherently random physical processes, making it more secure. 
In IISc's TRNG device, random numbers are generated using the random motion of electrons. 
CLICK HERE FOR FULL CURRENT AFFAIRS (Only for Course Members)
::Miscellaneous::
Tsirkon hypersonic cruise missile
Russian frigate Admiral Gorshkov successfully test-fired a Tsirkon hypersonic cruise missile from the Barents Sea.
The missile hit a naval target about 1,000 kms away in the White Sea and the flight of the projectile corresponded to the designed parameters.
The Tsirkon missile has been test-fired several times from the Admiral Gorshkov frigate and a nuclear-powered submarine. 
Tsirkon missile is capable of flying at Mach 9 or nine times the speed of sound and striking a target over 1,000 kms away.
CLICK HERE FOR FULL CURRENT AFFAIRS (Only for Course Members)