Current Affairs for IAS Exams - 31 March 2021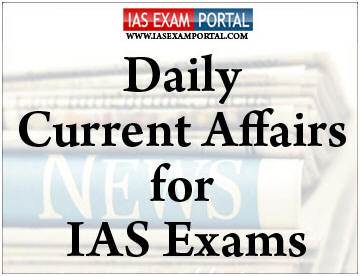 ---
Current Affairs for IAS Exams - 31 March 2021
::NATIONAL::
Unique Land Parcel Identification Number
The Centre plans to issue a 14-digit identification number to every plot of land in the country within a year's time.
It will subsequently integrate its land records database with revenue court records and bank records, as well as Aadhaar numbers on a voluntary basis.
The Unique Land Parcel Identification Number (ULPIN) scheme has been launched in ten States this year and will be rolled out across the country by March 2022.
Who did not wish to be named, described it as "the Aadhaar for land", a number that would uniquely identify every surveyed parcel of land and prevent land fraud, especially in the hinterlands of rural India, where land records are outdated and often disputed.
The identification will be based on the longitude and latitude coordinates of the land parcel, and is dependent on detailed surveys and geo-referenced cadastral maps, according to a presentation the Department made to States in September 2020.
This is the next step in the Digital India Land Records Modernisation Programme (DILRMP), which began in 2008 and has been extended several times as its scope grew.
 International Ranger Award
Minister for Environment, Forests and Climate Change Prakash Javadekar has congratulated Mahinder Giri, range officer of Rajaji Tiger Reserve.
He is the only ranger from Asia to win the prestigious International Ranger Award for his contribution towards conservation.
The award has been announced for 10 professionals across the world by the International Union for Conservation of Nature IUCN and World Commission on Protected Areas WCPA.
It has been developed through a collaboration between the IUCN WCPA, the International Ranger Federation, Global Wildlife Conservation, and Conservation Allies,
It is created in 2020.
It aims to highlight and felicitate the extraordinary work that rangers do in protected and conserved areas worldwide.
CLICK HERE FOR FULL CURRENT AFFAIRS (Only for Course Members)
::INTERNATIONAL::
World Immunisation and Logistics Summit
Dr. Harsh Vardhan, Union Minister for Health and Family Welfare digitally participated in a panel discussion on vaccine production and distribution across Asia at the "World Immunisation and Logistics Summit".
The HOPE Consortium's World Immunisation & Logistics Summit was opened by H.H. Sheikh Abdullah Bin Zayed Al Nahyan, UAE Minister of Foreign Affairs and International Cooperation with a call to enhance collaboration in the world's approach to tackle COVID-19 and ensure a healthier future for all.
The two-day virtual Summit, hosted in by Abu Dhabi, kicked off today under the patronage of the Ministry of Foreign Affairs and International Cooperation, with the participation of acclaimed global healthcare and philanthropic leaders, decision makers, experts and senior government officials, to explore a unified global approach to fighting the COVID-19 pandemic.
 Vajra Prahar 2021
The 11th edition of Indo-US Joint Special Forces Exercise Vajra Prahar 2021was conducted at Special Forces Training School located at Bakloh, HP in March 2021.
The joint exercise by the Special Forces of both the countries is conducted alternatively between India and the United States.
It aims to share the best practices and experiences in areas such as joint mission planning and operational tactics as also to improve interoperability between the Special Forces of both nations.
::ECONOMY::
Digha and Kankarbagh Sewage Projects
Financing agreements for developing STPs and Sewerage network for Digha and Kankarbagh zones of Patna were signed between DK Sewage Project Pvt Ltd (a subsidiary of VA Tech Wabag) and PFS.
About:
The scope of the project includes development of Sewage Treatment Plants of 150 MLD capacity along with sewerage network of over 453 km in the Digha and Kankarbagh zones of Patna, one of the most populous cities on the banks of the river Ganga.
This is the first of its kind project which comprises of a mix of Design, Build, Operate and Transfer ('DBOT') scope and Hybrid Annuity Model (HAM) scope.
With the implementation of Digha and Kankarbagh sewerage projects all the sewage zones of Patna city will be covered with sewerage network and sewage treatment capacity to achieve the objective of the NamamiGange program of preventing any untreated waste water entering the river Ganga.
The 453 Kms of sewage network in the project is to be laid in DBOT model wherein 100% of the contractual payment will be made during the construction period.
::SCIENCE AND TECHNOLOGY::
Culex mosquitoes
With the change in season and rise in temperature, culex or common house mosquitoes have made a reappearance across the capital.
About:
Warmer temperatures are the main reason for the appearance of these mosquitoes.
They can fly up to a distance of 1-1.5 km.
Culex mosquitoes are known carriers of Japanese encephalitis, a potentially life-threatening but rare viral disease that causes "acute inflammation" of the brain. They breed in dirty, stagnant water.
 CLICK HERE FOR FULL CURRENT AFFAIRS (Only for Course Members)