Current Affairs for IAS Exams - 31 August 2022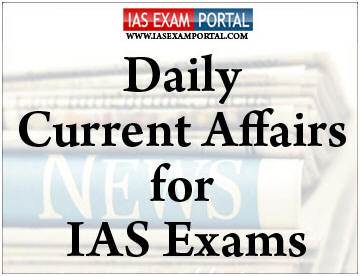 ---
Current Affairs for IAS Exams - 31 August 2022
::NATIONAL::
National Automated Fingerprint identification system
Union Home Minister Amit Shah inaugurated the National Automated Fingerprint Identification System (NAFIS) on August 17, at the two-day National Securities Strategies (NSS) Conference 2022 held in New Delhi.
About:
NAFIS is a country-wide searchable database of crime- and criminal-related fingerprints project.
It is developed by National Crime Records Bureau (NCRB) and would help in quick and easy disposal of cases.
It assigns a unique 10-digit National Fingerprint Number (NFN) to each person arrested for a crime.
This unique ID will be used for person's lifetime, and different crimes registered under different FIRs will be linked to same NFN.
Earlier, Madhya Pradesh became first state to identify a deceased person through NAFIS.
Amrit Grants for Biotech Initiatives
Department of Biotechnology (DBT) and Biotechnology Industry Research Assistance Council (BIRAC) has given 75 Amrit Grants for Biotech Initiatives.
About:
These are interdisciplinary, multi-institutional grants involving Start-Ups, industry, academia and research bodies.
Key objectives: Support high-risk, ambitious research ideas, milestones-driven collaborative research in all domain specific areas of biotech sector in Public-Private Partnership (PPP) mode.
CLICK HERE FOR FULL CURRENT AFFAIRS (Only for Course Members)
::INTERNATIONAL::
Chinese space station Tiangong
Tensions between India and China since May 2020 is worrying Indian astrophysicists involved in an ambitious project to install an Indian-made spectroscope aboard the developing Chinese space station Tiangong.
About:
Scientists at the Indian Institute of Astrophysics (IIA), Bengaluru, were among nine groups selected from 42 applicants in 2019 as part of a UN-led initiative that invites research teams from all over the world to compete for an opportunity to design payloads that will be shuttled to Tiangong aboard rockets of the Chinese Manned Space Agency.
The project, called Spectrographic Investigation of Nebular Gas (SING), also involves collaboration with the Institute of Astronomy, Russian Academy of Sciences, and has been designed and developed by research students at the IIA. The plan is to have it ready by the year-end so that it can be launched in the summer of 2023.
Though the plan is on schedule, scientists at the IIA are now consulting with the Indian Space Research Organisation (ISRO) and the External Affairs Ministry whether they are in the clear to go ahead with the project.
Overseas investment rules
The Finance Ministry released the Foreign Exchange Management (Overseas Investment) Rules, 2022 subsuming extant regulations for Overseas Investments and Acquisition and Transfer of Immovable Property Outside India Regulations, 2015.
About:
With an eye on wilful defaulters, the new rules stipulate that any Indian resident who has an account appearing as a non-performing asset; or is classified as a wilful defaulter by any bank; or is under investigation by a financial service regulator or by investigative agencies in India, will have to seek an no objection certificate before making any overseas financial commitment.
Any resident in India acquiring equity capital in a foreign entity or overseas direct investment (ODI), will have to submit an Annual Performance Report (APR) for each foreign entity, every year by December 31. 
CLICK HERE FOR FULL CURRENT AFFAIRS (Only for Course Members)
::ECONOMY::
Booklets and Documents on Future Ready Commerce
Union Minister for Commerce and Industry released the Booklets and Documents on Future Ready Commerce at a function in New Delhi.
About:
It comprised of fourteen volume Restructuring Dossier of 'Department of Commerce which has been created to facilitate transition. 
The restructuring programme for   Department of Commerce has been undertaken with the key objective to equip the ecosystem to achieve two trillion-dollar export target by 2030.
Under it a dedicated Trade Promotion Body will also be set up to drive overall promotion strategy. 
The 14 volumes defines the role of each section within the department and lays down the expected outcomes and key performance indicators.
CLICK HERE FOR FULL CURRENT AFFAIRS (Only for Course Members)
::SCIENCE AND TECHNOLOGY::
Jupiter through the Webb telescope
The James Webb Space Telescope (JWST), NASA's latest and most powerful telescope, has captured new images of our solar system's largest planet, Jupiter, presenting it in a never before seen light.
Key highlights:
The photographs published have captured a new view of the planet, presenting in detail its massive storms, colourful auroras, faint rings and two small moons — Amalthea and Adrastea.
Jupiter's famous Great Red Spot, a storm so big that it could swallow Earth, appeared bright white in the image, since it was reflecting a lot of sunlight, the space agency stated.
NASA's $10 billion James Webb Telescope was developed with the assistance of the European Space Agency and the Canadian Space Agency.
It was launched to space on December 25, 2021 and is currently observing from Lagrange point 2, approximately 1.5 million km beyond Earth's orbit around the Sun. The telescope released its first image on July 11 2022.
CLICK HERE FOR FULL CURRENT AFFAIRS (Only for Course Members)