Current Affairs for IAS Exams - 5 December 2017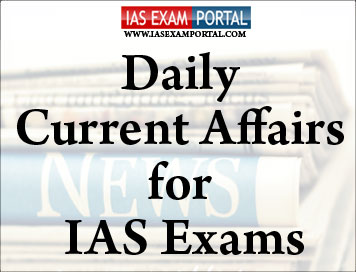 Current Affairs for IAS Exams - 5 December 2017
::National::
Death to those found guilty of raping girls aged 12 and below in MP
The Madhya Pradesh Assembly unanimously passed a Bill awarding death to those found guilty of raping girls aged 12 and below. With this, Madhya Pradesh becomes the first State where those convicted of such rapes will face the gallows.
Introduced in the House by Law and Legislative Affairs Minister Rampal Singh, the Bill was discussed in detail and then passed by all parties, including the ruling BJP and the Opposition Congress.
The Bill will now be sent to the President for his assent, after which it will become a law, Home Minister Bhupendra Singh told reporters outside the Assembly.
"It was a historic day for Madhya Pradesh as the Assembly, as per the wish of Chief Minister Shivraj Singh Chouhan, passed a Bill making a provision to award the capital punishment to those indulging in such crimes [raping girls aged 12 or younger]," Mr. Bhupendra Singh said.
Capital punishment would be awarded to convicts under Section 376 (A), which is related to rape, and Section 376 (D, A), pertaining to gang-rape.
Welcoming the Bill, Mr. Chouhan said: "There are people in society who can be set right only by severe punishments. It [the legislation] will deal with them. We will also raise awareness in society against such crimes."
NGT raps Delhi govt for not submitting action plan to tackle pollution
The National Green Tribunal (NGT) rapped the Delhi government for not submitting an action plan to tackle heavy pollution levels in the city.
The he green panel told the Aam Aadmi Party government that heavy fines would be imposed if the report is not filed within 48 hours.
A Bench headed by NGT chairperson Swatanter Kumar said: "Tell us one step that you have taken on previous orders passed by the Tribunal. Are the people of Delhi always supposed to suffer? We had told you to shut all offices in case of emergent situations, what have you done? Children are also suffering."
The counsel for the Delhi government sought time from the Tribunal as the Chief Secretary and the environment secretary had been recently shuffled.
To this, the Bench said: "What can we do if you keep changing everybody? It is not our problem if people don't want to stick to you."
Referring to the India-Sri Lanka match, which was briefly stalled on Sunday due to poor air quality, the Bench said: "Look at people abandoning matches. You simply keep holding meeting after meeting, and not do anything else."
The NGT had on November 28 asked Delhi, Punjab, Haryana, Uttar Pradesh and Rajasthan to submit comprehensive action plans to tackle high levels of pollution.
Anti-maoist movement gaining strength in maoist belt
Anti-Maoist posters condemning violence have surfaced in various parts of Odisha's Koraput district, in a significant setback to the ultra outfits that are observing People's Liberation Guerilla Army week.
The posters, signed by Koraput YubakJagaranSamiti, have appeared in the Maoist belts of Sunki, Pottangi, Ampabali, Padwa, Lamataput.
The development comes days after the rebels made an appeal to the public to cooperate with them during their celebration week.
Charging the Maoists as agents of anti-development, the posters warned the left-wing ultras against killing people by falsely accusing them of being police informers.
Some of these posters show Maoists killing villagers, torching vehicles engaged in road construction work, and damaging buildings in remote areas.
The anti-Maoist posters are a clear indication that people here are fed up with anti-development activities, said Koraput Superintendent of Police Kanwar Vishal Singh.
"People have realised that the Maoists do no good to the society. They simply make false promises of development, extort money and kill innocent people," he said.
They understand that Maoists have been trying to create an atmosphere of terror by unleashing violence and killing innocent locals, the SP said, adding that an inquiry has been launched to ascertain the identity of the people carrying out this anti-Maoist poster drive.
::International::
Enhanced trade relations with China will not affect Maldives's relations with its neighbours
Enhanced trade relations with China will not affect Maldives's relations with its neighbours, said visiting Ministers here on Monday, defending a recent Free Trade Agreement with the giant.
Their comments, made at a press conference at the Maldivian Embassy in Colombo, came in the wake of a trade pact inked by the two countries last week.
While President Abdullah Yameen's government has described the deal as a favourable development, the Opposition has voiced concern over its apparently quick negotiation.
The FTA, the dignitaries said, covers nearly 300 products, even as Opposition MPs charged that little information had been made available to them.
India, known to be watching China's increasing presence in the region with concern, is yet to comment on the development.
Clarifying that the FTA with China was "purely commercial", Mr. Shareef said Male was mindful of regional security."When it comes to security in the Indian Ocean Region, it is between the Maldives, India and Sri Lanka. No one else is welcome, be it friends from the East or West," he said.
While there is an existing agreement on South Asian Free Trade Area since 1993, it has not worked well for the Maldives, they observed, pointing to non-tariff barriers that came in the way of free trade in the region.
On the other hand, the pact with China, according to Fisheries and Agriculture Minister Mohamed Shainee, would enable trade without such barriers.
China has thrown open its economic corridor with Pakistan for investment by other countries
China has thrown open its economic corridor with Pakistan for investment by other countries after successfully commissioning a power plant near Karachi.
Chinese Foreign Ministry spokesperson Geng Shuang invited other countries to participate in the corridor on the "principle of equality and voluntarism", after last week's commissioning of the first phase of the 1320 Megawatt Port Qasim power project.
He described CPEC, a flagship of its trans-continental Belt and Road Initiative (BRI), as "an open initiative".
Mr. Geng cited participation by Qatar's Al-Mirqab Capital as an illustration of Beijing's openness to third-party participation.
China has been focusing on energy projects as part of its plan to bui ld comprehensive infrastructure — the first essential step to industrialise Pakistan. Earlier, in May, the Sahiwal coal-fired plant in Punjab was commissioned, aimed at generating more than 1000 MW of electricity.
::Business and Economy::
Govt. Looking to get the actual data of job creation
For the past three and half years, the NDA government has had a battle on its hands when it came to providing an enabling ecosystem for adequate job creation.
The government's own data showed that job creation in the formal sector was slowest in almost a decade, but it has said that it felt the ground reality on jobs was not being 'properly' captured as the existing system takes into account only the formal sector.
However, this situation could change soon. Speaking to The Hindu , commerce and industry minister Suresh Prabhu said "all the economic activity in India, including in the Micro, Small and Medium Enterprises (MSME) and informal sectors, will soon get properly captured." He said this was in line with international practices.
Incidentally, on the directions of Prime Minister Narendra Modi, a task force was set up in May this year under the chairmanship of the then Vice Chairman of NITI Aayog, Arvind Panagariya.
The panel's terms of reference included assessing the existing data systems and sources that provide information on jobs and job creation and then identifying alternate sources that could provide such data.
The terms also included recommending mechanisms for capturing information on jobs and job creation on a regular basis for both the informal and formal sectors.
The 'Task Force on Improving Employment Data', which had sought comments from stakeholders by July 23 on its draft report, will by September 2018 submit its final report.
Among the main recommendations could be a change in the definition of employment/workers as well as ways to include and measure employment in the informal sector as well, he indicated.
According to the draft report, there is no fixed definition of formal workers currently in India.
It said all definitions were highly restrictive, and exclude many workers who have decent and steady jobs but either do not work in large enough enterprises or do not have written contracts. The task force said it was desirable to adopt a new, more 'pragmatic' definition of formal workers.
The plan now is to include workers covered the Employees' State Insurance Act, 1948 (or other similar insurance), Employees' Provident Funds and Miscellaneous Provision Act, 1952 (or other similar social security scheme), workers having coverage under private insurance or pension schemes or provident funds as well as workers subject to tax deduction at source on their income through submission of Form 16 or similar Income Tax form.
The panel had identified the Micro Units Development and Refinance Agency (MUDRA) scheme, which provides small, unsecured loans to enterprises, as an important source of job creation.
According to a report by the SKOCH Group on September 6, the MUDRA scheme had led to a total of 54,479,763 jobs being generated in just over two years. These included 37,753,217 direct jobs and 16,726,545 indirect jobs.
FM asked revenue intelligence officials to use their discretion fairly and reasonably
Finance Minister Arun Jaitley asked revenue intelligence officials to use their discretion fairly and reasonably in their investigations and use technology to deal with offenders.
"The power of revenue officers are quite wide so the exercise of discretion has to be fair, reasonable and productive," he said at the celebration of 60th anniversary of Directorate of Revenue Intelligence (DRI), CBEC.
Mr. Jaitley said that only when the success rate of prosecution and penalty is high, it would act as a deterrent to offenders.
He said with every passing generation, the nature of economic offence is changing and technology is being used to commit those offences.
Technology is a great enabler for the offenders and the DRI should use it effectively to track down economic crimes.
He said that generally many investigative agencies start off with tall claims when they detect offences but ultimately with trials and prosecution, the claims fizzle out.
Speaking on the occasion, Finance Secretary Hasmukh Adhia said the DRI is currently working with a staff strength of 600 officials, which is just one-tenth of the strength of the Enforcement Directorate.
Fitch Ratings cut the country's GDP growth forecast for the current fiscal to 6.7%
Days after India's economy showed signs of recovery, Fitch Ratings cut the country's GDP growth forecast for the current fiscal to 6.7% from the earlier projected 6.9%, saying that the rebound was weaker than expected.
It also cut GDP growth forecast for 2018-19 fiscal year to 7.3% from 7.4% predicted in its September Global Economic Outlook (GEO).
Fitch, however, expects GDP growth to pick up in the next two years on back of gradual implementation of the structural reform agenda and higher real disposable income.