Current Affairs MCQ for UPSC Exams - 01 April 2020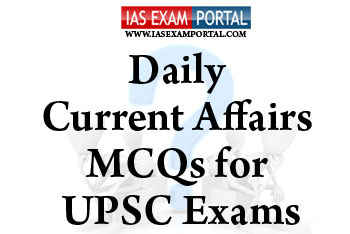 ---
Current Affairs MCQ for UPSC Exams - 01 April 2020
---
Q1 Consider the following statements :
1) Soil drought has been defined as a condition in which the amount of water needed for transpiration and direct evaporation exceeds amount of water available in the soil.
2) However drought damages the crops when plants are adequately supplied with moisture from the soil.
3) The incidence of drought and its intensity can be determined from the annual, seasonal and diurnal distribution of rainfall.
Which of the above statements are true ?
Options :
a) 1,2& 3 only
b) 2 & 3 only
c) 1 & 3 only
d) None of the above
Q2 Consider the following pairs of mineral resources in India and their corresponding locations :
1) Uranium,Mica : Karnataka
2) Iron ore and clay : Goa
3) Bauxite,Manganese : Andhra Pradesh
4) Chromite,coal : Tamilnadu
5) Limestone,Mica : Rajasthan
Which of the above pairs are correctly matched ?
Options :
a) 1,2& 3 only
b) 1,3 & 5 only
c) 2 & 5 only 1 & 4 only
Q3 Which of the following Statements with respect to the Prime Minister's National Relief Fund (PMNRF) stands true ?
1) The Prime Minister's National Relief Fund (PMNRF) was established in 1948 with public contributions to assist displaced persons from Pakistan.
2) The corpus of the fund is invested in various forms with scheduled commercial banks and other agencies. Disbursements are made with the approval of the Prime Minister.
3) Cabinet secretary is the chairman of PMNRF and is assisted by Officers/ Staff on honorary basis.
Options :
a) 1 & 2 only
b) 2 & 3 only
c) 1 & 3 only
d) All the above
Q4 The southwest monsoon in India is likely to get a boost this year as the India Meteorological Department has predicted that El Nino, which often disrupts rainfall, is unlikely this year. Which of the following statements regarding the same stands true ?
1) Warm ENSO conditions lead to drier weather and thus reduced rainfall. This is also why the IMD predicted most parts of India would have a mean temperature that's 0.5 degree C to 1 degree C above normal.
2) The Indian Ocean Dipole refers to the difference in temperatures between different parts of the Indian Ocean. The Indian monsoon is helped by a positive IOD rating, which might be the case in the months ahead.
3) Last year, the IOD turned positive towards the end of June, helping the first week of July with a record level of rainfall.
Options :
a) 1 & 2 only
b) 2 & 3 only
c) 1 & 3 only
d) All the above
Q5 The 'Natuna Regency '( recently in news)................................................
CLICK HERE FOR ANSWERS (Only for Course Members)
ANSWER: