Current Affairs MCQ for UPSC Exams - 01 June 2020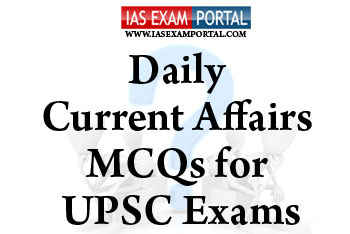 ---
Current Affairs MCQ for UPSC Exams - 01 June 2020
---
Q1. Which of the following statements with respect to the current state of economy aftermath the nationwide lockdown due to COVID emergency stands true ?
1) Official data released last week showed India's gross domestic product (GDP) growing at the slowest pace in 11 years in the fourth quarter and FY20 as the Covid-19 crisis took hold in March.
2) As per the report, weak demand from international markets added to the deteriorating sales trend, with new business from abroad plunging further in May.
3) Lower production requirements saw Indian manufacturers continue to reduce worker numbers and moreover, the rate of workforce contraction accelerated to the fastest.
a) 1 & 2 only
b) 2 & 3 only
c) 1 & 3 only
d) all of the above
Q2. Consider the following pairs of Buddhist monasteries in India and their corresponding location states :
1) Hemis : Jammu & Kashmir
2) Tawang : Sikkim
3) NamdrolingNyingmapa : Karnataka
Which of the above pairs are correctly matched ?
a) 1 & 2 only
b) 1 & 3 only
c) 2 & 3 only
d) all of the above
Q3. Researchers at the Central Marine Fisheries Research Institute (CMFRI) have found a rare fish from Sethukarai coast in the Gulf of Mannar.Which of the following statements regarding the species stands true ?
1) The fish has the ability to change colour and blend with its surrounding environment to escape from predators and while preying.
2) They are widespread in tropical and temperate seas, but never found in the Indo-pacific region.
3) The fish is called 'scorpionfish' because its spines contain neurotoxic venom.
a) 1 & 2 only
b) 2 & 3 only
c) 1 & 3 only
d) all of the above
Q4. Which of the following statements regarding the recent outcomes at the recently held virtual General Council Meeting of the World Trade Organization stands true ?
1) India called for effective use of flexibilities inherent in the Trade-Related Aspects of Intellectual Property Rights (TRIPs) to ensure access to essential medicines, treatments and vaccines to all at affordable prices, especially in the context of the Covid-19 pandemic.
2) India also flagged other priority areas such as ensuring food security and elimination of the historic asymmetries in entitlements in the Agreement on Agriculture.
3) India also stressed on building capacities of developing countries and LDCs in areas like digital skills and broadband infrastructure so that the benefits of e-commerce applications like e-education, tele-medicine, electronic payments and use of digital platforms for sourcing goods and services are available to all.
a) 1 & 2 only
b) 2 & 3 only
c) 1 & 3 only
d) all of the above
Q5. Which of the following G7 countries was the last to join the artificial intelligence (AI) group of the G7 global partnership recently ?
a) Israel
b) United States
c) China
d) France
CLICK HERE FOR ANSWERS (Only for Course Members)
ANSWER ....................................................