Current Affairs MCQ for UPSC Exams - 02 September 2022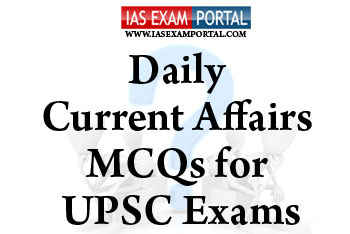 Current Affairs MCQ for UPSC Exams - 02 September 2022
Q.1) Consider the following statements: 
1. Potassium iodide (KI) tablets, or anti-radiation pills, are known to provide some protection in cases of radiation exposure.
2. KI tablets helps to achieve 'thyroid blocking'.
3. KI pills ensure that non-radioactive iodine in the medicine is absorbed quickly to make the thyroid full.
Which of the statements given above is/are correct?
(a) 1 and 3 only
(b) 2 and 3 only
(c) 1 and 2 only
(d) 1, 2 and 3
Q.2) The Universal Basic Income plan was first proposed in which of the following economic survey year 
(a) 2015-16
(b) 2012-13
(c) 2018-19
(d) 2016-17 
Q.3) Consider the following statements: 
1. Nechiphu tunnel is located in between Assam and Arunachal Pradesh. 
2. It has been completed under the Project Vartak of BRO. 
3. The tunnel connects Balipara in Assam to Tawang in Arunachal Pradesh bordering China.
Which of the statements given above is/are correct?
(a) 1 and 3 only
(b) 2 and 3 only
(c) 1, 2 and 3 
(d) 2 only
Q.4) NATO was first established in 
(a) 1949
(b) 1952
(c) 1958
(d) 1948
Q.5) With reference to regarding CERVAVAC vaccine, consider the following statements: 
1.It is a quadrivalent vaccine. 
2.The vaccine developed by Serum Institute of India.
Which of the statements given above is/are correct?
(a) Neither 1 nor 2
(b) Both 1 and 2 
(c) 1 only
(d) 2 only