Current Affairs MCQ for UPSC Exams - 03 August 2020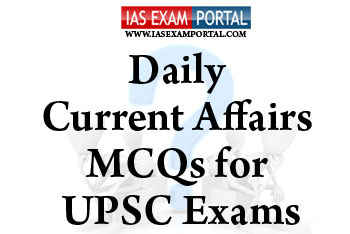 ---
Current Affairs MCQ for UPSC Exams - 03 August 2020
---
Q1 Recently former RBI Governor said that India is not close to the situation where the central bank has to go for debt monetisation. Which of the following statements with respect to debt monetisation and liquidity injection in the Indian economy stands true ?
1) Generally, monetisation of debt means the central bank printing currency for the government to take care of any emergency spending and to bridge its fiscal deficit.
2) OMOs (Open Market Operations  are a monetary policy tool with the RBI in the driver's seat, deciding on how much liquidity to inject and when.
3) In contrast, monetisation is seen as a way of financing the fiscal deficit with the quantum and timing of money supply determined by the government's borrowing rather than the RBI's monetary policy.
Options :
a) 1 & 2 only 
b) 2 & 3 only 
c) 1 & 3 only 
d) all the above
Q2 Ocean currents are continuous movements of water in the ocean that follow set paths, kind of rivers in the ocean.Based on temperature, Ocean currents are classified into two types: cold currents and warm currents.Which of the following are classified as cold currents ?
1) Benguela current
2) Norwegian current
3) Oyashio current
4) California current
5) Agulhas current
Options :
a) 1,2 & 3 only 
b) 1,3 & 4 only
c) 2,3 & 5 only 
d) 2,4 & 5 only 
Q3 With respect to the recently inaugurated "Bharat Air Fibre Services" which of the following statements stands true ?
1) The Bharat Air Fibre services are introduced by BSNL as part of digital India initiates by the Government of India and it aims of providing Wireless Connectivity in the range of 20 KMs from the BSNL Locations .
2) These Bharat Air Fibre services opens new way of fastest Wireless internet connectivity as well Voice services in reasonable cost. BSNL provides Bharat Air Fibre connectivity upto 1000 Mbps speed.
3) BSNL is offering attractive Broadband plans in Wireline& Wireless segments and during lockdown BSNL has come up as most reliable brand for Internet connectivity there by successfully implementing the Work From Home started by Government as well as many private firms.
Options :
a) 1 & 2 only
b) 2 & 3 only 
c) 1 & 3 only
d) all the above
answer : c
Q4 A team of scientists from the Institute of Nano Science & Technology (INST) has developed nanorods from the nonsteroidal anti-inflammatory drug (NSAID) Aspirin, and found it to be an effective non–invasive small molecule-based nanotherapeutics against cataract recently. Which of the following statements regarding the same stands true ?
1) Cataract a major form of blindness that occurs when the structure of crystallin proteins that make up the lens in our eyes deteriorates, causing damaged or disorganised proteins to aggregate and form a milky blue or brown layer, which ultimately affects lens transparency.
2) This easy to use and low-cost alternative nonsurgical treatment method will benefit patients in developing countries who cannot access expensive cataract treatments and surgeries.
3) However aspirin based nano rods are subjected to reduced drug loading and high toxicity which needs to be taken care of.
Options :
a) 1 & 2 only
b) 2 & 3 only
c) 1 & 3 only
d) all the above
Q5 Which of the following countries became the first country in the Arab world to develop nuclear energyrecently ?
a) Israel
b) Iran
c) UAE
d) Iraq