Current Affairs MCQ for UPSC Exams - 03 August 2022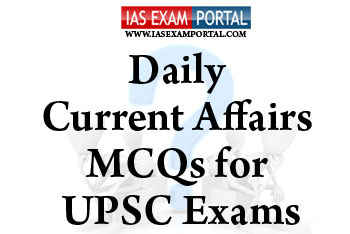 Current Affairs MCQ for UPSC Exams - 03 August 2022
Q.1) Match the following pairs:
Name of the ship         Designated category 
1. White             Military 
2. Grey             Commercial 
3. Black             Illegal 
Which of the following pairs given above is/are correct?
(a) 3 only
(b) 1, 2 and 3 only
(c) 1 and 2 only
(d) 2 only
Q.2) Pitch Black is a mega air combat exercise, conducted by
(a) Japan
(b) UK
(c) USA
(d) Australia 
Q.3) With reference to the Akash Prime Missile system, consider the following statements:
1. Akash Prime is equipped with an indigenous active Radio Frequency (RF) seeker for improved accuracy.
2. It can be launched from mobile platforms like battle tanks or wheeled trucks.
3. Akash missile is India's first indigenously produced medium range Surface to Air missile.
Which of the statements given above is/are correct?
(a) 1 and 3 only
(b) 2 and 3 only
(c) 1, 2 and 3 only
(d) 2 only
Q.4) Nanotech tattoo as health monitoring device that recently seen in news, developed by 
(a) China 
(b) South Korea 
(c) Vietnam 
(d) Sweden 
Q.5) Consider the following statements regarding, white shipping information exchange
1. It refers to exchange of relevant advance information on the identity and movement of commercial non-military merchant vessels.
2. It prevents potential threats from sea from impinging a coastal and offshore security of thecountry.
Which of the statements given above is/are correct?
(a) Neither 1 nor 2
(b) Both 1 and 2 
(c) 1 only
(d) 2 only