Current Affairs MCQ for UPSC Exams - 03 January 2023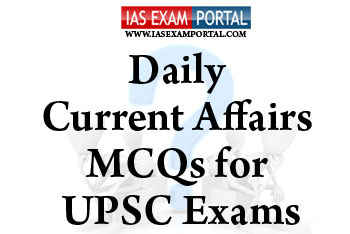 Current Affairs MCQ for UPSC Exams - 03 January 2023
Q.1) With reference to regarding payment aggregator facility,consider the following statements: 
1. A payment aggregator provides payment services to merchants and e-commerce sites by accepting payment instruments from customers. 
2. As a part of this, they pool the funds received from customers and transfer them to merchants after a certain time.
3. The services include facilitating integrated payment options such as transactions of cash and cheque, and online and offline touch points, without the need to set up accounts directly with the bank.
Which of the statements given above is/are correct?
(a) 1 and 3 only
(b) 2 and 3 only
(c) 1 and 2 only
(d) 1, 2 and 3
Q.2) India's first-ever Night Sky Sanctuary being set up in 
(a) Arunachal Pradesh 
(b) Sikkim 
(c) Uttarakhand 
(d) Ladakh 
Q.3) With reference to regarding Sangeet Natak Akademi, consider the following statements: 
1. It is an autonomous body of Ministry of Culture and is apex body in field of performing arts in country.
2. It was set up for preservation and promotion of intangible heritage of India'sculture expressed in forms of music, dance and drama.
3. Chairman is appointed by President of India for a term of 5 years. 
Which of the statements given above is/are correct?
(a) 1 and 3 only
(b) 2 and 3 only
(c) 1, 2 and 3 
(d) 2 only
Q.4) Exercise Naseem Al Bahr 2022 is a bilateral maritime exercise between 
(a) India-Oman 
(b) India-Bahrin 
(c) India-Kuwait 
(d) India-Iran 
Q.5) Consider the following statements regarding Kudankulam NuclearPower Plant:
1.It is located in the state of Tamil Nadu.
2. It is India's first nuclear plant to use imported Pressurised Water Reactor technology.
Which of the statements given above is/are correct?
(a) Neither 1 nor 2
(b) Both 1 and 2 
(c) 1 only
(d) 2 only
Answer : 1(D), 2(D), 3(C), 4(A), 5(B)