Current Affairs MCQ for UPSC Exams - 03 September 2019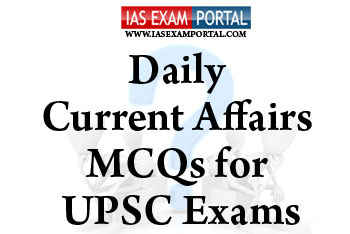 ---
Current Affairs MCQ for UPSC Exams - 03 September 2019
---
Q1. Consider the following statements :
1) India and U.S are stepping up cooperation in the space sector with U.S extending help in 4-5 critical areas of India's ambitious manned mission to space, Gaganyaan.
2) Indian Space Research Research Organisation (ISRO) has outlined a road map to put a three-man crew in a low earth orbit for 5-7 days by December 2021 by an indigenous GSLV Mk-III launch vehicle.
3) The Gaganyaan programme is expected to cost under ₹10,000 crore and there will be two unmanned missions prior to the manned mission to validate the technologies.
Which of the above statements are true ?
a) 1 & 2 only
b) 2 & 3 only
c) 1 & 3 only
d) all of the above
Q2. Arrange the following seas of the northern hemisphere from west to east direction ( fromprime meridian to the international date line ):
a) Barents sea,Karasea,Norwegiansea,Luptev sea
b) Norwegian sea,Barentssea,Kara sea, Luptev sea
c) Luptevsea,Barentssea,Norwegiansea,Kara sea
d) Kara sea,Barentssea,Luptevsea,Norwegian sea
Q3. Which of the following statements regarding the 14th Conference of Parties, COP14 to the UN Convention to Combat Desertification which began at Greater Noida stands true ?
1) The objective of the COP14 is to discuss various issues of land such as sustainable land management, reversing land degradation, mitigating drought, halting desertification, addressing sand and dust storms, linkages with gender.
2) Out of the 17 SDGs, SDG 15 is very ambitious which encompasses all types of land-based ecosystems and biodiversity. India emphasised that healthy ecosystems play a critical role in the 2030 Agenda for Sustainable Development imperative of 'leave no one behind'.
3) China will take over the presidency of COP from India for 2 years from now.
a) 1 & 2 only
b) 2 & 3 only
c) 1 & 3 only
d) all of the above
Q4. Which of the following statements regarding India's forex reserves is definitely true ?
1) The Reserve Bank is mandated to maintain orderly conditions in the foreign exchange market. Its intervention in the forex market is solely directed at curbing sudden turbulences not backed by economic fundamentals
2) The exchange rate dynamics in India is driven by capital flows rather than current account balances.
3) India's forex reserves comprise Foreign Currency Assets (FCAs), gold reserves, Special Drawing Rights (SDRs) and India's reserve position with the International Monetary Fund.
a) 1 & 2 only
b) 2 & 3 only
c) 1 & 3 only
d) all of the above
Q5. Which of the following states of India has developed a special tiger force as a second layer of protection for the tigers in its reserves ?
a) Assam
b) Madhya Pradesh
c) Uttarakhand
d) Tamilnadu
Answer :
1. (b) 2. (b) 3. (a) 4. (d) 5.(c)