Current Affairs MCQ for UPSC Exams - 04 December 2019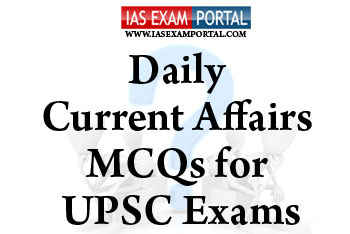 ---
Current Affairs MCQ for UPSC Exams - 04 December 2019
---
Q1. The leaders of North Atlantic Treaty Organization, NATO, will meet today to mark the 70th birthday of the organization in London.
Which of the following statements regarding the organisation stands true ?
1) NATO was founded in 1949 for the collective defence of its members, linking the security of the United States with its European allies against the Japanese invasion
2) It witnessed the end of communism, defeating the Soviet Bloc without firing a shot.
3) The combined military spending of all NATO members constitutes over 70% of the global total. Members have expressed their aim to move towards the target defence spending of 2% of GDP by 2024.
a) 1 & 2 only
b) 2 & 3 only
c) 1 & 3 only
d) all of the above
Q2. Centre is launching nationwide vaccination drive to prevent eight diseases under Intensified Mission Indradhanush 2.0 across the country.
Which of the following diseases are covered under the Mission Indradhanush scheme 2.0 ?
1) Measles
2) Common cold
3) Whooping cough
4) Diphtheria
5) Polio
a) 1,2 & 3 only
b) 1,3 & 4 only
c) 2,4 & 5 only
d) 2,3 & 5 only
Q3. Consider the following statements :
1) Government has begun implementing nation-wide portability of the benefits under the National Food Security Act (NFSA) 2013.
2) This would be possible by using the same ration card after biometric or Aadhaar authentication on Electronic Point of Sale, EPoS, device at an FPS of Destination/Sale State through 'One Nation One Ration Card' Plan.
3) The system would largely benefit numerous migratory beneficiaries such as labourers, daily wagers and blue-collar workers who frequently change their place of dwelling in search of employment or for other reasons, across the country.
Which of the following statements stands true ?
a) 1 & 2 only
b) 2 & 3 only
c) 1 & 3 only
d) all of the above
Q4. Countries at the Indo-pacific region have been frequently demanding a shift from 'brown economy ' to 'blue economy' in the region. Which of the following statements regarding the same stands true ?
1) A brown economy is one in which economic growth is largely dependent on environmentally destructive forms of activity, especially fossil fuels like coal, oil and gas.
2) According to the World Bank, the blue economy is the "sustainable use of ocean resources for economic growth, improved livelihoods, and jobs while preserving the health of ocean ecosystem."
3) The region comprises of the tropical waters of the Indian Ocean, the western and central Pacific Ocean, and theTropical Eastern Pacific, along the Pacific coast of the Americas.
a) 1 & 2 only
b) 2 & 3 only
c) 1 & 3 only
d) all of the above
Q5. Typhoon "Kammuri" which consisted of packed winds of 150 kilometre per hour and gusts of up to 205 kilometre per hour, damaging some homes, structures and felling trees and signage in urban areas took place recently in which of the following south east asian countries ?
a) Indonesia
b) Bali
c) Phillippines
d) Thailand
Answer :
1. (c) 2. (b) 3. (d) 4. (a) 5.(c)