Current Affairs MCQ for UPSC Exams - 04 January 2023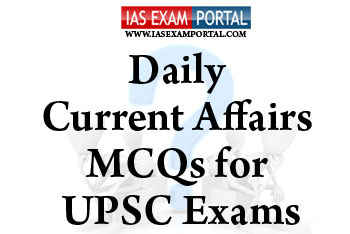 Current Affairs MCQ for UPSC Exams - 04 January 2023
Q.1) With reference to the Calling Name Presentation (CNAP), consider the following statements:
1. It is proposed by TRAI.
2. It helps to avoid robocalls, spam calls and fraudulent calls.
3.The feature would provide an individual with information about the calling party (similar to 'Truecaller' and 'Bharat Caller ID & Anti-Spam').
Which of the statements given above is/are correct?
(a) 1 and 3 only
(b) 2 and 3 only
(c) 1, 2 and 3 
(d) 2 only
Q.2) 25th Eastern Zonal Council meeting held at
(a) Patna 
(b) Ranchi 
(c) Bhubaneshwar  
(d) Kolkata 
Q.3) Consider the following statements regarding Patho Detect kit: 
1. By using this kit, single test can detect tuberculosis and multidrug-resistantce. 
2. Kit can be stored at Indian room temperature.
3. Kit is more automated and reduces the need for high expertise to run the test.
Which of the statements given above is/are correct?
(a) 1 and 3 only
(b) 2 and 3 only
(c) 1, 2 and 3 
(d) 2 only
Q.4) International Labour Organisation was established in the year 
(a) 1919
(b) 1925
(c) 1939
(d) 1912
Q.5) With reference to regarding RTS mechanism, consider the following statements:
1.RTS mechanism uses rupees instead of dollars and other big currencies for international transactions.
2.The Reserve Bank of India (RBI) set up the mechanism in July.
Which of the statements given above is/are correct?
(a) Neither 1 nor 2
(b) Both 1 and 2 
(c) 1 only
(d) 2 only
Answer : 1(C), 2(D), 3(C), 4(A), 5(B)