Current Affairs MCQ for UPSC Exams - 04 May 2020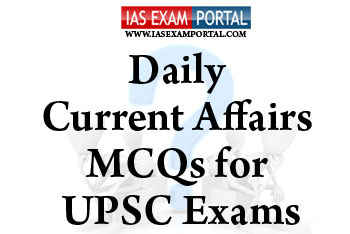 ---
Current Affairs MCQ for UPSC Exams - 04 May 2020
---
Q1 The government may soon extend the interest equalisation scheme, which lapsed on March 31, to shore up the export sector impacted by the COVID-19 pandemic. Which of the following statements regarding the same stands true ?
1) It is a rebate of interest provided on pre and post shipment export credit like packing credit.
2) Banks provide this benefit to the eligible exporters and claim a reimbursement of same from RBI based on certification by an external auditor. Eligible exporter has to submit a certification by external auditor to claim this benefit.
3) This scheme was introduced with effect from 1st April 2015 for a period of 5 years.
Options :
a) 1 & 2 only
b) 2 & 3 only
c) 1 & 3 only
d) all the above
Q2 Which of the following are the sources of black carbon/soot in the atmosphere ?
1) Biomass burning
2) Diesel emissions
3) Agricultural waste heating
4) Mining
5) Volcanic eruptions
Options :
a) 1,2& 3 only
b) 3,4 & 5 only
c) 1,2 & 5 only
d) all the above
Q3 Consider the following statements :
1) Cobra is one of the four venomous snakes that account for most of the snakebite deaths in the country. Russell's viper, Saw-scaled viper and Common krait are the other members of the lethal league.
2) A young cobra has enough venom, fully developed fangs and a poison delivery system sufficient enough to kill an adult person or cause serious health risks.
3) Indian cobra is protected under schedule 1 of wildlife protection act 1972 along with cheetah.
Which of the above statements stands true ?
Options :
a) 1 & 2 only
b) 2 & 3 only
c) 1 & 3 only
d) all the above
Q4 Members of the Regional Comprehensive Economic Partnership have offered India a package to return to the negotiating table, taking into account the country's concerns over tariff base rates and special trade safeguards. Which of the following statements regarding the same stand true ?
1) The RCEP package recognises India's preference to use more recent most-favoured nation tariff rates than the 2014 base rates.
2) The current RCEP consists of members from the Association of Southeast Asian Nations, Australia, China, Japan, Korea and New Zealand.
3) Amongst the RCEP members, India has free trade agreements with Australia, China and New Zealand.
Options :
a) 1 & 2 only
b) 2 & 3 only
c) 1 & 3 only
d) all the above
Q5 Honey-hunting is an age-old skill practised by the Sherpduken tribes (recently in news) residing in which of the following north eastern states ?
CLICK HERE FOR ANSWERS (Only for Course Members)
ANSWER..............