Current Affairs MCQ for UPSC Exams - 05 January 2020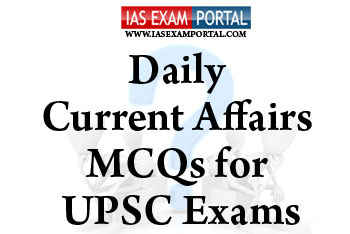 ---
Current Affairs MCQ for UPSC Exams - 05 January 2020
---
Q1. Consider the following statements regarding the ethics committee of the Parliament :
1) Ethics Committee of the RajyaSabha, the first of its kind for legislatures in the country, was set up in 1997 to oversee the moral and ethical conduct of the members' internal self-regulatory mechanism.
2) Any person may make a complaint to the Committee regarding alleged unethical behaviour or breach of Code of Conduct by a member or alleged incorrect information of a member's interests.
3) The punishments for unethical behaviour may include censure, reprimand, suspension from the House for a specific period or any other sanction determined by the Committee.
Which of the above statements are true ?
a) 1 & 2 only
b) 2 & 3only
c) 1 & 3 only
d) all of the above
Q2. Consider the following pairs of endangered species in India and their corresponding habitat locations:
1) Great Indian bustard :Pench NP
2) Dangul :Dachigam NP
3) Sangai :KeibulLamjao NP
4) Dugong : New Moore islands
Which of the above pairs are correctly matched ?
a) 1,2 & 3 only
b) 2,3 & 4 only
c) 1 & 4 only
d) 2& 3 only
Q3. Centre aims to develop India as a world-class $100-billion biomanufacturing hub by 2024.Which of the following statements are implicitlycontributing to this target?
1) As India steps up its renewable energy output, storage options become increasingly significant for grid management. That throws up the need for developing new battery types which are based on earth-abundant and environmentally-benign materials.
2) India needs to explore, map and responsibly harness the vast oceanic resources of water, energy, food and minerals. This requires developing deep strengths in manned submersibles, deepsea mining systems and autonomous underwater vehicles.
a) 1 only
b) 2 only
c) Both 1 & 2
d) None of the above
Q4. India ranks 34th in Travel & Tourism Competitiveness Index released recently. Which of the following statements regarding the same stands true ?
1) As the sector has the capacity to boost the economy, foreign exchange earnings and provide a large number of jobs at every level, tourism Ministry is continuously consulting and collaborating with other different stakeholders to boost the sector.
2) Travel and Tourism Competitiveness Index of World Economic Forum has moved to 34th position from 35th rank in 2013. Foreign Tourist Arrivals also registered a growth of 3.2 percent last year.
3) An initiative called - 'Adopt a Heritage: ApniDharohar, ApniPehchaan' has been launched for developing tourist amenities at heritage and tourist sites and making them tourist-friendly.
a) 1 & 2 only
b) 2 & 3only
c) 1 & 3 only
d) all of the above
Q5. "Project NETRA" recently in news refers to which of the following scenarios ?
a) Increased surveillance in the tension hit west Asian region by the Indian navy.
b) Mission to conduct cataract treatment surgeries free of costs under Jan ArogyaYojana scheme of ministry of health.
c) Mission to set up observational facilities that will help in making early warnings to satellites about debris and hazards in their orbit.
d) Project to improve surveillance amongst govt. officials to prevent corruption.
Answer :
1. (d) 2. (d) 3. (c) 4. (c) 5.(c)